The 100 Thieves Invitational: Valorant tournament will begin today at 10 a.m. PT, featuring several pro players, content creators, and streamers. The competition is composed of five teams going head to head as they battle it out in the exciting 5v5 shooter. The organization teased its fans throughout the past few days, slowly announcing those who are participating. Today, we have a full list of each player taking part in the exciting event. Additionally, Alex "Goldenboy" Mendez and Rivington "RivingtonThe3rd" Bruce Bisland III will be the hosts.
To view this video please enable JavaScript, and consider upgrading to a web browser thatsupports HTML5 video
descriptions off

, selected
captions and subtitles off

, selected
This is a modal window.
Beginning of dialog window. Escape will cancel and close the window.
End of dialog window.
Team shroud
shroud
AZK
Skadoodle
Brax
Hiko
Team TimTheTatMan
TimTheTatMan
Fl0m
Mendo
Aceu
Poach
Team Yassuo
Yassuo
Moxy
xQc
Albralelie
Timmy
Team Courage
CouRageJD
n0thing
ShahZam
SicK
Crashies
Team Nadeshot
Nadeshot
jks
jkaem
Gratisfaction
AZR
Team Summ1tg
Summ1tg
TenZ_CS
EliGE
Stewie
JoshNissan
Today's action in the 100 Thieves Invitational: VALORANT will be coming at you fast, that's why we've brought in @GoldenboyFTW and @RivingtonThe3rd to cover all the action.
Less than an hour till game time.http://Twitch.tv/100thieves http://YouTube.com/100Thieves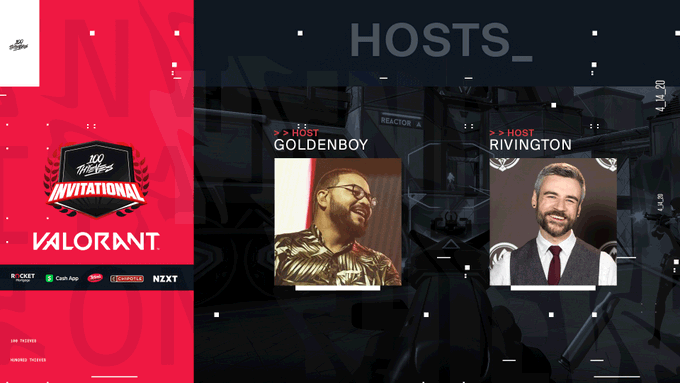 Where to watch the 100 Thieves Invitational: Valorant
Most likely, viewers will be able to watch the 100 Thieves Invitational: Valorant tournament through each player's channels. Some of these players will have Twitch, Mixer, or YouTube channels that fans can join in on. Viewers can also hop on to 100 Thieves' Twitch channel for an official broadcast. Every participant should be streaming during the competition, so there's a good chance viewers will be able to watch the match through several platforms and perspectives.
Valorant is quickly picking up the pace as one of the most popular games on Twitch, and it's only in its closed beta stage. As the game continues to rise in popularity, we can watch out for more tournaments happening in the future. The 100 Thieves Invitational: Valorant, although unaffiliated with Riot Games, is a great indicator of how exciting Valorant has already become within the gaming community.
Which team will come out victorious in the end? Let us know what you think in the comments below, and follow Daily Esports for all news on Riot Games' hot new title.
Source: Read Full Article