Hugo "HugS" Gonzalez recently created his list of the top 20 Super Smash Bros. Melee players of all time. He revealed the list in a video posted to his YouTube channel.
To view this video please enable JavaScript, and consider upgrading to a web browser thatsupports HTML5 video
descriptions off

, selected
captions and subtitles off

, selected
This is a modal window.
Beginning of dialog window. Escape will cancel and close the window.
End of dialog window.
HugS has been one of Melee's longest-lasting top players, as he has actively competed since late 2004. As a result, he created this list based on his knowledge of the most notable players throughout Melee's history. HugS ranked players based on their peak placements, the duration of their peak, and the difficulty of their competition.
Here are the top 20 Super Smash Bros. Melee players of all time, according to HugS:
Adam "Armada" Lindgren
Juan "Hungrybox" DeBiedma
Joseph "Mang0" Marquez
Jason "Mew2King" Zimmerman
William "Leffen" Hjelte
Kevin "PPMD" Nanney
Justin "Plup" McGrath
Daniel "ChuDat" Rodriguez
Jeffrey "Axe" Williamson
Zain Naghmi
Ken Hoang
Zachary "SFAT" Cordoni
Christopher "Azen" McMullen
Justin "Wizzrobe" Hallett
Christopher "PC Chris" Szygiel
Daniel "KoreanDJ" Jung
Joel Isai Alvarado
Johnny "S2J" Kim
Masaya "aMSa" Chikamoto
DaJuan "Shroomed" McDaniel
A closer look at HugS' top 20
HugS had three fairly uncontroversial picks at the very top of his list. Armada holds the No. 1 position. He has lifetime winning records against everyone he has played since Pound 4 in 2010. In addition, Armada suffered no losses outside of the top 6 from January 2010 to August 2018. Then, Hungrybox has had the longest reign as the best in the world. And Mang0 has spent nearly 13 years in the top 10.
HugS considered recent results to be more significant, as the competition has been stronger in recent history. As a result, he challenged dominant narratives regarding the legacies of players like Ken, Azen, and PC Chris. For example, Ken is seven spots lower on this list than on the ranking by "Pikachu492" and Anokh "EdwinBudding" Palakurthi.
After creating his real Melee top 20 list, HugS also made a fake list to post to Twitter. He added himself to this list, along with Robert "Wobbles" Wright and Cody "iBDW" Schwab. In addition, he replaced aMSa with the similarly-named Amsah Augustuszoon. Finally, he switched around existing players to create intentionally controversial placements. These included Hungrybox at No. 1, Zain at No. 3, and Ken at No. 14.
My "Top 20 Melee players of all time" list, as decided by one of THREE top players active since 2004
Lemme know your thoughts! https://youtu.be/3O6-ARB8488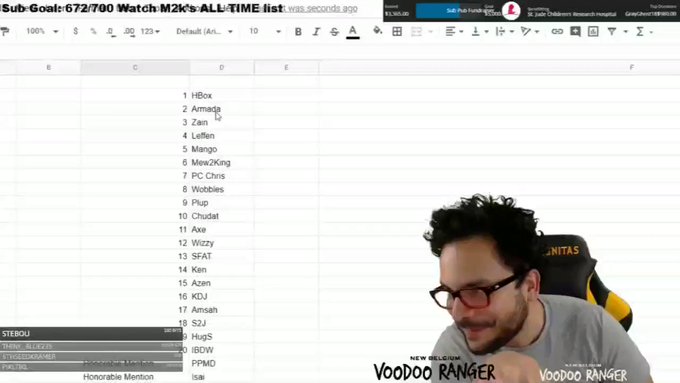 By playing this video you agree to Twitter's use of cookies
This use may include analytics, personalization, and ads.
Source: Read Full Article