Quick Links
How To Get Every Bee In The Game
How To Get A Glitched Bee
As you'd expect from a beekeeping simulator, bees play a very large role in Apico. They're the source of the vast majority of gameplay and there are a lot of them. In fact, finding and working with the huge variety of bees is one of the main goals of the game.
There are 35 different types of bees in Apico (36 if you count a super-secret bee) and they all have different methods to acquire them. While the guidebooks the game hands you are very useful in this pursuit, sometimes it's handier to have everything laid out in a handy guide.
How To Get Every Bee In The Game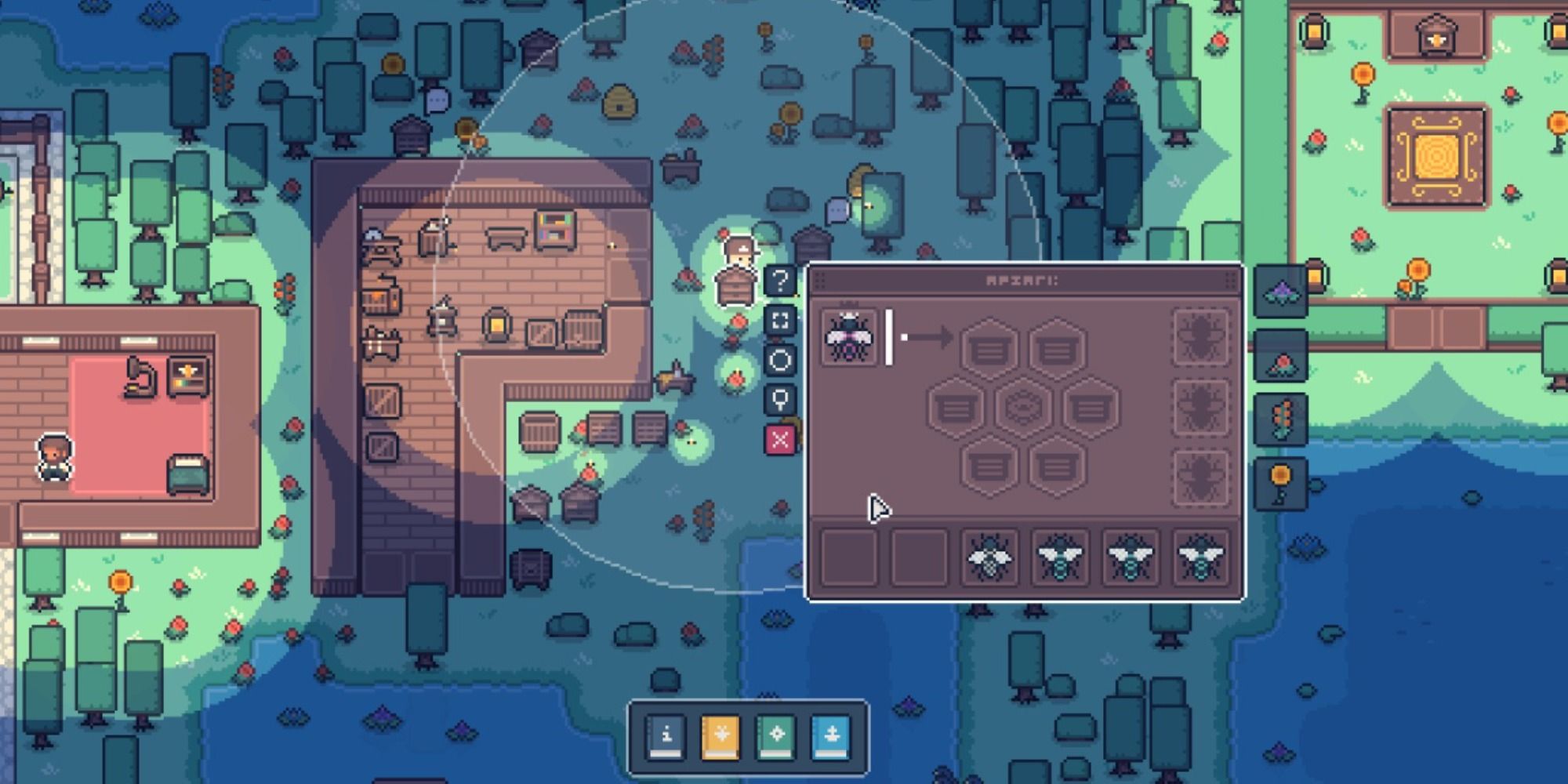 In Apico, there are three ways to acquire new bees:
Find them in hives scattered around the map.
Acquire them as the result of breeding certain pairs of bees together.
From quests.
The majority of the bees in the game are acquired through the second method, crossbreeding. This will require you to breed bees together in an Apiary and fulfill certain requirements.
Firstly, only specific pairings can result in new bee types entirely. In addition to that, special requirements must be fulfilled – this can range from having certain flowers in range or a certain time of day. These are hinted at in the bee guidebook that the game provides, but the actual requirements can be vague at times.
Crossbreeding Tips
​​​​Remember, you can only crossbreed bees in Apiaries, not in Hives.
Acquiring some bees requires that the queen being used to get them finishes her life cycle at a certain time of day – this can be daytime, nighttime, dawn or dusk, or even a very small period of time.

There is a trick to knowing when a queen's life cycle will end, though. Once you've created a queen, you can hover your mouse over the timer bar to the right of her icon. This will tell you how much time you have to wait for the queen's cycle to finish.
At this point, you can put the queen into your inventory and simply put her back in the Apiary when you're sure the timer will end at the correct time.
Consider removing her when only a few seconds remain to be sure.

When trying to obtain grumpy bees from hives, you do not necessarily need a smoker. You can simply break the hives open with a Hammer and pick the bees up.
If you are struggling to time certain crossbreeding projects that require the queen to come to the end of her lifespan while it's raining, consider using the Swamp Totem to force rain.

Tier 1 Bees

| Bee | Image | Method |
| --- | --- | --- |
| Common Bee | | Found in the yellow hives. |
| Forest Bee | | Found in the green hives. |
| Verge Bee | | Found in the blue hives that are only found in the water. |
| Uncommon Bee | | Found rarely in the yellow hives. It may only be one yellow hive on the starting island. |

Tier 2 Bees

| Bee | Image | Method |
| --- | --- | --- |
| Verdant Bee | | Breed a Common Bee and a Forest Bee together in the daytime. |
| Vibrant Bee | | Breed a Common Bee and a Verge Bee together in the daytime. |
| Drowsy Bee | | Breed a Forest Bee and an Uncommon Bee together at either dawn or dusk. |
| Misty Bee | | Breed a Forest Bee and a Verge Bee together while it is raining. |
| Dream Bee | | Breed a Common Bee and Uncommon Bee together while asleep in a bed. You can use the bed in Barnabee's house if you don't have one of your own. |
| Murky Bee | | Found in the purple hives in the swamp. |
| Muggy Bee | | Found in the blue hives in the swamp that are only found in the water. |
| Glowing Bee | | Found in the blue hives in the swamp that glow at dawn and dusk. |
| Rocky Bee | | Found when breaking open large rocks that require the Stone Pickaxe to break. The Wood Pickaxe will not work. |

Tier 3 Bees

| Bee | Image | Method |
| --- | --- | --- |
| Regal Bee | | Breed a Verdant Bee and a Vibrant Bee together while in range of some Goldenrod flowers. |
| Worker Bee | | Breed a Vibrant Bee and a Misty Bee together while in range of some Honeybriar flowers. |
| Stubborn Bee | | Breed a Drowsy Bee and a Murky Bee together at either dawn or dusk. |
| Domesticated Bee | | Breed a Verdant Bee and a Drowsy Bee together inside a building. |
| Hermit Bee | | Breed a Misty Bee and a Murky Bee together. There must not be any other bees within the Apiary's radius. |
| Twilight Bee | | Breed a Dream Bee and a Drowsy Bee together between 01:00 and 04:00. |
| Frosty Bee | | Found in the icy blue hives in the ice area. |
| Fiery Bee | | Found in the orange hives in the ice area. |
| Jurassic Bee | | Found in the blue hive encased in a block of ice. You must use a Heater to melt the ice and acquire the bee. |

Tier 4 Bees

| Bee | Image | Method |
| --- | --- | --- |
| Crystal Bee | | Breed a Regal Bee and a Frosty Bee together near some Honeycore – the yellow crystals found in the ice area. |
| Ancient Bee | | Breed a Twilight Bee and a Worker Bee together. These bees must have a lifespan of 7 – use Honeybriar to extend the lifespans of bees. |
| Bohemian Bee | | Breed a Domesticated Bee and a Stubborn Bee together while in the range of at least 10 flowers. |
| Prolific Bee | | Breed a Domesticated Bee and a Hermit Bee together while in the range of at least 6 live queens. |
| Industrial Bee | | Breed a Regal Bee and a Worker Bee together while in the range of at least 3 Auto machines that are bought from Bobbee. |
| Chaotic Bee | | Breed a Hermit Bee and a Twilight Bee together with a stability of 1 – use Hivesbane to decrease stability. |
| Arctic Bee | | Breed a Frosty Bee and a Stubborn Bee together in the ice area with a Cooler in range. |
| Blazing Bee | | Breed a Fiery Bee and a Stubborn Bee together in the swamp with a Heater in range. |
| Empress Bee | | Breed a Fiery Bee and a Regal Bee together while in the range of at least three Smokers burning different flowers. |
| Melodic Bee | | Breed a Domesticated Bee and a Twilight Bee while in the range of a Jukebox playing music. You can get the Jukebox from the Fox Merchant in the upper-left corner of the map. |
| Lightning Bee | | Put a Hallowed Bee inside a hive in the swamp during a thunderstorm. |
| Hallowed Bee | | Found inside the orange hives on the hallowed island. |

How To Get A Sacred Bee

The only way to get a Sacred Bee is to complete the quest involving the six idols hidden around the map and placing them inside the Hivemother Shrine. Four of them are found in shrines, one must be purchased, and one is a quest reward in itself.

| | |
| --- | --- |
| Forest Idol | Found in a shrine on the first island. |
| Swamp Idol | Found in a shrine in the swamp. |
| Polar Idol | Found in a shrine in the ice area. |
| Hallowed Idol | Found in a shrine on the hallowed island. |
| Sacred Idol | Quest reward for finding all 34 other species of bee. |
| Mysterious Idol | Purchased from the Mysterious Stranger who only appears at night. |

You must place these Idols inside the Hivemother Shrine, which is found inside the Hivemother's Dream.

To reach the Hivemother's Dream, you need to activate the four Hivemother Gates found near the shrines that hold the Idols. Activating them requires specific bees – hover over the silhouettes to find out which ones.

How To Get A Glitched Bee

When using Hivemother Gates to teleport around the map, you will sometimes end up inside a glitched area. This can only happen once at least three gates have been activated.

The only way to leave the area is to take a Glitched Bee queen, and this is the only way to get a Glitched Bee.

Source: Read Full Article