The former Activision Blizzard employee Jessica Gonzalez used Twitter to accuse her colleague Geoff Frazier of posting on a Discord server called The Right Wing of Gaming where he leaked personal information, made sexual remarks about interns, and poked fun at transgenered workers under the screen name Nebu. Frazier has not responded to the allegations.
Gonzalez was a founder and organizer for the group known as ABetterABK which aims to improve working conditions at Activision Blizzard. Frazier has been employed in various capacities at Activision Blizzard for over 23 years.
While she no longer works at the company, Gonzalez had a lot to say about her time at Activision Blizzard. She also had some startling things to say about Frazier. She said that "I'm no longer employed there, so here it is: he is part of a server called 'the right wing of gaming' where he was leaking sensitive employee information, objectifying interns, outing transgender staff, and more."
Gonzalez claims to have reported Frazier to Human Resources on multiple occasions. "The fact that he was allowed to do the shit he was doing for so long was unacceptable," she said. "I'm sure my report wasn't the only one."
Frazier apparently "didn't vaccine" and referred to himself as "conservative." He often used the term "libtard." He is reported to have made comments objectifying female employees and derogatory statements about gay people.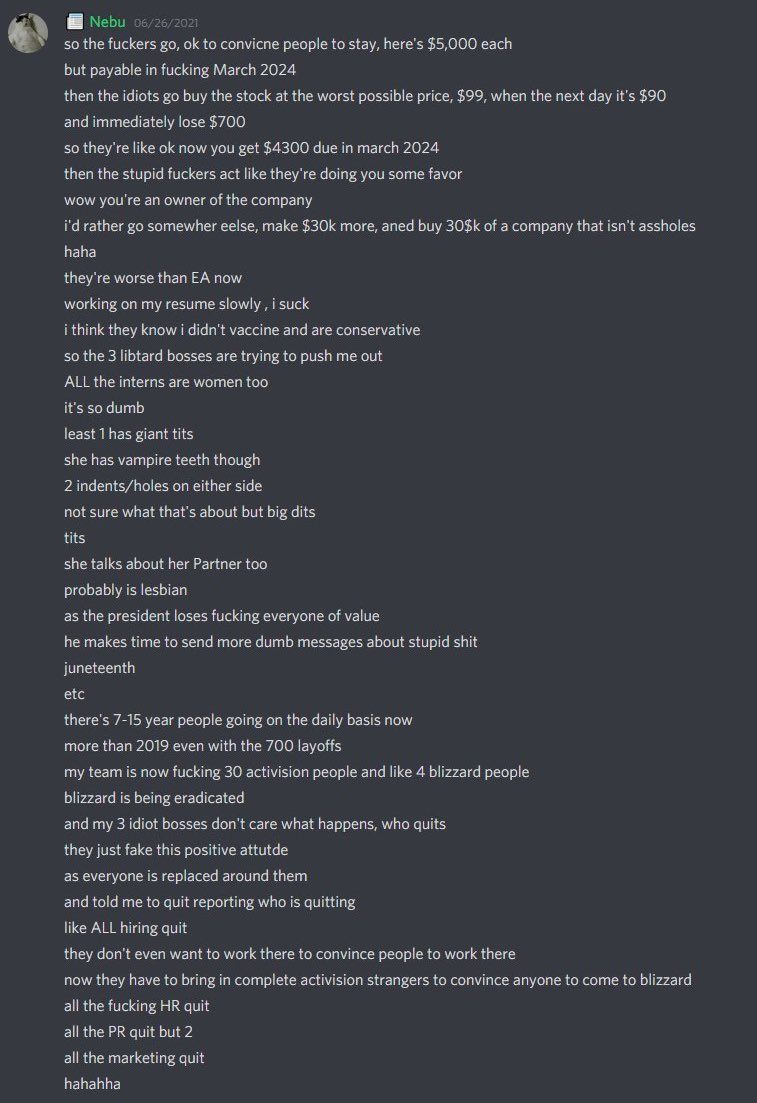 Gonzalez claimed that Frazier attacked her personally. Frazier is reported to have said that she was "ruining the whole company and ratting everyone out to the government." He called her the "worst hire of all time." Gonzalez remarked that she "made sure multiple people were aware of his targeted harassment towards me," but noted that no disciplinary actions had been taken.
The news about Frazier comes in the wake of a whole spate of allegations concerning abuse and misconduct at Activision Blizzard ranging from workplace toxicity to sexual harassmet. ABetterABK has become the focal point of a unionization effort aimed at forcing change within the company.
Source: Read Full Article