Quick Links
How To Obtain Chain Of Command
Chain Of Command Ornaments
Destiny 2's Season of the Haunted has introduced a wide range of new weapons for Guardians to chase. One of these new weapons is the Chain of Command, a Stasis Machine Gun that can be earned by playing one of three playlist activities—Vanguard Ops, Crucible, and Gambit.
This season's playlist weapon is the perfect utility weapon for high-end PvE content. Chain of Command is the first Heavy weapon to come with Osmosis, and its ability to use Adaptive Munitions will make it invaluable in Match Game activities. And for those who don't care about shields, this weapon is great for grenade builds as well. Let's go over how to get the Chain of Command, its three unique ornaments, and the perks that come with this weapon.
How To Obtain Chain Of Command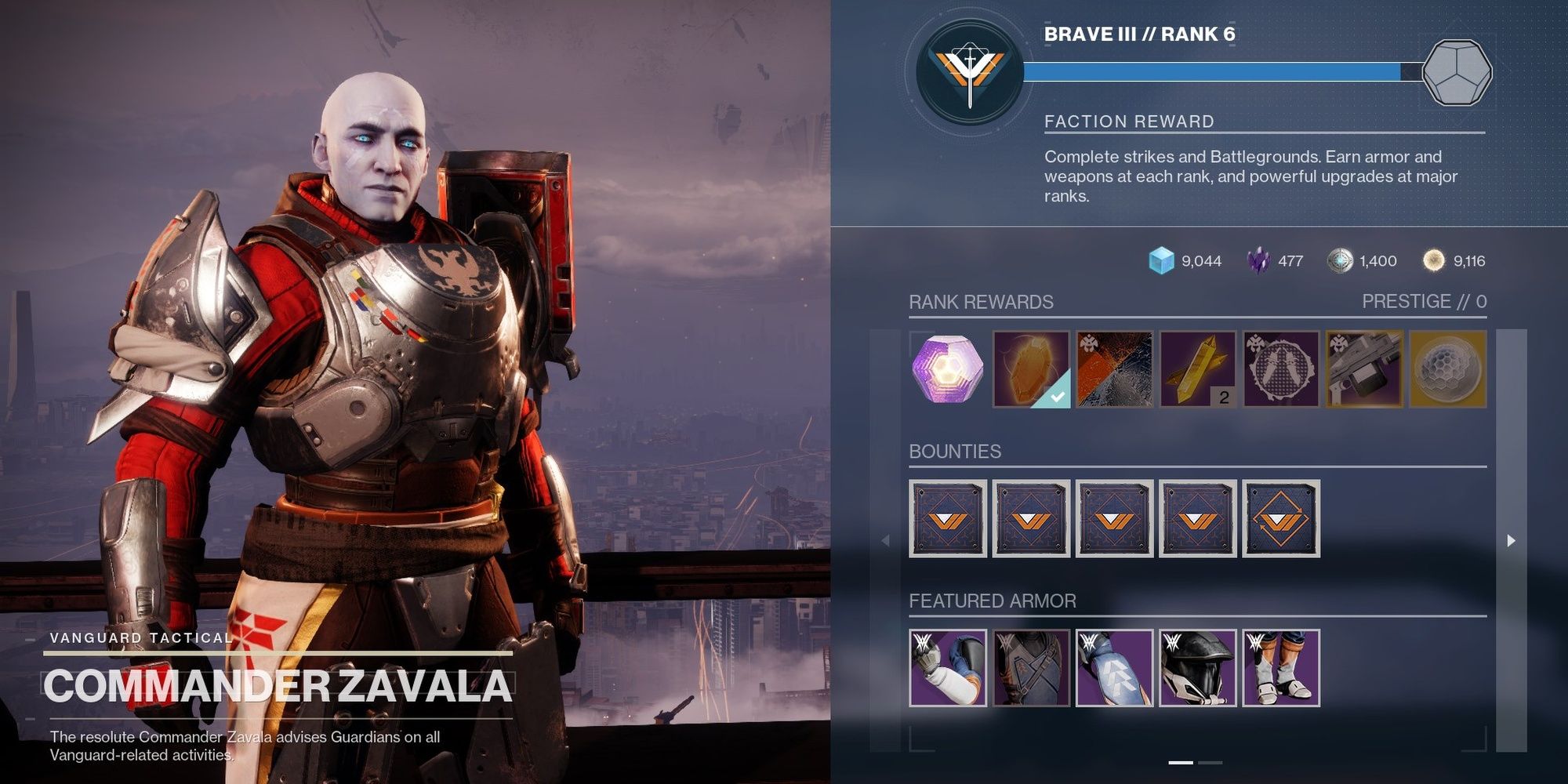 The Chain of Command is obtained by reaching rank 16 with Commander Zavala, Lord Shaxx, or the Drifter. Doing so requires you to complete that vendor's respective activity—Vanguard Ops, Crucible, or Gambit, respectively. All three vendors will provide the same roll of Chain of Command, although resetting your rank with each vendor will grant you an activity-exclusive ornament for this weapon.
As for earning this weapon quickly, we recommend farming Vanguard Strikes or the Crucible. PvE content is fairly easy to farm and isn't particularly intensive. PvP can be stressful for some players, although we find PvP matches to be a slightly faster grind than PvE activities. Pick your preference, and keep an eye out for any double reputation weeks for any ritual activity.
For more information about farming for vendor reputation, check out the following guides:
Vanguard Rank Guide
Crucible Rank Guide
Gambit Rank Guide
Return to Quick Links
Chain Of Command Ornaments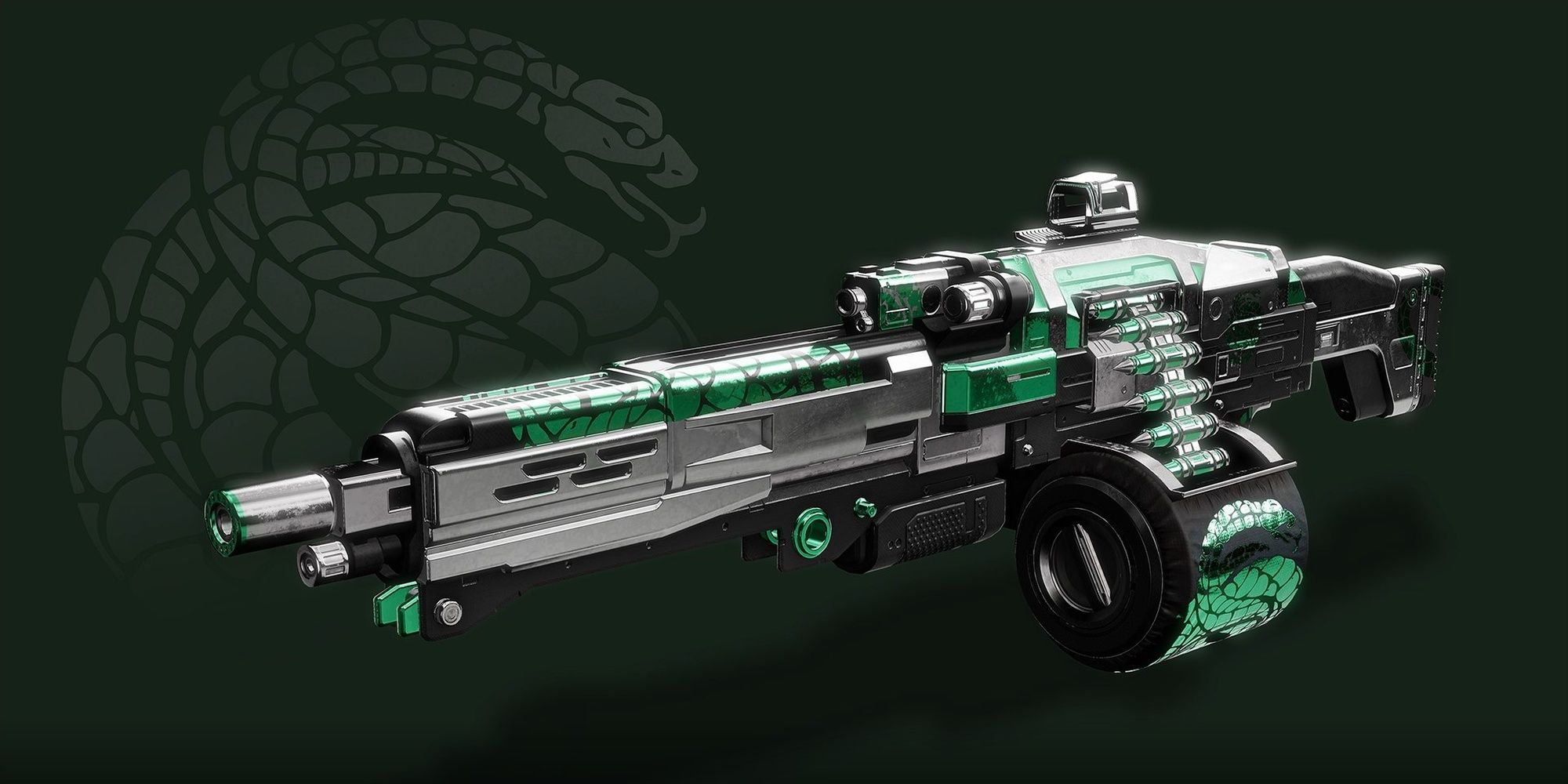 Chain of Command has three ornaments you can earn by leveling each ritual activity vendor. Vanguard Ops grant the Standard Regulation Ornament, Crucible grants the Mandated Artillery Ornament, and Gambit is tied to the Insubordination Ornament.
Standard Regulation Ornament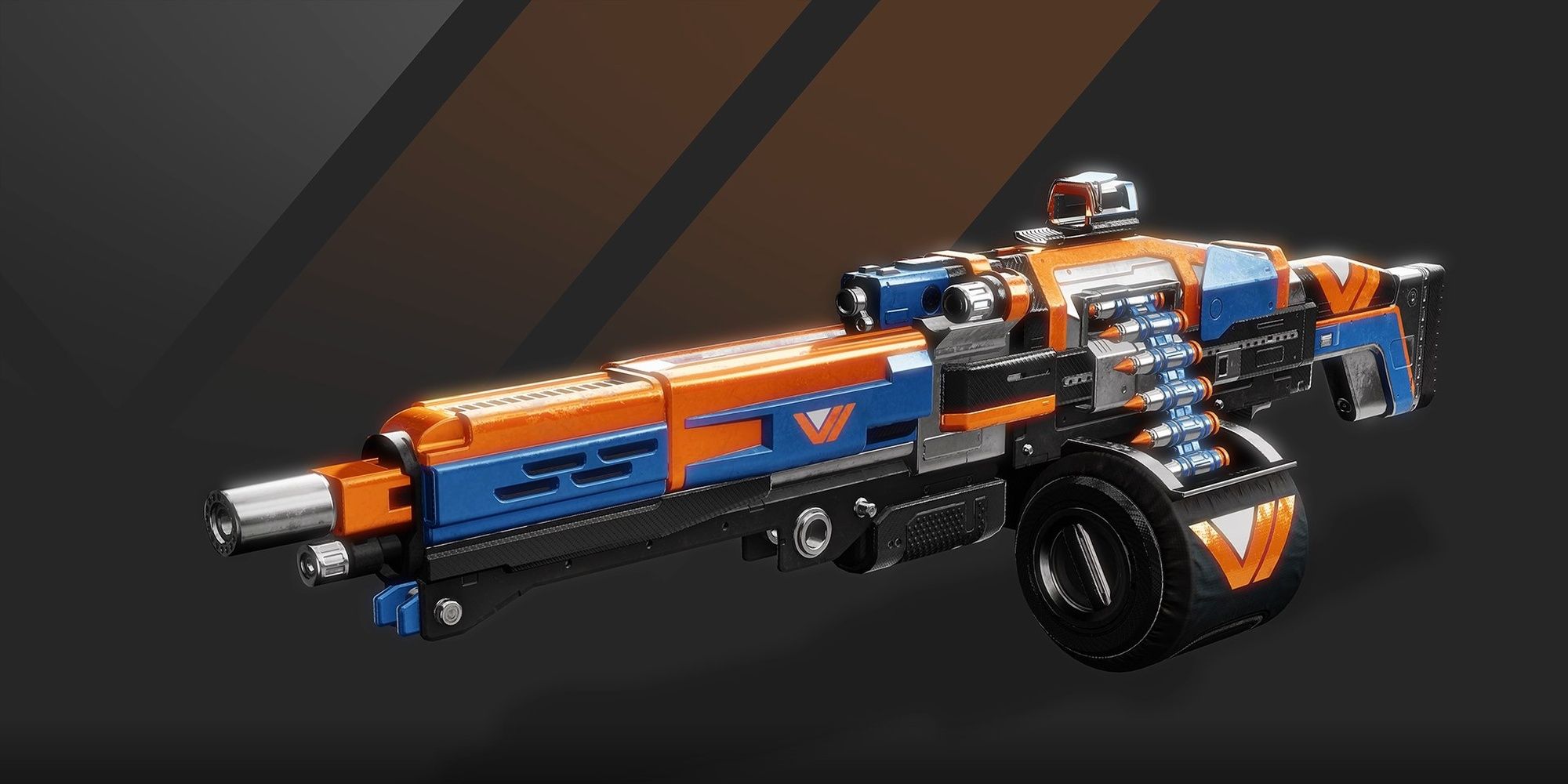 Standard Regulation is the Vanguard ornament for Chain of Command, unlocked upon resetting your rank with Commander Zavala and reaching Vanguard Rank 16 once again. The fastest way of doing this is to either farm the Lake of Shadows strike or any Hero-tier Nightfall. Nightfalls grant much more progress but can take longer to complete; it depends mainly on which weekly strike is chosen.
Mandated Artillery Ornament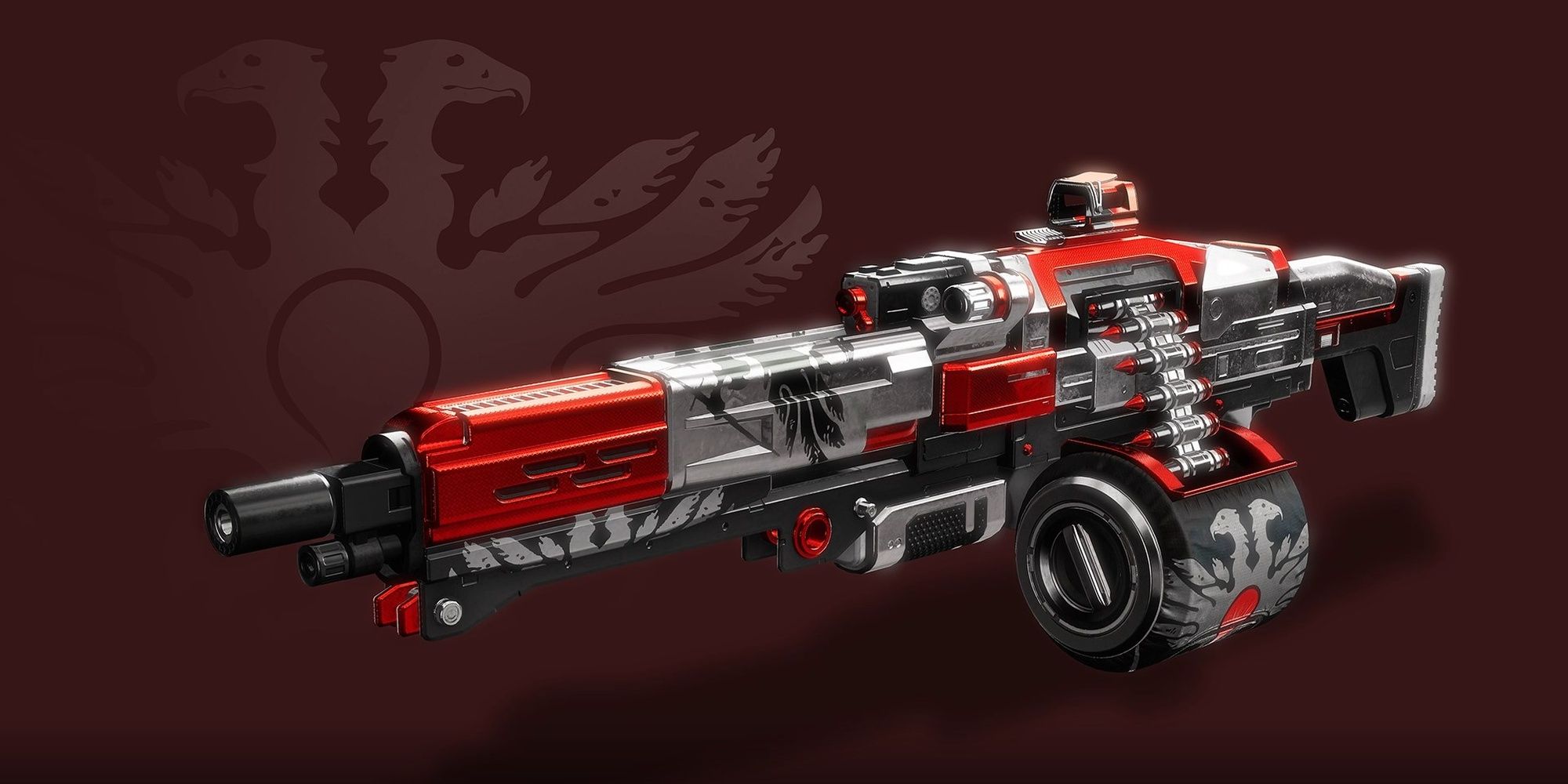 Completing Crucible matches will increase your Crucible Valor rank. Upon resetting your Valor and reaching rank 16 again, you'll be able to claim the Mandated Artillery ornament from Shaxx. The rotating playlist—notably Mayhem, Momentum Control, and Team Scorched—are the best activities to farm since each match is fairly short. Iron Banner is also a good time to farm Crucible Valor since double Valor reputation will be active.
Insubordination Ornament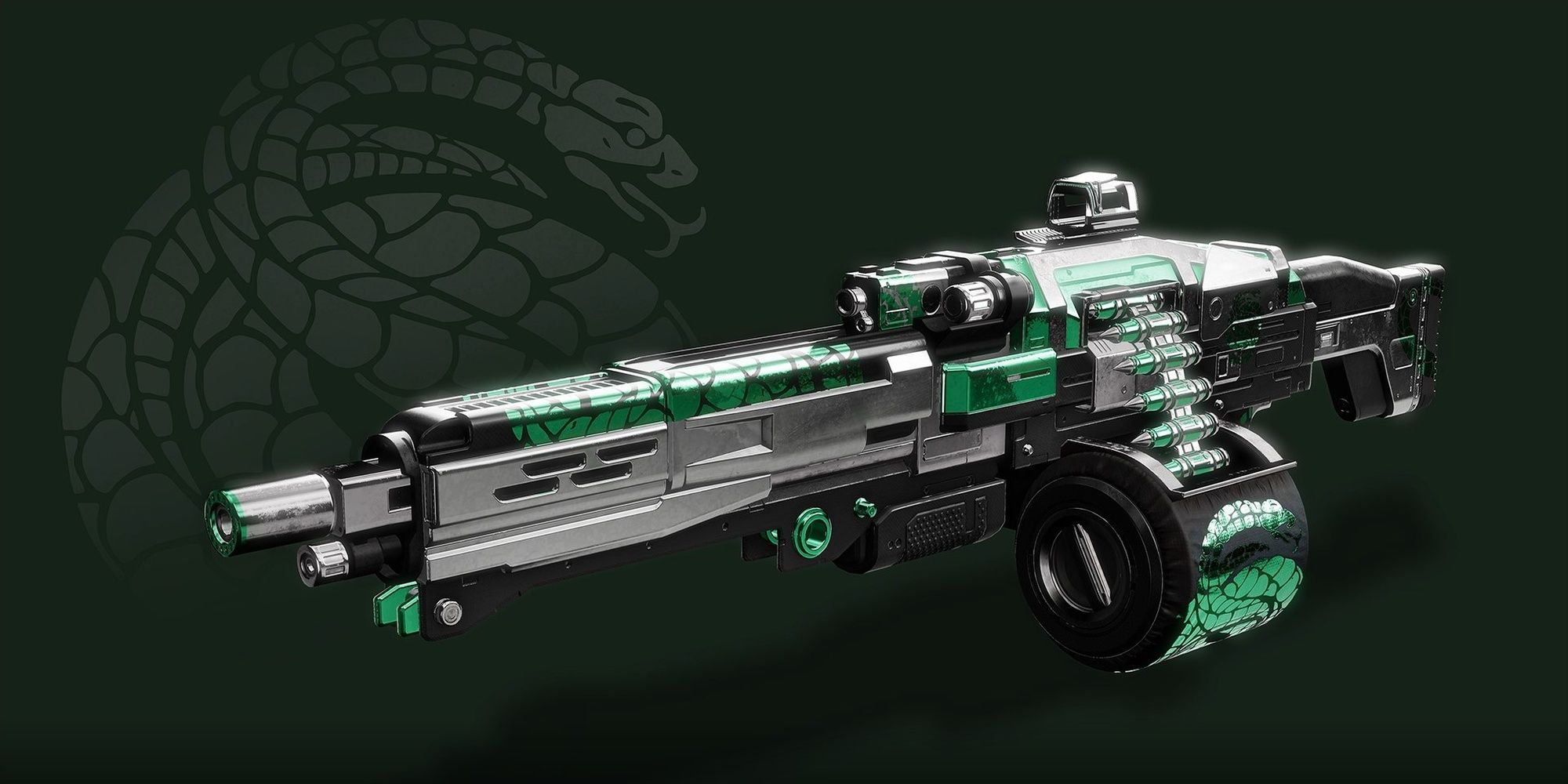 As with the other two ornaments, you'll need to reset your Gambit Rank and reach rank 16 with the Drifter once again to receive this ornament. Gambit doesn't have many strategies for speeding up this farm. Your best bet is to wait for a double Infamy week before leveling the Drifter. Alternatively, you can get a full fireteam together and coordinate loadouts before attempting to farm this playlist, increasing your chances of winning.
Return to Quick Links
Chain Of Commands Perks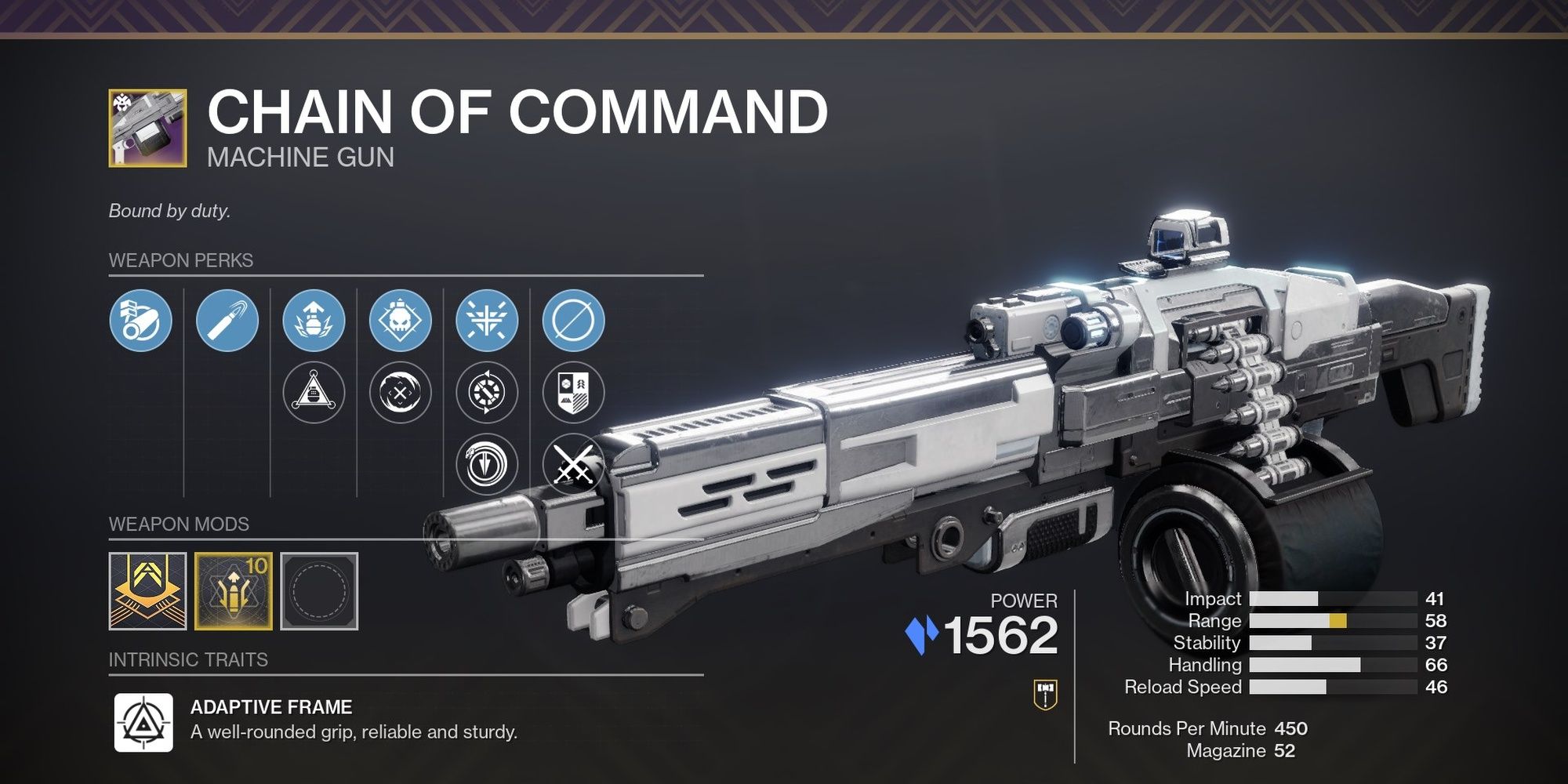 Chain of Command is an Adaptive Frame (450 RPM) Machine Gun that deals Stasis damage. The weapon is capable of using Osmosis or Adaptive Munitions, allowing this weapon to combat just about every shield type you can find in endgame activities. Beyond that, players can also use Chain of Command alongside a grenade build with Adrenaline Junkie and Demolitionist.
Chain Of Command Perks
Barrel
Arrowhead Brake
Magazine
High-Caliber Rounds
Trait Column 1
Adrenaline Junkie
Osmosis
Trait Column 2
Demolitionist
Adaptive Munitions
Return to Quick Links
Source: Read Full Article