Quick Links
How Do You Cook In Dinkum?
Food is amazing. Not only does it keep you alive, and taste awesome, but according to Dinkum, it can cure near-fatal injuries and replenish your stamina. If you've been hit one too many times by a gribbly, or you've run around for too long, worry not, an apple will sort you right out.
But what if you wanted the benefits of the apple to be, well, more beneficial. What if you applied some sort of heat-based appliance and your once tasty apple becomes more appley? Well, that's where cooking comes into play. Grab some twigs and be ready to dig in.
Dinkum is currently in Early Access. As a result, things may change and be updated as development continues.
What Is Cooking?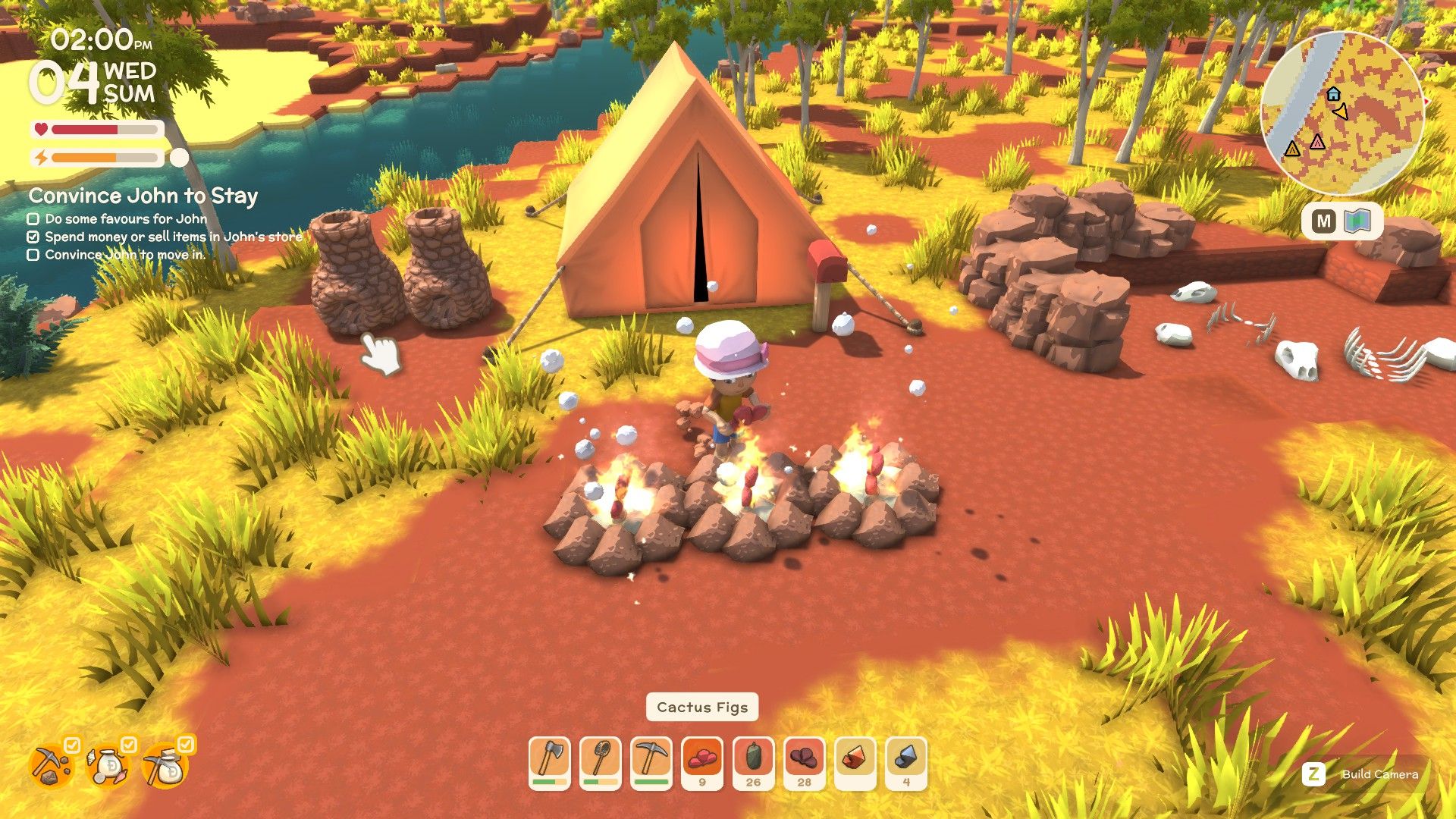 Cooking in Dinkum is simply the act of heating something up. Sometimes you will heat something with other things to make new things, but in general, heat is required. Cooking nearly always enhances the healing and regeneration effects of food, and if you want to be active in Dinkum each day, then having a stockpile of ready-made meals is a must.
How Do You Cook In Dinkum?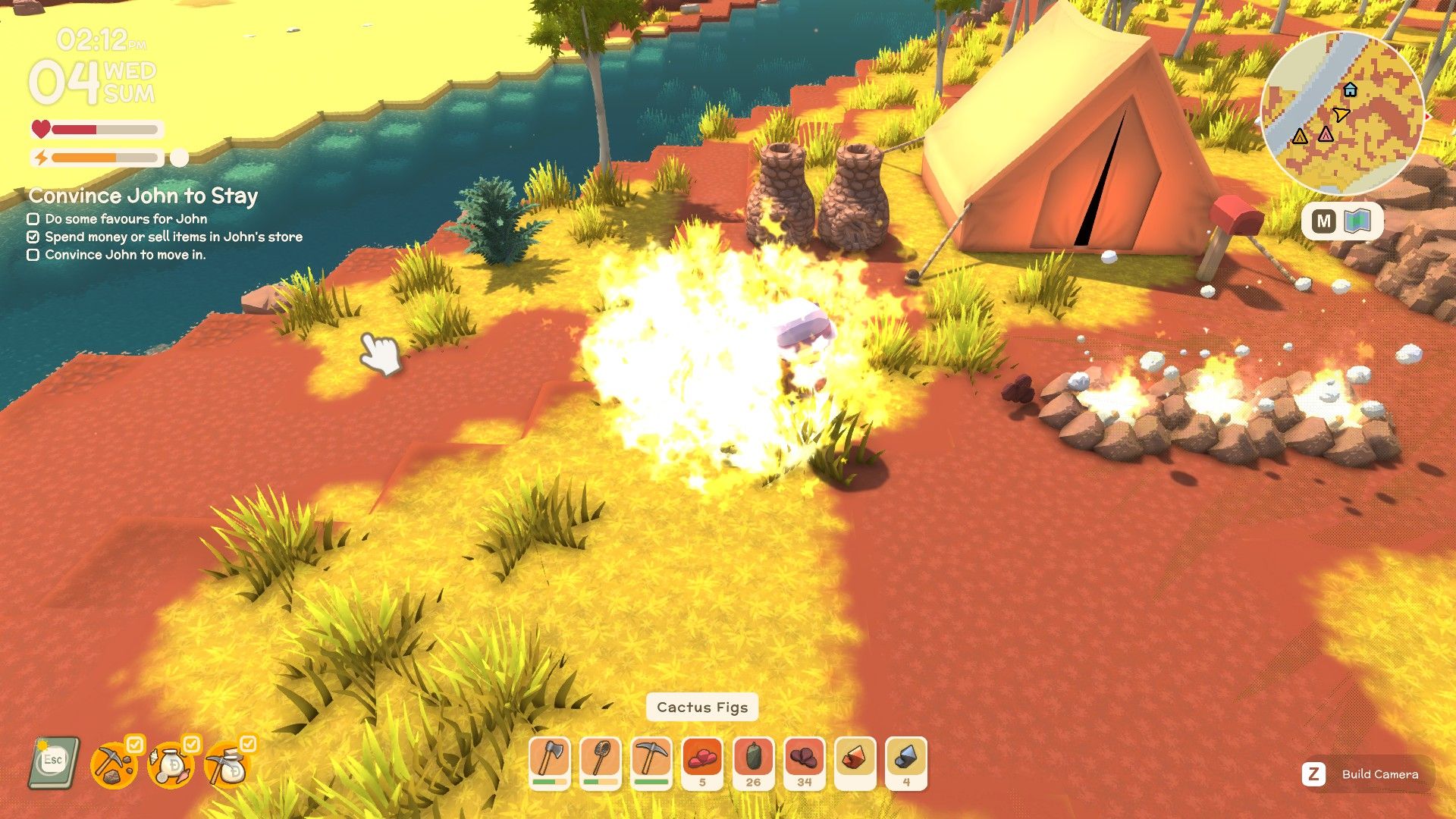 To cook in Dinkum you need two things – a cooking station of some sort, and at least one ingredient. Cooking stations come in several forms and can be something as simple as a Camp Fire, or as advanced as a Cooking Table. Ingredients similarly can be something as easily found as a banana, or a refined good, like flour.
Here's a list of cooking stations in Dinkum:
Camp Fire
BBQ
Cooking Table
Camp Fires are dangerous and if you aren't careful when near them, you can set yourself on fire. If you aren't near water, things can get hairy really quickly. For safety, don't rely on having a production line of Camp Fires. Instead, invest in a BBQ.
Cooking Recipes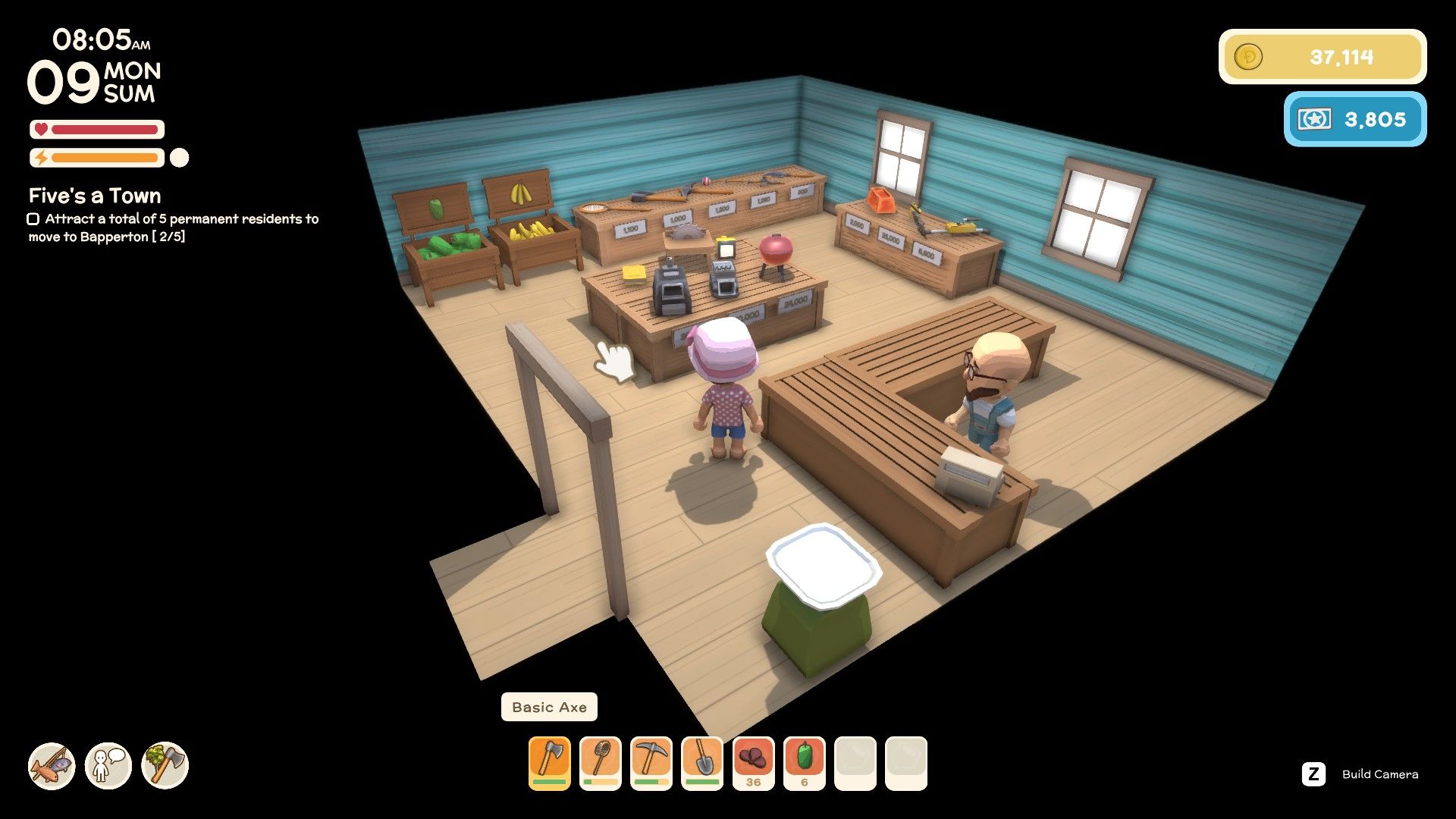 There are plenty of recipes in Dinkum, and different recipes will require a different type of cooking station. There may be three in Dinkum, but you can lump Camp Fires and BBQs into the same category for recipes. BBQs are simply an upgraded form of Camp Fire when it comes to cooking food.
Name
Station
Ingredients
Effects
Cooked Apple
CF/BBQ
Cooked Banana
CF/BBQ
Cooked Bush Lime
CF/BBQ
Cooked Cactus Figs
CF/BBQ
Cooked Croco Meat
CF/BBQ
Cooked Flake
CF/BBQ
Cooked
CF/BBQ
Cooked Giant Drumstick
CF/BBQ
Cooked Quandong
CF/BBQ
Bread
CT

+35 Health
+25 Stamina
Defence Up (3 minutes)

Dagwood Dog
CT

x1 Corn
x1 Meat
x1 Mangrove Stick

+15 Health
+25 stamina
Attack Up (3 minutes)
Defence Up (3 Minutes)

Damper
CT
Fairy Bread
CT

+10 Stamina
Movement Up (2 minutes)

Fish and Chips
CT

x1 Flake
x2 Potato
x1 Bush Lime

+ 10 Health
+30 Stamina
Fishing Up (20 minutes)

Fruit Salad
CT

x2 Bush Lime
x2 Apple
x2 Banana
x2 Quandong

+10 Health
+20 Stamina
Defence Up (5 minutes)
Woodcutting Up (5 minutes)

Garden Salad
CT

x1 Cabbage
x1 Tomato
x1 Onion

+20 Health
+20 Stamina
Defence Up (2 minutes)
Heal Over Time (2 minutes)

Hearty Stew
CT

x1 Meat
x1 Potato
x1 Onion
x1 Carrot

+45 Health
+10 Stamina
Attack Up (3 minutes)
Defence Up (3 minutes)

Lamington
CT

x1 Flour
x1 Sugar
x1 Coconut
x1 Chicken Egg
x1 Milk

+30 Stamina
Defence Up (4 minutes)
Movement Up (60 seconds)
Mining Up (4 minutes)
Woodcutting Up (4 minutes)

Meat On A Stick
CT

+35 Health
+15 Stamina
Defence Up (3 minutes)

Meat Pie
CT

x1 Flour
x1 Meat
x1 Raw Drumstick

+25 Health
+5 Stamina
Attack Up (3 minutes)

Pastie
CT

x1 Flour
x1 Cabbage
x1 Carrot
x1 Potato

+30 Health
+30 Stamina
Mining Up (3 minutes)
Woodcutting Up (3 minutes)

Pavlova
CT

x4 Big Chicken Eggs
x2 Sugar
x1 Fruit Salad

+40 Health
+45 Stamina
Movement Up (3 minutes)

Prime Roast
CT

x1 Raw Prime Meat
x3 Potato
x2 Carrot
x1 Kale
x3 Green Bean
x1 Pumpkin

+50 Health
+50 Stamina
Attack Up (5 minutes)
Defence Up (5 minutes)

Quiche
CT

x1 Flour
x1 Chicken Egg
x1 Cheese

+20 Health
+30 Stamina
Movement Up (5 minutes)
Mining Up (5 minutes)
Woodcutting Up (5 minutes)

Sausage Roll
CT

x1 Flour
x1 Chicken Egg
x1 Meat
x1 Onion

+30 Health
+30 Stamina
Attack Up (5 minutes)
Defence Up (5 minutes)
Movement Up (5 minutes)
Source: Read Full Article