Elden Ring has overtaken Dying Light 2 as Steam's most wishlisted game.
In case you hadn't heard – 2022 is pretty stacked with big releases, and nowhere is that more clear than in February. Whether it's Sifu, Dying Light 2, or Horizon: Forbidden West, there's plenty to play next month. One game seems to be standing above the rest, though, and the answer probably won't come as a surprise – Elden Ring.
That's if the Steam wishlist charts are anything to go by, anyway. As pointed out by ResetEra user AshenOne, Elden Ring has overtaken Dying Light 2 as the most wishlisted game on the platform, marking the first time that it has done so since it was added to Steam back in August.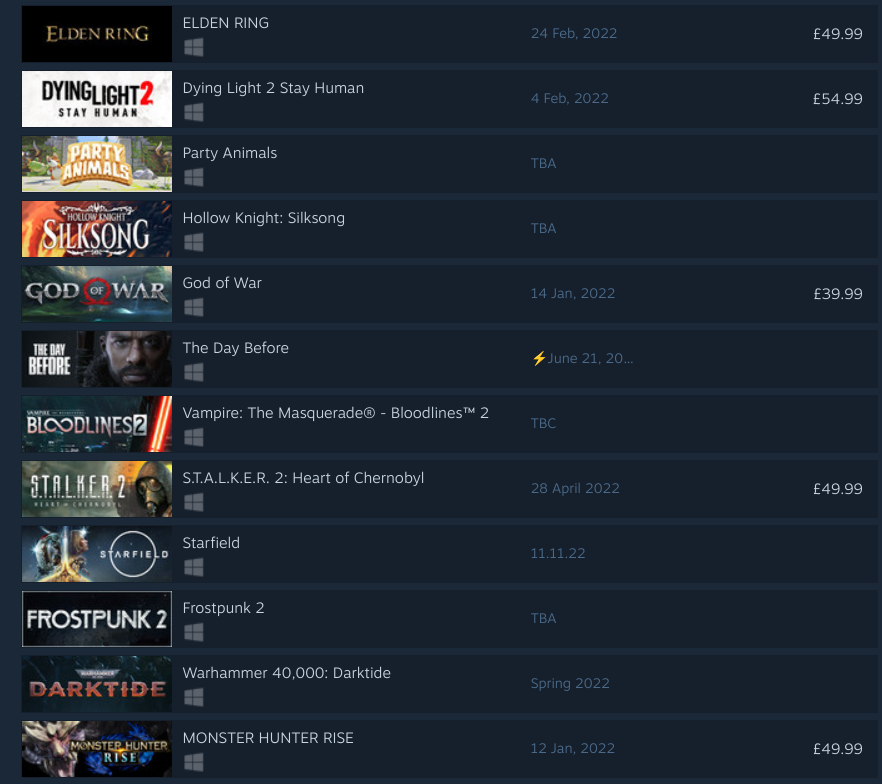 AshenOne points out that Dying Light 2 has been sitting at the top of the wishlist since December 2020, when Cyberpunk 2077 was originally released. They also point out that it's important to remember that Dying Light 2 has had a Steam page a lot longer than Elden Ring, which only got one half a year ago.
It's an interesting comparison point considering that both Dying Light 2 and Elden Ring release in the same month, just a few weeks apart from one another. We'll likely see the number grow as we get closer to launch too, and this also doesn't take into account players that have already pre-ordered it, plan on buying it day one, or want to play it on home consoles like PS5 or Xbox Series X.
It's not just popular in the wishlists either, as AshenOne points out that Elden Ring can also be found in the top 5 of the real-time global top sellers, and is also second on the list of most followed upcoming Steam games. This shouldn't come as too much of a surprise considering the massive success of the Souls series on PC, the hype surrounding Elden Ring, and the modding scene that is likely to latch onto it.
Source: Read Full Article