Pharaoh A New Era sees you step into the sandals of an Egyptian Pharaoh and take control of building an ancient city from the ground up. You'll progress through different ages of the Egyptian era, unlocking new technologies and amassing your very own empire.
Gamers of a certain age will remember the original Pharaoh, and this is very much a modern version. However, not everything is the same, so regardless of if you played the original Sierra classic or not, these beginner tips for Pharaoh A New Era can help you out.
Check The Game Settings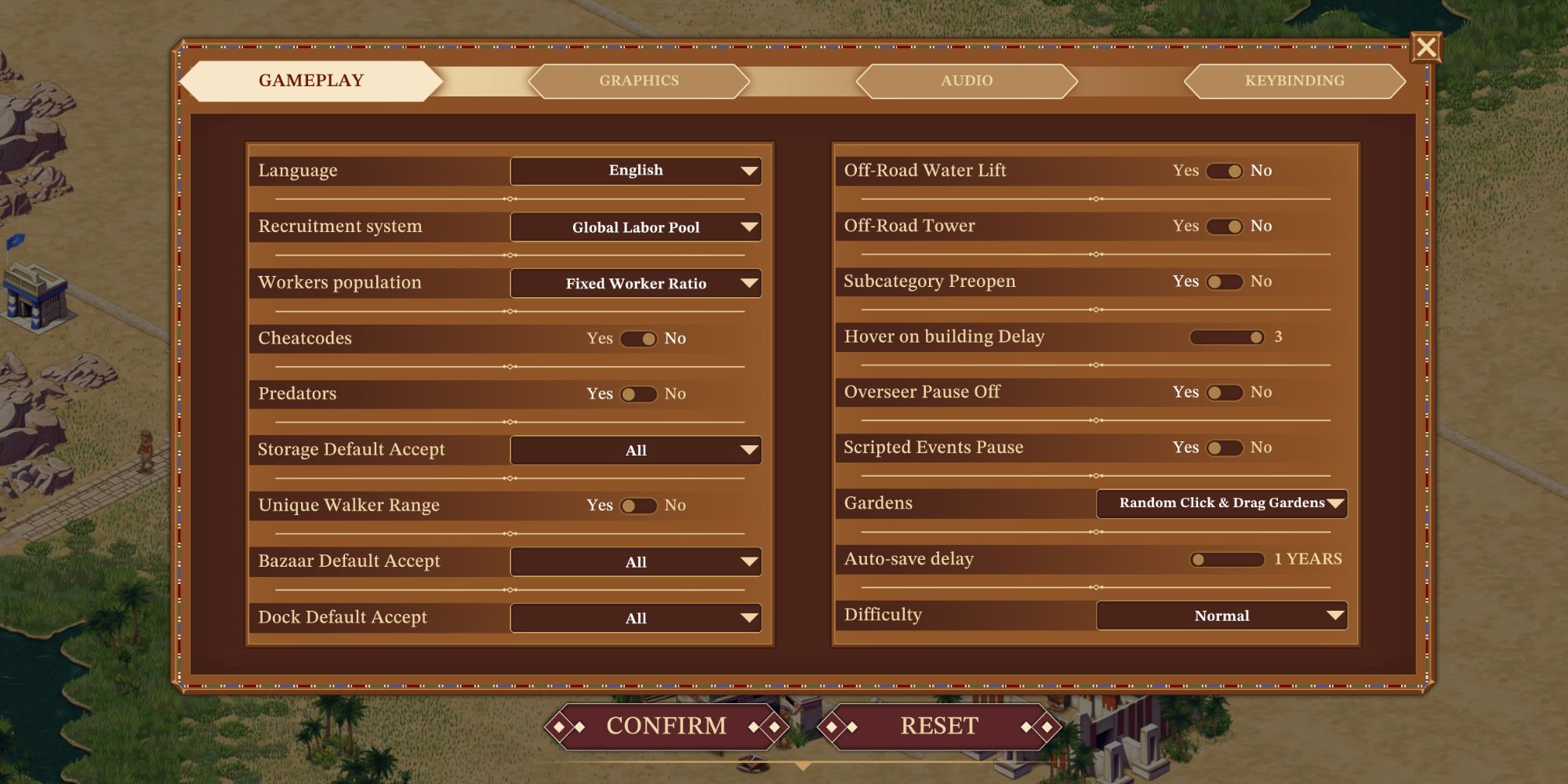 If you go into the options menu there are a few gameplay settings that will help you customise your game. Here are the most important ones:
Recruitment System – You can change this from the default recruiters system the original game employed to a global labor pool design. Doing this means all buildings connected by a road will be able to pull workers from any location. You'll no longer have to worry about needing to build small pockets of houses around your industrial hubs.
Workers Population – As a default, workers age over time and those aged between 20 and 49 enter the labor pool. If you change this to fixed worker ratio then a set 40 percent of the population will always be available to work, keeping numbers steady.
Predators – On some maps predators can kill citizens who get too close. This setting stops them from spawning.
There are also settings to adjust what storage yards, bazaars and docks accept by default, allow water lifts and towers to gain workers without a road connection, and change the overall difficulty of the game. All these options change immediately when selected, so you can adjust them as you play.
Set Up A Food Supply Chain First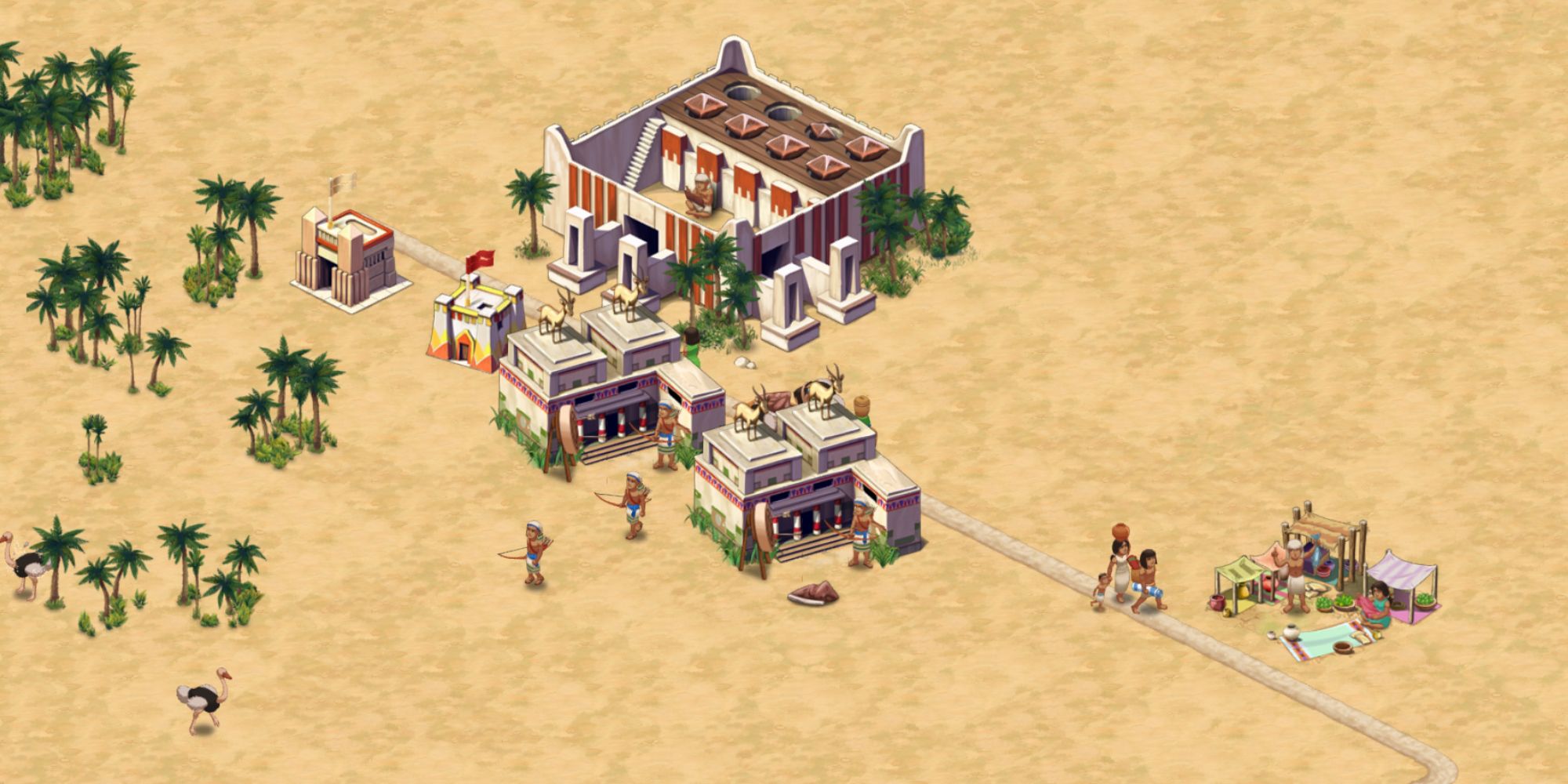 Before you do anything else you need to get your basic food supply chain in place. This means three or four farms – or a couple of hunter's lodges – a granary, a well or water supply and a bazaar to go alongside your houses. You'll also need an architect's post and firehouse to make sure the whole lot doesn't fall down or catch on fire.
You can't build a water supply or well on sand and farms can only go on fertile land, so make sure to account for this when working out where to build!
It takes time to gather a harvest so if you build up your population too fast you'll run out of supplies very quickly. You only need five or six houses to get the basic food supply chain up and running, so don't overpopulate. Make sure your basics are stable before you expand.
Keep An Eye On Unemployment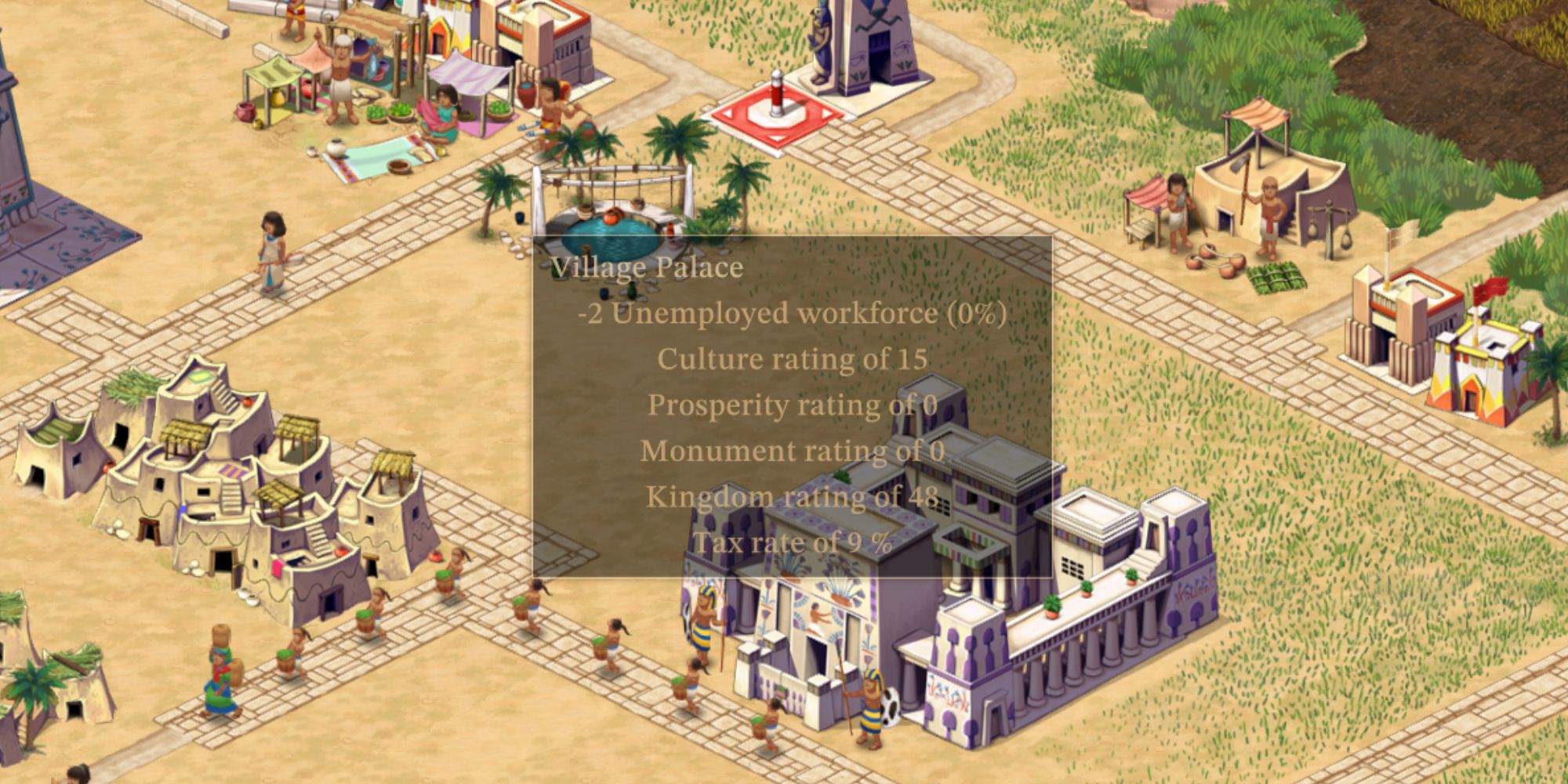 As your city expands you'll provide more services for your citizens, and in turn, houses will evolve and hold more people. One of the most difficult tasks is balancing the two so that job vacancies are filled, but you don't end up with incredibly high unemployment.
Sustained unemployment above ten percent will lead to unrest, crime, and citizens emigrating while high vacancies mean services won't function properly, leading to devolution of houses and emigration.
If you hover over your palace you can see the current unemployment rate, or number of workers required. As you add services and expand houses keep an eye on this figure. Each time something changes, either the houses evolving or you creating additional jobs, you need to slow time down to check the employment stats, or risk losing a large amount of citizens very quickly.
You Can Never Have Enough Architect Posts And Firehouses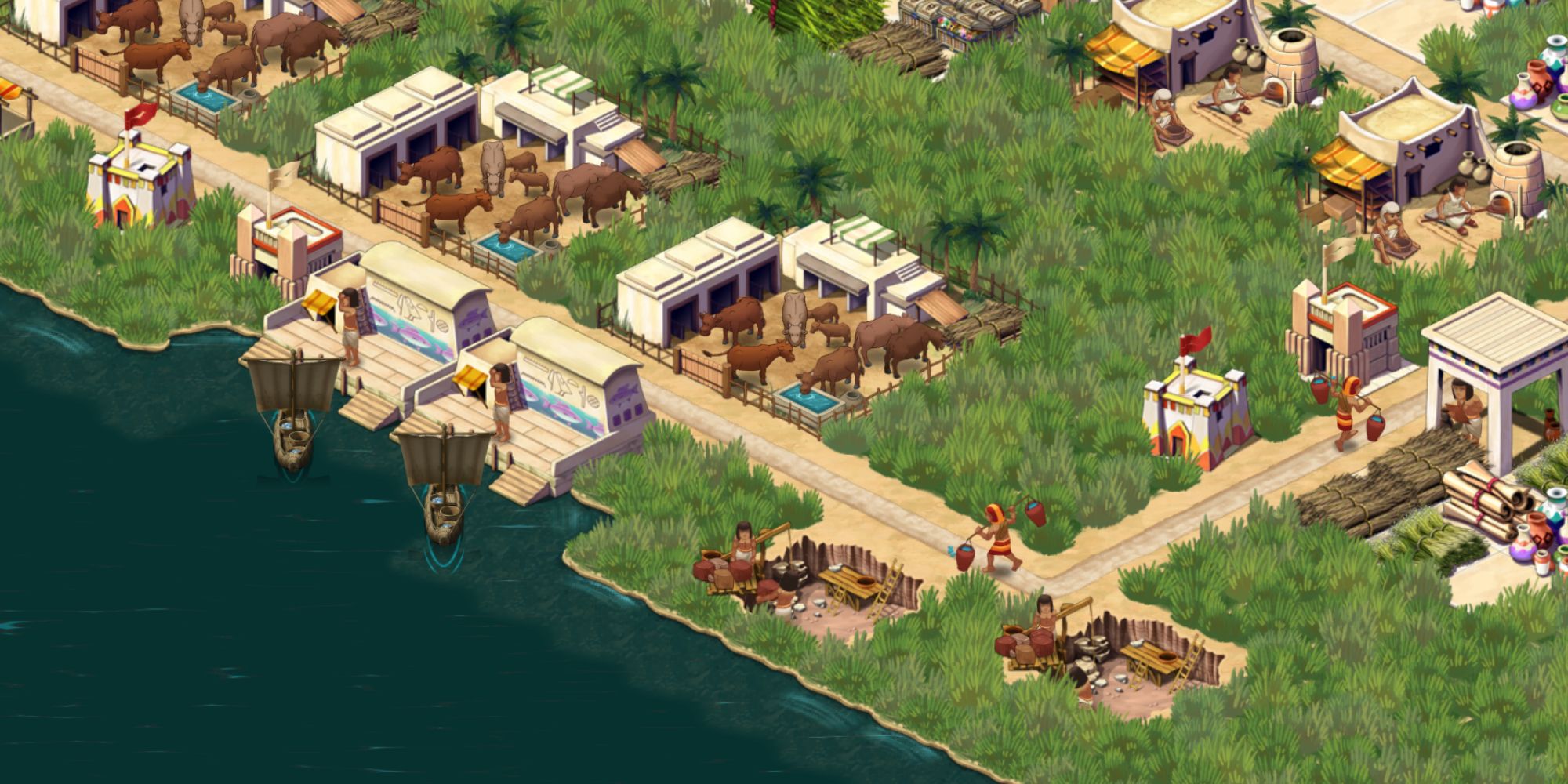 If you need to bring unemployment down then consider building small facilities such as architect posts, firehouses, apothecaries, and police stations. These all cost just 30 Debens and will prevent buildings collapsing or catching fire, reduce illness, and keep crime in check. Since they all require workers it also makes a little dint in the unemployment figure. Physicians are a little more expensive at 50 Debens but are also worth investing in.
Spread these structures around the town, without putting them too close to houses. Physicians and apothecaries only need to be near houses but architect posts and firehouses are required near all buildings. There's nothing worse than losing a granary full of food as the floods roll in, so make sure your risks are low.
You can also build police stations near courthouses and your palace to help prevent thievery.
Use Roadblocks Wisely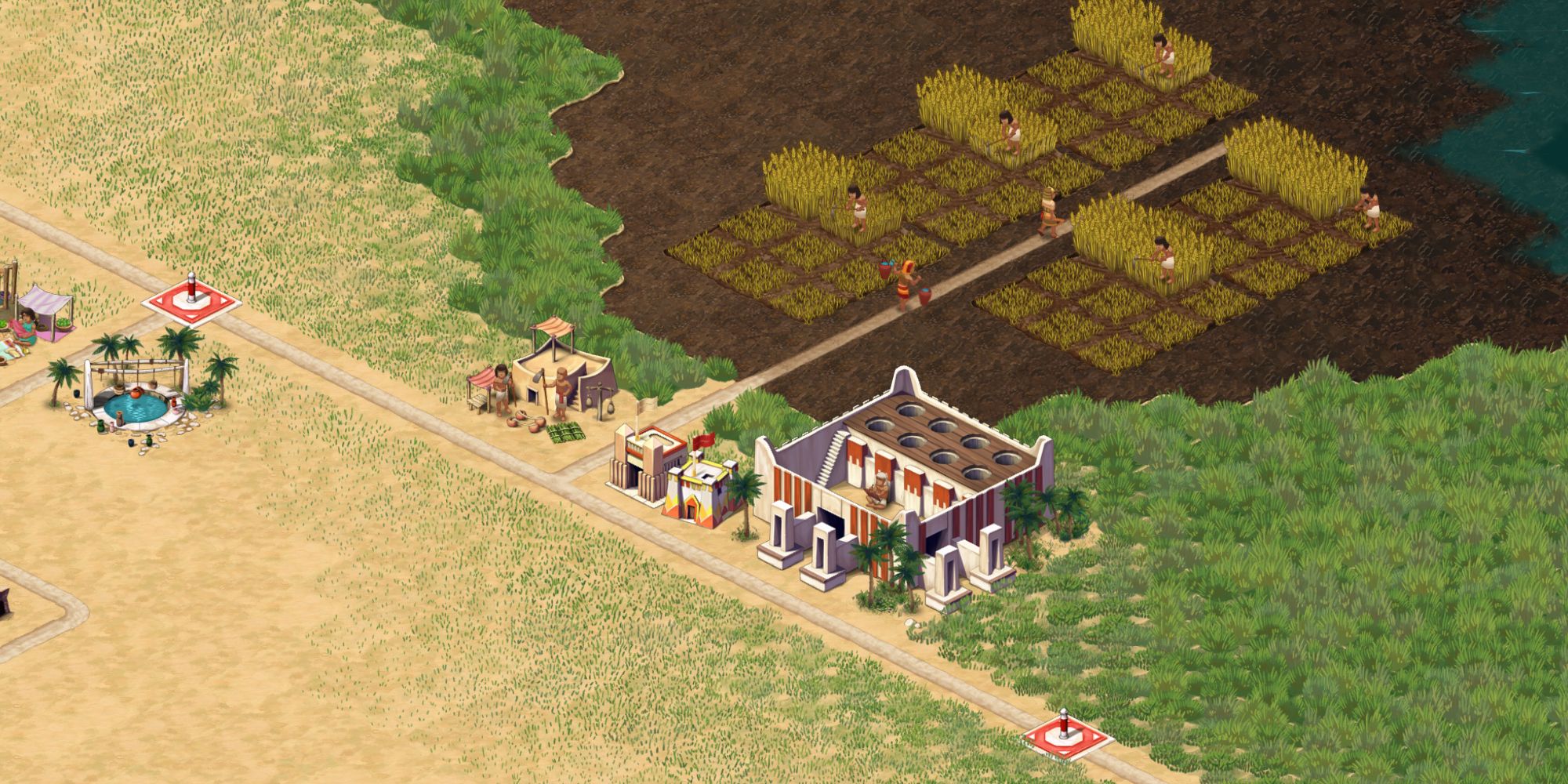 Roadblocks are one of the most useful tools that you have but can also prevent vital services from reaching the places they need to. You need to combine them with a simple road design and make sure you know which services require unblocked access to houses or other buildings.
When you start a city your first step should be to lay out a basic road pattern you will build around. Having a crossroads in the middle for a Festival Square works well but anything that is reasonably simple is good. You want to ensure that all services have direct paths to the places you need them. This chart shows all the buildings which contain workers who will only walk down unblocked paths and need to walk past either houses or other buildings for their services to be effective.
| | Function | Required By Houses | Required By Other Buildings |
| --- | --- | --- | --- |
| Apothecary | Prevents Malaria | Yes | No |
| Architect's Post | Prevents Collapse | Yes | Yes |
| Bazaar | Distributes Food and Goods | Yes | No |
| Courthouse | Reduces Crime | Yes | No |
| Dentist | Improves Health | Yes | No |
| Firehouse | Prevents Fire | Yes | Yes |
| Library | Increases Education | Yes | No |
| Physician's Office | Reduces Disease | Yes | No |
| Police Station | Reduces Crime | Yes | Yes |
| Scribal School | Increases Education | Yes | No |
| Tax Collector | Collects Taxes | Yes | No |
| Temples | Pleases Gods | Yes | No |
| Water Source | Provides Water | Yes | No |
Any worker doing an essential job, such as collecting food from a Granary, will walk through a roadblock to achieve this. Roadblocks only affect those distributing goods and services.
Entertainment Venues function most efficiently when the trained workers have to pass by houses to get to the performance venue. They frequently walk between the two and their passing by raises awareness of the facility. Make sure the quickest route passes by houses but isn't too long, so they have time to perform at the venue.
Once you are constructing monuments, or working on flood plains, you will also need Work Camps and Construction Guilds to provide labor. These also require easy access to the place the workers are needed as well as to the materials they require to maximise efficiency.
Use Your Notifications And Overlays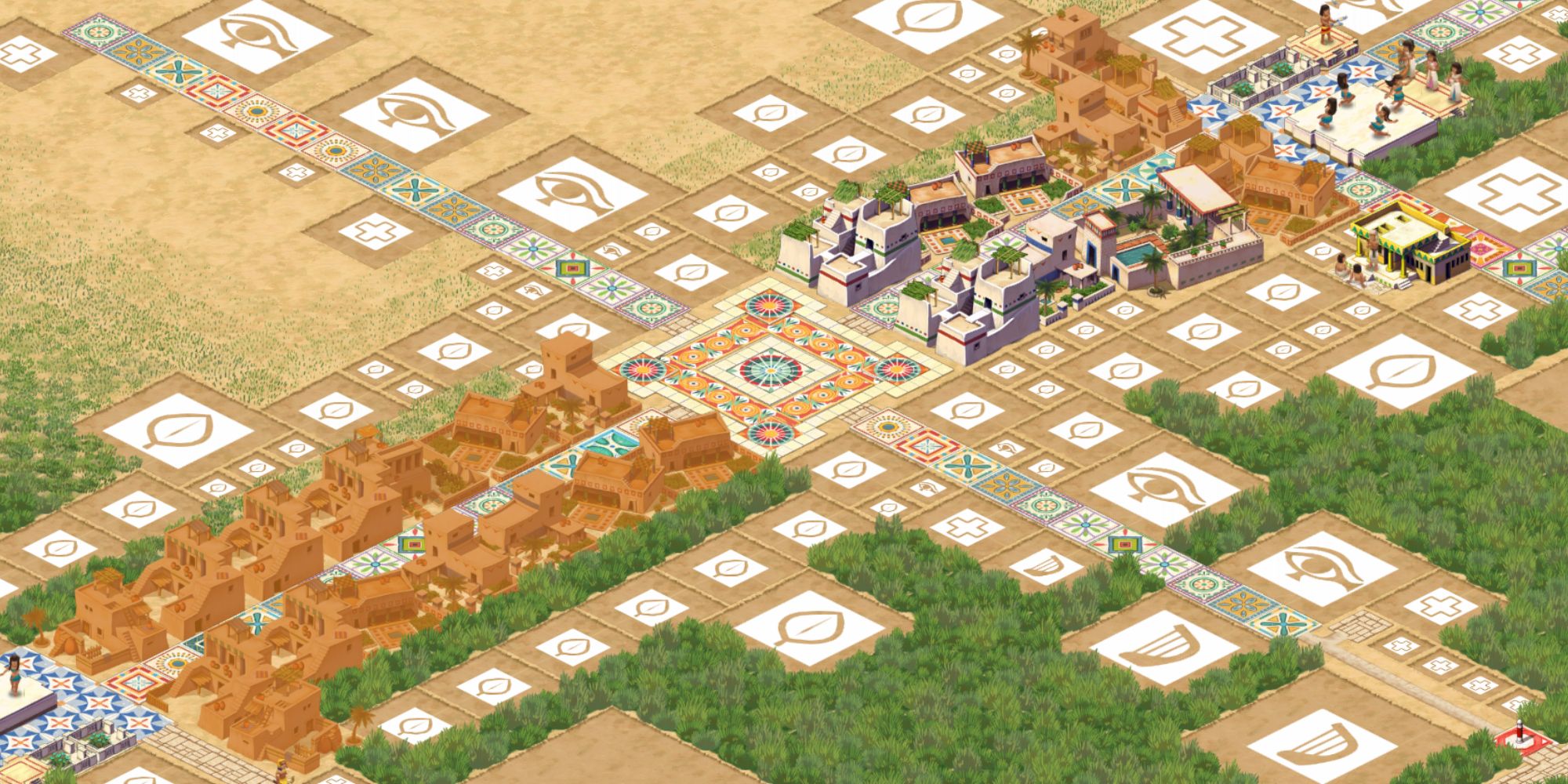 This may all seem complex, but the game will lead you. The first few levels of the campaign introduce new features gradually, and as houses develop the residents will tell you what they require. There's also no penalty for not evolving houses at any point, so you can leave clusters of houses at different levels to ensure a good spread of workers across the city. However, there are some things you'll want to keep an eye on and this is where overlays come into play. You can use them to check:
Distribution of water
Entertainment coverage
Education coverage
Health levels and risks
Religious access, including for specific Gods
Houses where tax is collected
Desirability levels
Alongside these are the most important overlays, risks. They allow you to monitor the five greatest risks to your city; malaria, disease, crime, collapse, and fire. While malaria and disease reduction are only required in residential areas, you'll need to ensure the entire city is covered by Architect's Posts and Firehouses to prevent collapse and fire, and reducing crime across the whole city will help prevent theft and unrest.
Once you can spot the issues it's easier to fix them, so make sure you keep an eye on your risks, and check notifications frequently as these will inform you of any problems you overlooked, so you can keep your city safe.
Source: Read Full Article