"No two evenings will ever be the same. The only thing a player should expect is the best roleplay experience we can offer." That's the promise offered by Casino Managers Rei Host and Lulu Le-fay, the owners of the Lucky Sevens Casino and Gentlemen's Club on Final Fantasy 14's Hyperion world server.
"Framed as a glamorous casino on the bay, where men and women wear their finest to revel away from prying eyes, we encourage all players to embrace the character of their creation, exploring how that person would act and function in this mad setting we've constructed," Rei says. "Drinks get spilled, guests get beckoned for dances atop the bar or in private chambers, the games available change nightly, and custom songs are played by the Lucky Sevens Ensemble because it's a party!"
The Lucky Sevens was founded in March 2018, when roleplaying-focused groups and Free Companies weren't as prevalent on the Primal data center, or at least not as open about it. You'd get cafes and brothels tucked away on most world servers, but they were generally well-kept secrets that kept to themselves due to a lack of acceptance from core players and the fear of trolling.
"[I] decided that roleplay was something that could grow beyond hushed whispers and back alley rumors, if managed properly with dedication and hard work," Rei tells me. "I was lucky to have amazing and talented people at my side every step of the way, people that could committee ideas and then worked diligently to bring them to life. A month after we formed — after every decoration was fought over, each color considered and the uniform finally decided upon — the Lucky Sevens Casino and Gentleman's Club came to life. Where roleplay is the biggest jackpot!"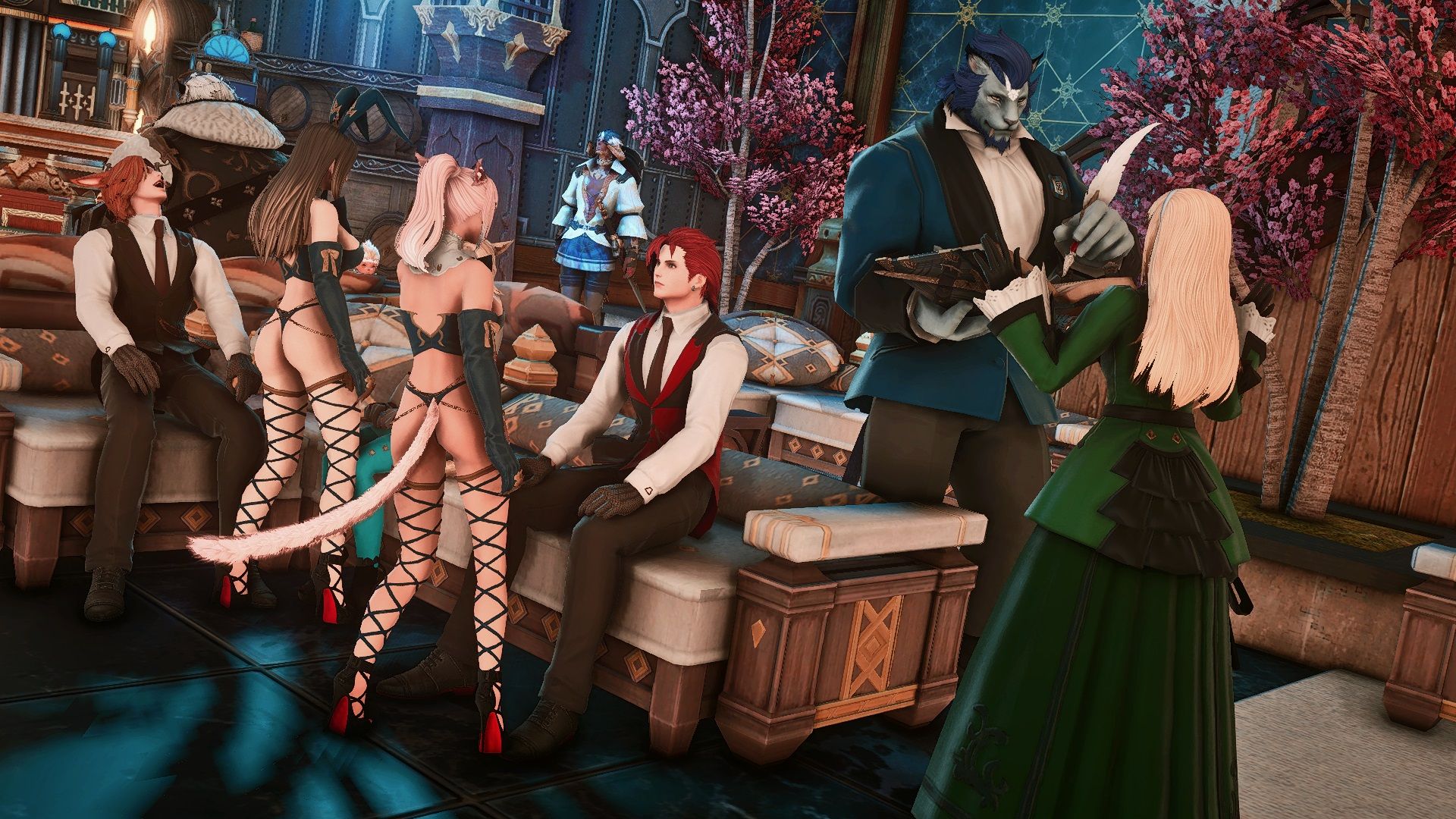 The Lucky Sevens Free Company now boasts approximately 300 members at any given time, making them often fall into one of the top spots for most active Free Companies on the Lodestone. The casino staffs its venue and special events from this impressive pool of dedicated players.
"There is a vain part of me that desperately wants to say that what sets Lucky Sevens apart from other venues is our dedication to the craft of roleplay, conscientiousness that we never miss an event, willingness to hire artists at great expense to promote our next seasonal extravaganza or perfectionist attitude that every emote-post be meticulously crafted to a quality unseen elsewhere in the realm," Rei explains. "And while I believe these are true statements, I know that the main dividing factor between Lucky Sevens and any other venue or Free Company comes from a simple lesson we champion in all of our endeavors. Every person brings something to the table that no one else can replicate -themself."
The Lucky Sevens runs nearly 200 events a year, four times a week, every single week with no hiatuses, as well as hosting multiple large-scale special events each year and opening for private functions such as weddings and bachelor parties. The extravagant venue has casino bunnies and poker studs on hand to ensure you have the perfect evening and offers a fully-stocked bar, dancers, musical entertainment, private rooms, escorts, and plenty of games for you to try and strike it rich.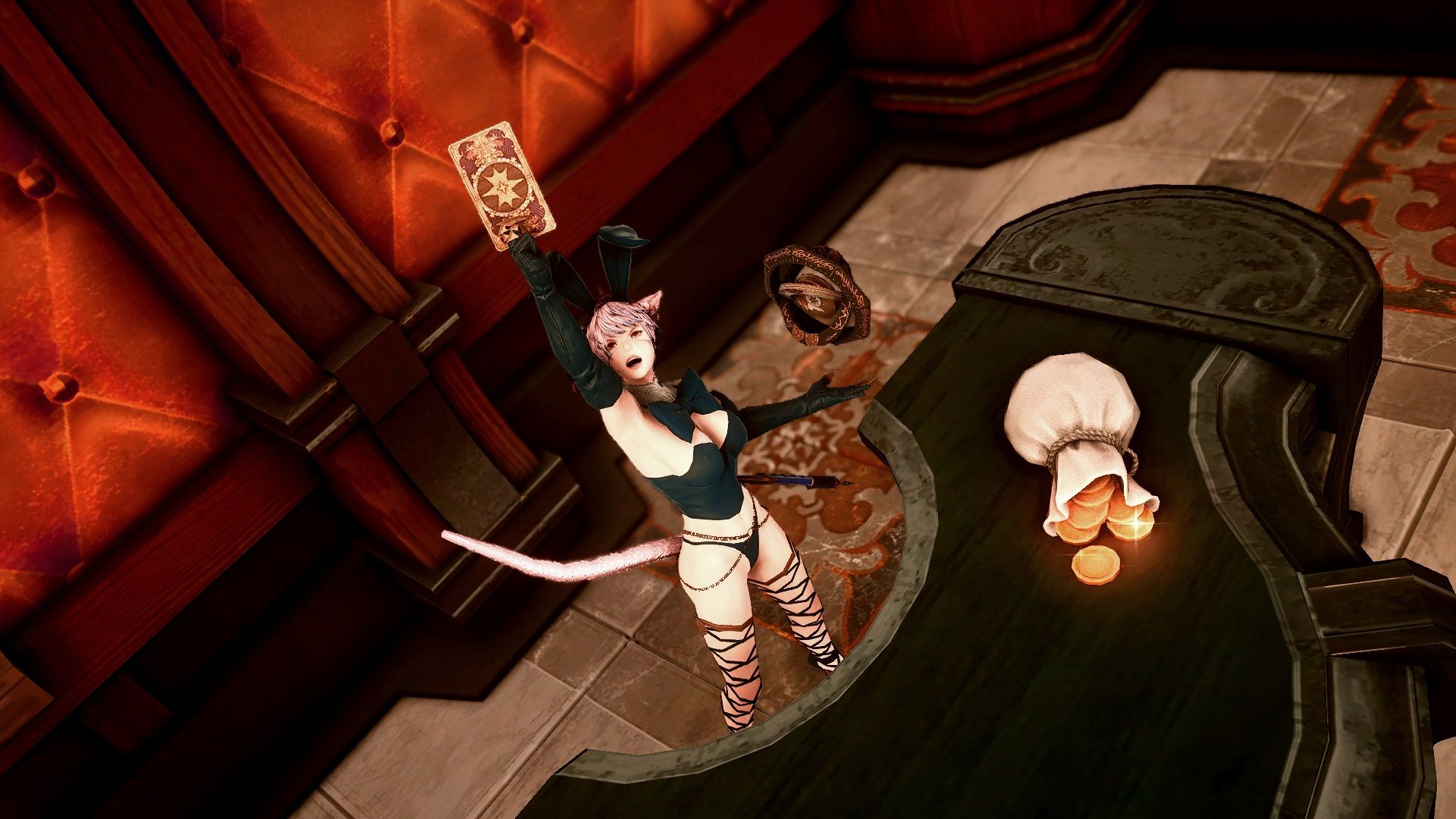 The casino games available to patrons are created using whatever the game has to offer and the ingenuity of the Lucky Sevens staff. The Slots and Dice Drop require players to use the /random command in chat to roll a number, while Astro Roulette and Stellar 13 use Astrologian cards to create familiar betting games but with a unique FF14 twist. Dominion of Minions uses a combination of emotes, /random, and the /tell system to battle it out, while High House Heist is like rock, paper, scissors, but uses different confetti consumables to dictate the winner.
"One of the lucky accidents about our theme is its ability to offer an olive branch to budding roleplayers to join the hobby," Rei explains. "We understand that not every player is going to drop multiple paragraphs of descriptive text on how their character stirs a martini like some of our more seasoned and experienced chat-based, collaborative writing enthusiasts. But by virtue of being inside Final Fantasy 14, we know that each and every person who sets foot in our lobby is a gamer. Casino games give a taste of interaction to players ranging from brand new to expert, with a taste of danger since there is something on the line.
"While we often host high rolling guests and members, looking for the risk of tens of millions being wagered, we are explicit that a few teleports worth is just as welcome. It's why our Dealers at the Stellar 13 table, our version of Blackjack using the Astrologian cards, emote their reaction to each draw with the guest. Or why Dominion of Minion, where Minion Trainers send out their beloved Baby Brachiasaurus to do battle with Wayward Hatchlings in our battle arena of diced-based fights using the Lord of Verminion advantage triangle, has not only a judge but a color commentator to call out the miniaturized carnage for the assembled crowd. Our hobby is the collaborative writing experience, after all, not the Gil paycheck divided up equally at the end of the night."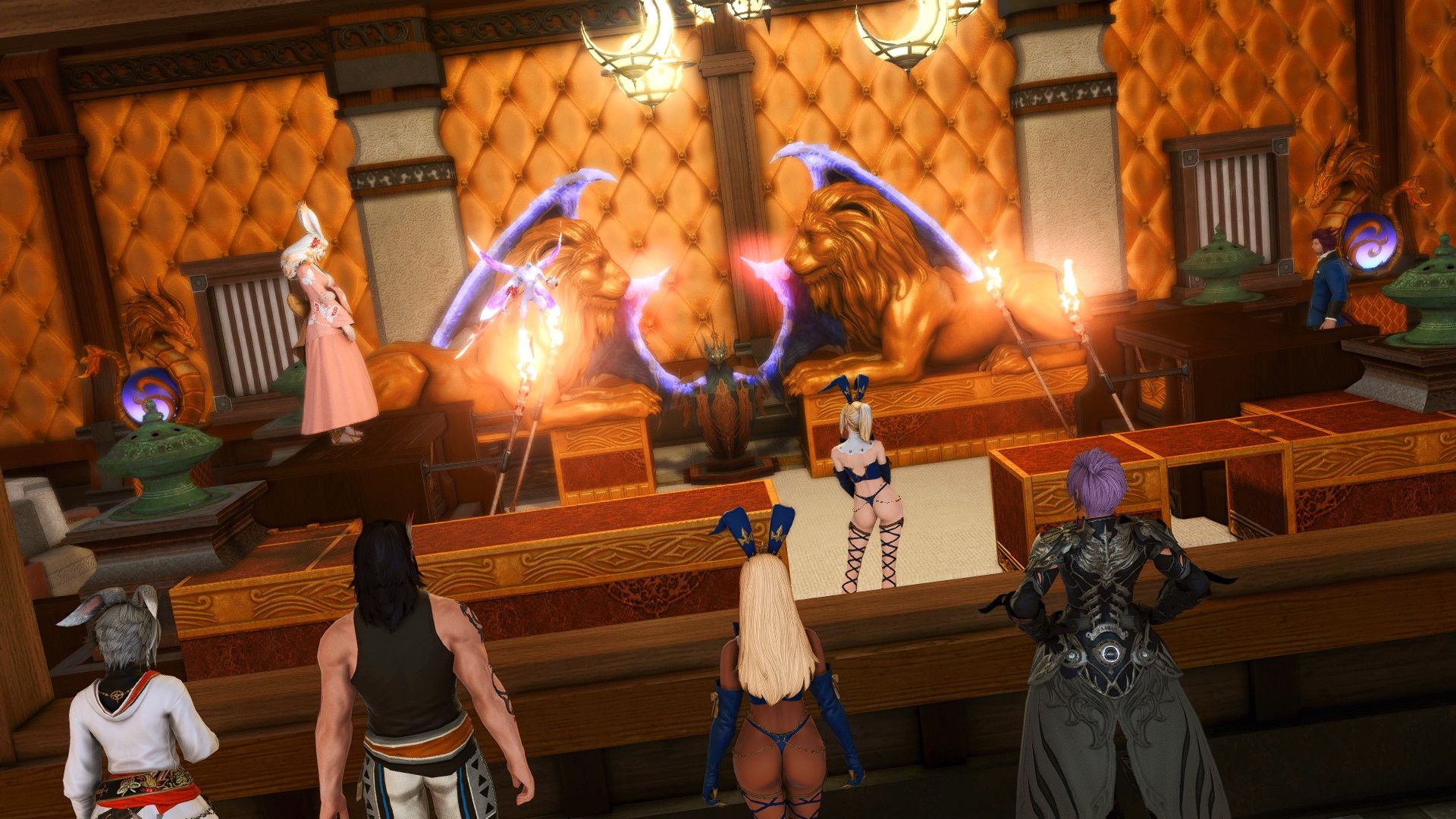 The team at the Lucky Sevens is proud of how far they have come and how much the roleplaying community has grown within the game. They often find themselves mentoring up-and-coming RP groups and are more than happy to help others and introduce new players to the wonderful world of roleplay.
"We're humbled each time we discover we're known from Crystal to Light, Aether to Oceania, and every few months, the leader of a new roleplay group or venue will come to me or our team to ask advice on how to get started," Rei says. "There is nothing more ingratiating than helping another group grow in a hobby that was once ignored, derided as a distraction or the refuge for those not accepted elsewhere. Especially when you paved the road for them to do so. That's the community reaction to which we pay heed. The "Other" tab of Party Finder, is now filled to the brim with roleplay groups with their heads held high, embracing their passions.
"On Saturdays we host the Bar Crawl, in hopes to introduce our members to the ideas of others, show curious players their first experience of Final Fantasy roleplay, and continue to help roleplay flourish across the game. Square Enix has written their stories, so too does every player paying their subscription deserve a chance to pen their own. Come Sundays, we take to the streets and private homes of the realm with Open RP night, always at a surprise pop-up locale each and every week."
The Lucky Sevens is currently preparing for its next big event, the Rainbow Road Pride Celebration, which will take place June 23-27, 2022. Working in collaboration with other notable venues, such as Houdini's Escape, Maid Service, Nomnomazu, Poncho, and Witch's Brew, this unique event will offer lots of competitions, roleplaying fun, entertainment, and more to raise money for their charity of choice.
After Pride, they will prepare to participate in the Extra Life charity event that supports the Children's Miracle Network Hospitals. Last year, they set a goal of raising $7,777 and with the help of the generous FF14 community, they managed to breeze past that and raise over $10,000.
For more information about the Lucky Sevens Casino and Gentleman's club, you can check out their website, join the Discord, or follow them on Twitter.
Source: Read Full Article