Quick Links
How To Unlock The Sil'dihn Subterrane Variant Dungeon
All Paths First Boss – Geryon The Steer
Left Path Final Boss – Silkie
Middle Path Final Boss – Gladiator of Sil'dih
Right Path Final Boss – Shadowcaster Zeless Gah
The Sil'dihn Subterrane is a Variant Dungeon in Final Fantasy 14. This new type of dungeon has multiple paths that must be explored over multiple adventures, with secrets and puzzles to solve each time. At the entrance of the dungeon, you will decide between one of three paths to take, dictating which route you see and which bosses you fight.
To fully explore the Sil'dihn Subterrane, you'll need to enter and clear it a few times. Depending on which door you enter, you will fight different bosses, whose attacks and mechanics are detailed below.
How To Unlock The Sil'dihn Subterrane Variant Dungeon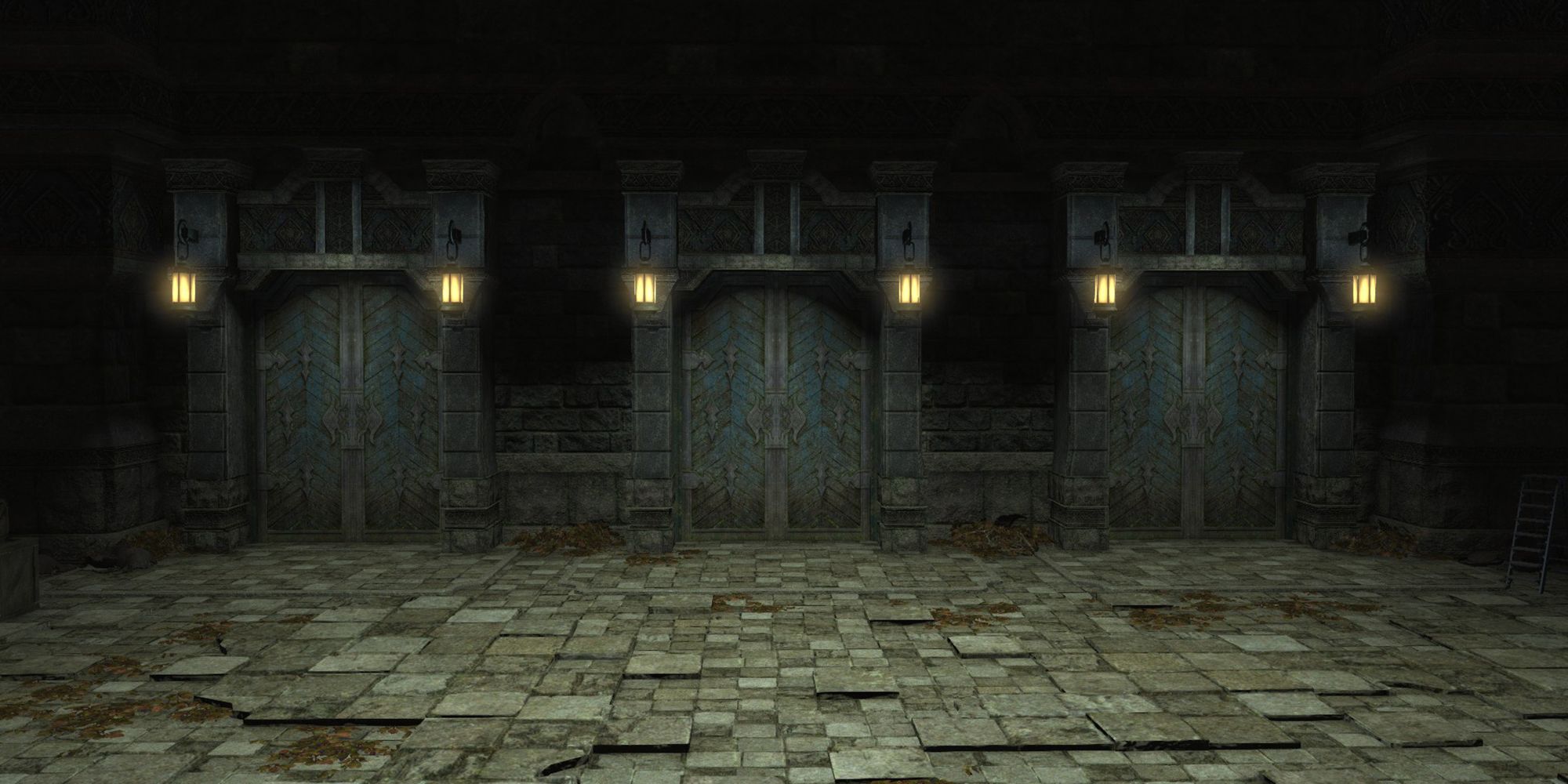 To unlock Variant and Criterion Dungeons, you'll need to accept the following side quests.
Accept the quest 'Odd Job'

NPC Location: Osmon – Old Sharlayan (X:11.9, Y:13.3)

Accept the quest 'A Key to the Past'

NPC Location: Shallow Moor – Old Sharlayan (X:12.0, Y:13.4)

Through these quests, you will unlock the V&C Duty Finder, as well as the Sil'dihn Subterrane Variant dungeon.

All Paths First Boss – Geryon The Steer

No matter which path you choose, the first boss you encounter is Geryon the Steer. Depending on your path, however, one of his mechanics will differ slightly. Listed below are each of Geryon's attacks and how to avoid them.

Colossal Strike: Deals high damage to the boss's main target. Use defensive abilities to mitigate this damage.
Exploding Catapult: Deals damage to all party members and summons red and blue barrels around the arena. After a short duration, the barrels will explode.

Red Barrels: Explode in a large circular AoE.
Blue Barrels: Explode in a large ring AoE with a safe spot near the barrel.
The boss will repeat this mechanic throughout the fight. The main thing to keep in mind is to be near the blue barrel when it explodes.

Colossal Slam: A large conal AoE in the direction of one player. Move out of the AoE indicator to avoid. This attack is used after most barrel mechanics.
Subterranean Shudder: Deals damage to all party members, and prepares a path-specific mechanic.

Left Path: Some of the drains around the arena will either light up blue, knocking back players, or red, spilling out mud and dealing damage. Watch the color of the drains and act accordingly to avoid.
Middle Path: The fans on either side of the arena will activate, either pulling you across the arena to the side the fans activate on, or causing boulders to roll across the arena, dealing damage.
Right Path: Two of the four grates on the floor will fill up with water, dealing damage, or Ceruleum, creating a dangerous puddle. Avoid these AoEs when they appear.
Colossal Launch: Deals damage to all party members and flips the barrels over, changing their color from red to blue, and vice versa. Stand next to the single red barrel before it is swapped to blue to avoid the overlapping explosions.
Colossal Charge: Geryon will move to one side of the arena after using Exploding Catapult, preparing to charge down the center. While charging, he will also knock the barrel in the center of the room to the left or right, indicated by the arrows on the charge AoE telegraph. Move to the opposite side of the arena, and stand next to the blue barrel to avoid this combo.
Gigantomill: Geryon will move to the center of the arena before using this attack. Gigantomill will have Geryon repeatedly attack with cross-shape line AoE from the center, turning slightly before each attack. Watch the direction the boss is turning in, and move along with the AoEs to avoid each one.

Geryon the Steer will repeat these mechanics until he is defeated. The main thing to watch out for are the red and blue barrels; be sure to also move to a blue barrel to avoid each mechanic, and be prepared to avoid a Colossal Slam after each one.

Left Path Final Boss – Silkie

The final boss of the left path is Silkie, who will use the following attacks.

Total Wash: Silkie will deal damage to all party members, covering the edge of the arena with an AoE. Avoid moving into the edge of the arena as you continue the fight.
Squeaky Right/Left: Silkie will roll to the right then left, dealing damage in a conal AoE to its front two times. Then, immediately following the second AoE, the boss will roll to the right again, dealing damage in a much larger AoE. To avoid Squeaky Right, move to the left side of the first AoE telegraph, and move to the right side to avoid Squeaky Left.
Carpet Beater: Deals high damage to the boss's main target. Use defensive cooldowns to mitigate as necessary.
Chilling Suds: Silkie will empower its tail with ice. When it casts Soap's Up, it will deal damage in a cross AoE from the boss. Move diagonally to the boss to avoid.

Later in the fight, puffs will appear around the arena. If Silkie uses Squeaky Right/Left and hits one of these puffs while Chilling Suds is active, it will infuse the puffs with ice, causing them to duplicate the cross AoE when Silkie casts it. Mind the position of the puffs and move accordingly to avoid all AoEs.

Bracing Suds: Silkie will empower its tail with wind. When it casts Soap's Up, it will deal damage in a ring AoE, with a safe spot directly under the boss. Move close to the boss to avoid.
Slippery Soap: The boss will charge forward, dealing damage in a small area to its front. Immediately after it stops, it will cast the effects of Chilling or Bracing Suds. Pay attention to which buff is currently active on the boss, and move accordingly to avoid.

Silkie will repeat these attacks until it is defeated. Watch carefully when it applies its Suds, and move accordingly to avoid each AoE.

Middle Path Final Boss – Gladiator of Sil'dih

The final boss of the middle path is the Gladiator of Sil'dih. This boss will use the following attacks and mechanics.

Flash of Steel: Deals damage to all party members.
Ring of Might: The Gladiator will begin to charge, indicated by the meter that appears, ranging from yellow to orange to red. Then, the boss will deal damage in a ring AoE, the location of which depends on the charge level. Yellow charge will have the entire arena except for the area around the boss be hit, and so on. Immediately after the ring AoE, a circle AoE will strike the opposite area that was just safe.

To avoid this combo of attacks, determine the boss's charge level, then move just inside the AoE to avoid the ring. Immediately after that, step outside the safe area to avoid the circle AoE.

Sculptor's Passion: The Gladiator will deal damage in a line AoE to its front. Move away from the front of the boss to avoid.
Mighty Smite: Deals high damage to the boss's main target. Mitigate with defensive cooldowns.
Rush of Might: The charge meter from Ring of Might will appear again. This time, the boss will move to one of the corners of the arena, preparing to dash to the center. Once again, depending on his charge level, the boss will move before slashing to his front, dealing damage to that half of the arena. Immediately after, the opposite half of the arena will be struck.

To avoid this combo, determine the boss's charge level, and move just before the relevant tick on the ground. Then, after the first AoE resolves, quickly move there to avoid the subsequent AoE.
Wrath of Ruin: The Gladiator will summon fire orbs around the edges of the arena that will fire intersecting line AoEs after a short delay. Watch the AoE indicators and move accordingly to avoid.

This attack is paired with Rush of Might. Watch the charge level of the boss and avoid the rush attack while moving out of the way of the line AoEs.
Sundered Remains: The Gladiator will cause nine boulders to fall around the arena in a spiral pattern, starting in the center. Move to the last AoE that appears, then quickly move into the center of the arena when the AoE there resolves.

This attack is paired with Ring of Might. While watching the charge level of the boss, avoid the falling boulders.

The Gladiator of Sil'dih will repeat these attacks until he is defeated. After you have seen all of his attacks, the main mechanics to watch out for are the paired Wrath of Ruin/Rush of Might and Sundered Remains/Ring of Might combos. You should get the hang of these mechanics as you avoid them.

Right Path Final Boss – Shadowcaster Zeless Gah

The final boss of the right path is Shadowcaster Zeless Gah.

Show of Strength: Deals damage to all party members and covers the edges of the arena in fire. Avoid standing on this fire for the remainder of the fight.
Infern Brand: Zeless Gah will summon fire orbs around the arena that explode in an AoE circle. This mechanic will be combined with others later in the fight.
Firesteel Fracture: Zeless Gah will deal high damage to its main target. Mitigate the damage of this attack with defensive cooldowns.
Cryptic Portal: The boss will summon four pairs of two portals. Entering one of the portals will move you to its pair. Additionally, Infern Brand will be used alongside the portals, creating fire orbs on one pair of each portal. After a short delay, the fire orb will travel through the portal to its pair before exploding. Watch where the fire orbs are and stand next to where one currently is before it is moved.

Later in the fight, Zeless Gah will summon two pairs of portals, each with a fire orb, before spinning the target portal in a certain direction, indicated by the arrows turning around it. Determine where the new portal will end up, and move to the opposite side to avoid the fire orb's explosion.

Infern Ward: The boss will create four red lines that will shortly fire a line AoE in the direction they are facing. Watch the position of these and move accordingly to avoid.
Cast Shadow: Zeless Gah will create several conal AoEs from its center, followed by another set of conal AoEs that fill in the gaps of the first set. Stand in the second set to avoid the first, then move into the newly created safe area to avoid taking damage.
Infern Gale: The boss will summon a totem that will knock back from its position. Move close to the totem to avoid being knocked into the fire around the arena, or other mechanics that may be occurring at the same time.

Zeless Gah will repeat these attacks until he is defeated. Watch the portals carefully, and avoid the fire orbs as they occur during other mechanics.

Source: Read Full Article