Quick Links
Do Not Select The Express Mission On Your Main
Can You Reset The Express Mission?
What Is The Express Mission Event?
Lost Ark's April update is finally here. With it comes the brand new Express Mission, a system designed to help boost a character up to Tier 3 quickly, with loads of BOUND rewards, like honing materials and shards.
The event is a bit misleading, to begin with. Do not select this on your main character. There is currently no way to change this – although the event shows T3 rewards, you actually have to go from 302 to 1100 item level on a character. All rewards are BOUND to the character.
Do Not Select The Express Mission On Your Main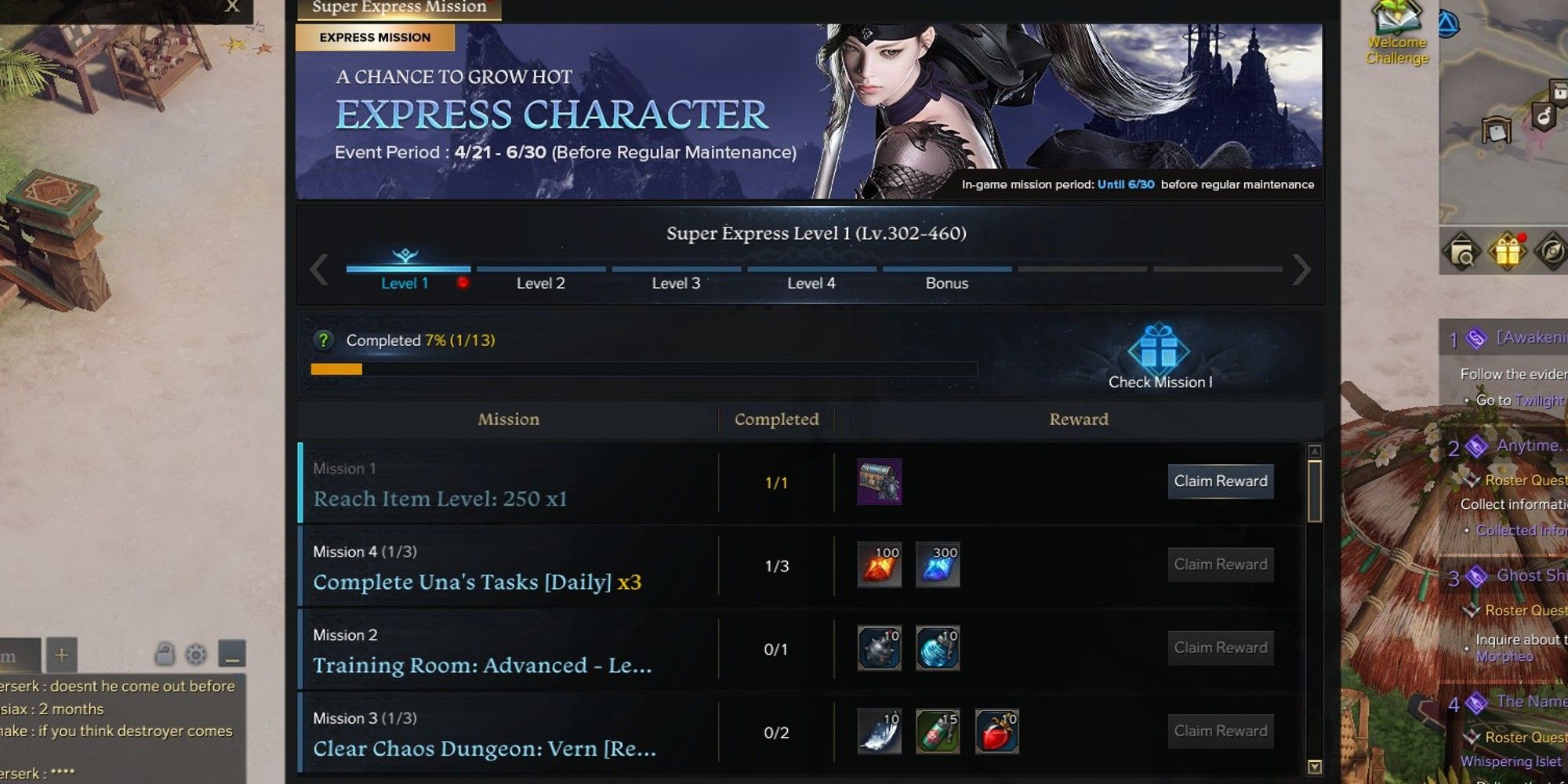 If you're wondering which class to use the Express Mission on, do not choose your main.
All event rewards are character-bound. You will be asked to repeat early Chaos Dungeons and Guardian Raids on your main for rewards you cannot use on your alts.
Instead, choose a lower level item level alt character. An alt at 302 is the ideal choice for the express mission. You could also use it to quickly boost your 960 Feiton Power Passed Glaivier, though the early Tier 1 and Tier 2 rewards are still better used on an alt.
Can You Reset The Express Mission?
At the time of writing this short PSA, you cannot choose another character once you have already selected your main. If you chose your main by accident (or weren't clear on the patch notes) then you are stuck with that character for now.
Hopefully, Amazon and SmileGate offer a way to refund this Mission to use on another character. The information was pretty poorly displayed (it showed only Tier 3 rewards, card packs and silver) and is no use to anyone who has not read the patch notes.
We have reached out to Amazon support for more information.
What Is The Express Mission Event?
The Express Mission event is designed to offer more rewards to a character that is leveling from the starting 302 Item Level. You are offered honing materials, silver, engravings and class engravings, and other useful rewards. You complete missions based on your regular progress through endgame content – Chaos Dungeons, Guardian Raids, Abyss Dungeons, etc.
Source: Read Full Article