Quick Links
Materials For Crafting The Astray
Astray Construction Blueprint
The Astray is largely considered the best ship in Lost Ark. It requires roughly a month of time (25 days to be specific), as it is time-gated by two Una's Tasks, but is very worth it if you put the effort in. In addition to its cost in time, it also has a decently high cost in resources, especially when it comes to recruiting an optimal crew for the ship.
So, if you're not ready to commit to building your Astray, there's no shame in holding on to your Estoque until you are, for it is an excellent alternative. In the end, the Astray is by no means a cheap ship to maximize, but once you get it leveled up, it's a true gem to have.
Materials For Crafting The Astray
For a quick TL;DR, there are five things you need to craft the Astray:
Astray Construction Blueprint
Astray Operation Manual
Certificate of Pirate
570 Timber
375 Uncommon Ship Parts Material
Belrod (he has the "Astray Shipbuilder" title above his name in blue) is the only one who can craft your Astray, and he's waiting for you at Blackfang's Den. The crafting cost is 10,000 silver, which isn't much in the grand scheme of things, as you naturally rake in a bunch of that currency on the daily. Furthermore, the uncommon ship parts are easy to get a hold of, and you probably already have enough unless you've spent them on upgrading other ships. But, in case you don't, head over to the Processor NPC in any city to craft them (scroll all the way down to the "Part Materials" tab, and you'll find them there).
The Construction Blueprint and Certificate of Pirate are items that require specific Una's Tasks, which will be addressed next, but the Astray Operation Manual is an item rewarded to you at the end of a small quest chain.
The item "Pirate Star: Astray" starts this quest chain, and is sold by Mariner Rosa for 300,000 pirate coins. She awaits you at Blackfang's Den. That is, indeed, a lot of pirate coins, and we've got some tips on how to collect them in this article.
Bear in mind that, even though you can buy this item whenever you've got the pirate coins to spare, you need to be at the trusted Rapport rank with Blackfang to complete the quest chain and obtain the operation manual from her. Better get started on those daily emotes and songs for her!
Certificate Of Pirate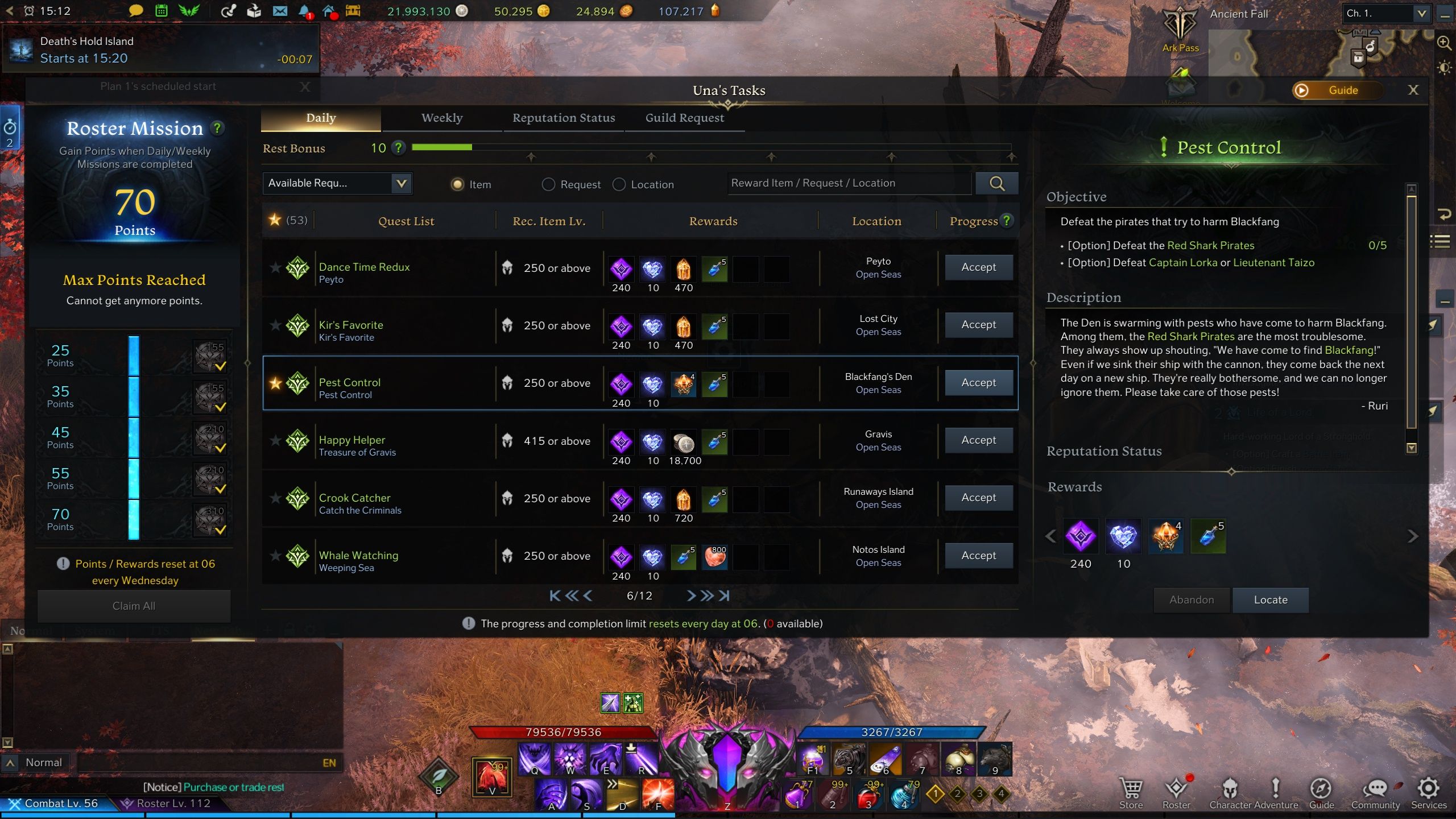 To acquire the Certificate of Pirate, the Una's Task "Pest Control" needs to have its reputation maxed out. This daily is simple to complete, as you just need to kill some pirates on Blackfang's Den, but the pirates you need to kill only spawn during the island's event, which occurs every 15 minutes.
Tier one – 30/30 (three dailies), rewards 6,000 pirate coins.
Tier two – 40/40 (four dailies), rewards 8,000 pirate coins.
Tier three – 80/80 (eight dailies), rewards Certificate of Pirate, a vitality increase potion, and 16,000 pirate coins.
So not only do you receive one of the key materials for crafting your Astray after 15 days of doing this Una's Task, but you also receive a nice chunk of pirate coins to go toward the 300,000 you need for "Pirate Star Astray."
Astray Construction Blueprint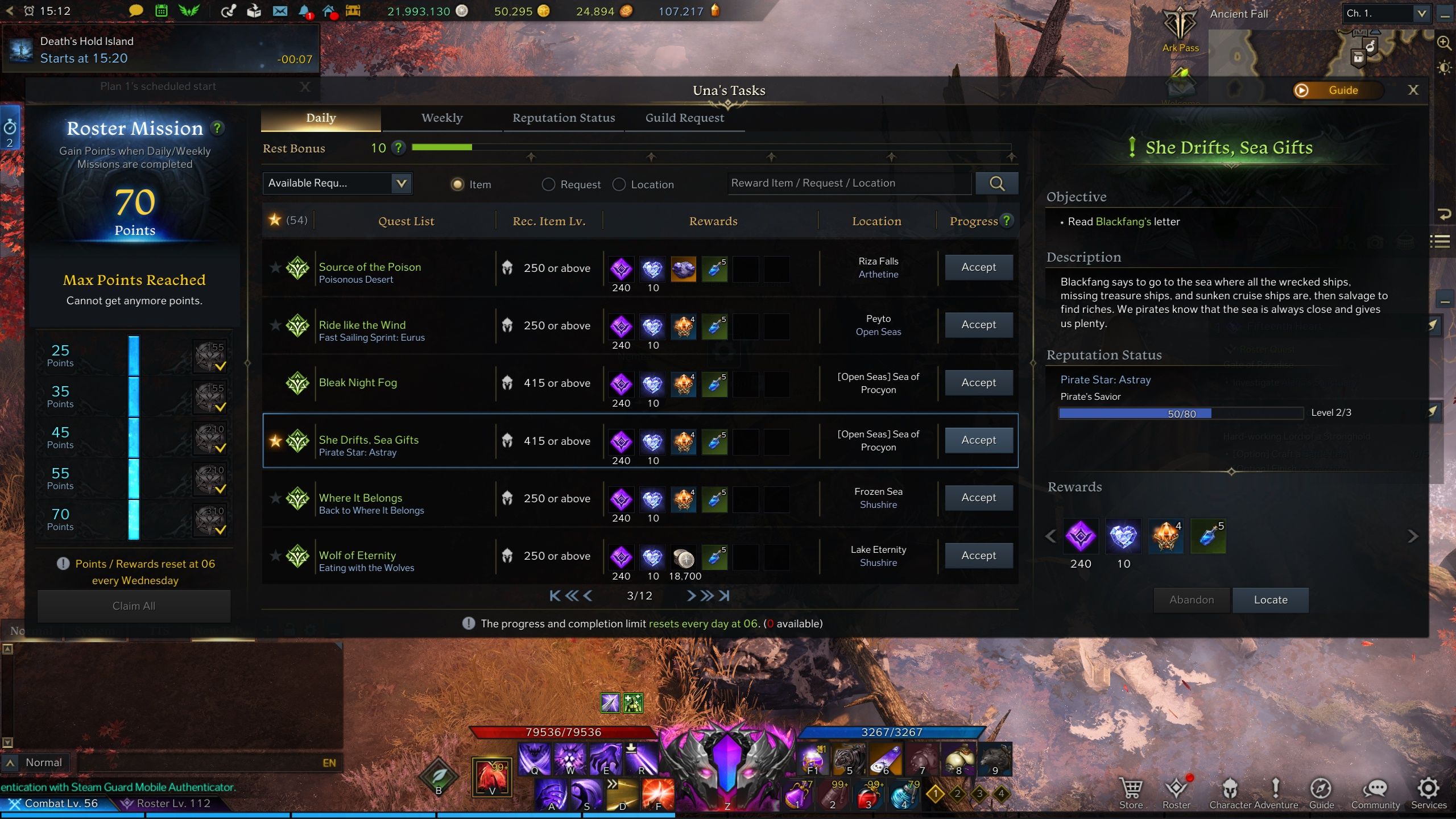 To acquire the Astray Construction Blueprint, the Una's Task "She Drifts, Sea Gifts" needs to have its reputation maxed out. This daily is the biggest time-gate of the entire process, as it requires a total of 25 days to complete.
Tier one – 50/50 (five dailies), rewards 12,000 pirate coins.
Tier two – 80/80 (four dailies), rewards 19,000 pirate coins.
Tier three – 80/80 (eight dailies), rewards Astray Construction Blueprint and 29,000 pirate coins.
In order to complete this daily, you need the Co-op Sailing Events to be active, which don't happen all that often, making this a bit of an annoying daily to get done consistently. The Arthetine and Yorn events reliably spawn the treasure salvaging event you need to complete the Una's Task, so keep a lookout for those. The other events only have a chance to spawn them, so only go to them if the former two aren't active.
Once you pick up this daily, make sure you read Blackfang's note before attempting to complete it! If you don't read her note, you won't get progress on the quest during the Co-op Sailing Event.
Utilizing your "Una's Task Instant Complete Tickets" for this one is well worth it, as it can save you loads of time in the long run. Just remember you need to have completed the quest at least once before being able to use the instant complete tickets.
The "She Drifts, Sea Gifts" Una's Task gives a hefty sum of pirate coins, almost double the total of those rewarded by maxing out the reputation of "Pest Control." But, unfortunately, it is a bit of a time commitment and not a convenient one at that, so unless you've got 25 instant complete tickets to spare, make sure you keep track of when the Co-op Sailing Events are spawning.
Source: Read Full Article