The death of the running back in the NFL has been greatly exaggerated. Having an elite running back can make life easier for your offensive line and quarterback. With Madden 23's FieldSENSE feature, players can finally be immersed in the world of the bruising running backs they admire in the league.
Player animations and interactions between defender and ball carrier have been overhauled to provide a greater sense of realism and make you work for every yard. This is certainly a welcome addition as legendary Madden running backs like Adrian Peterson, LaDainian Tomlinson, and Marshall Faulk have spawned so many iconic memories for players over the years. Even if running backs don't matter in the NFL, they matter in Madden.
10

Ezekiel Elliott, Dallas Cowboys, 88 OVR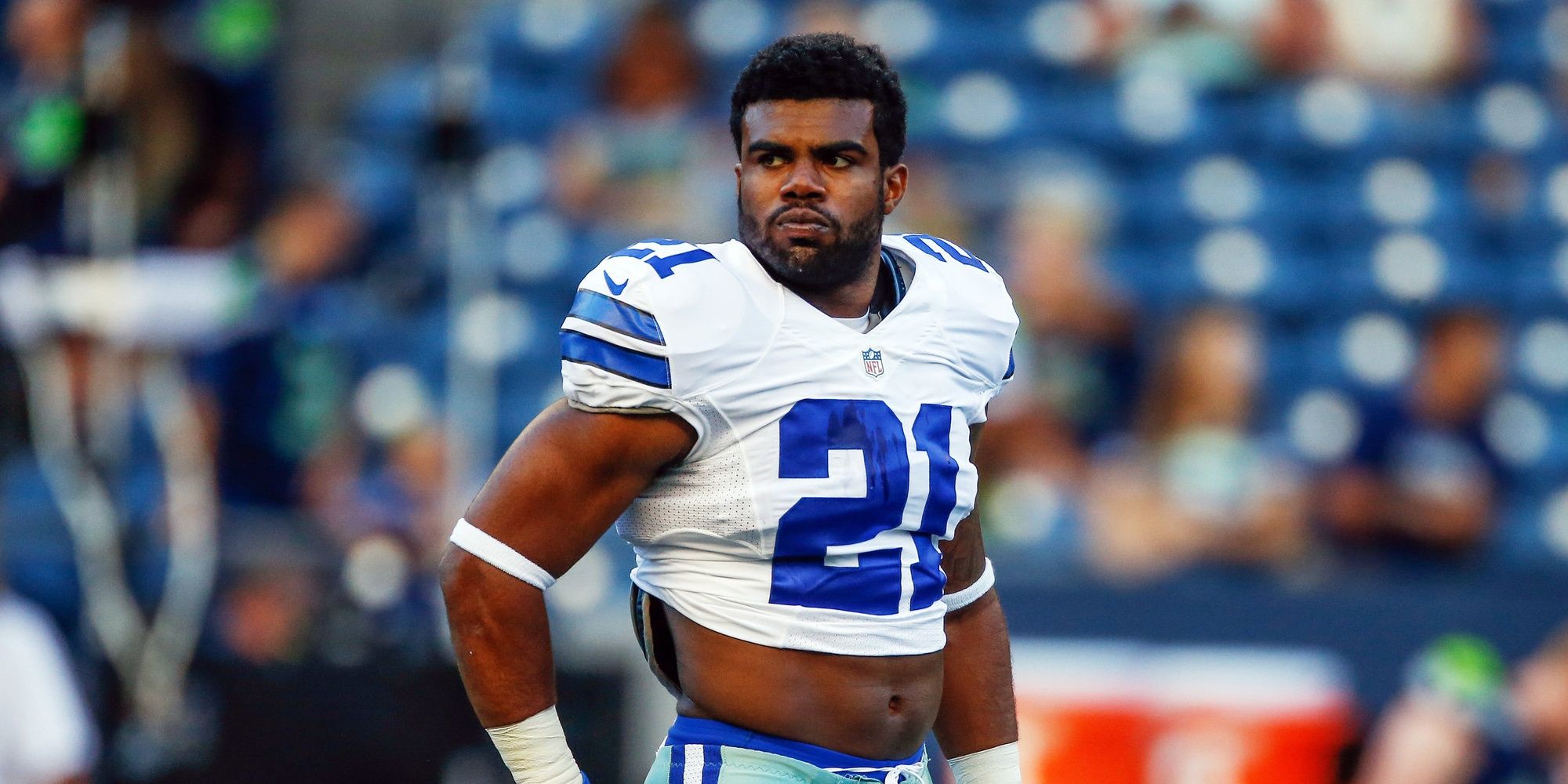 Ezekiel Elliott has experienced a fall in his Madden rating the past two years, mostly due to injury, but when healthy Elliott is still one of the league's premier running backs. He's rushed for 1,000 yards in four of his six seasons, and only came up 20 yards short of that mark in the other two. He may be lacking some of the burst he had entering the league but his ball carrier vision (91 OVR) is still elite.
In addition, a 92-rated juke move helps keep defenders on their toes. While Elliott may be in decline, he can still post big numbers with the best of the league's backs.
9

Austin Ekeler, Los Angeles Chargers, 88 OVR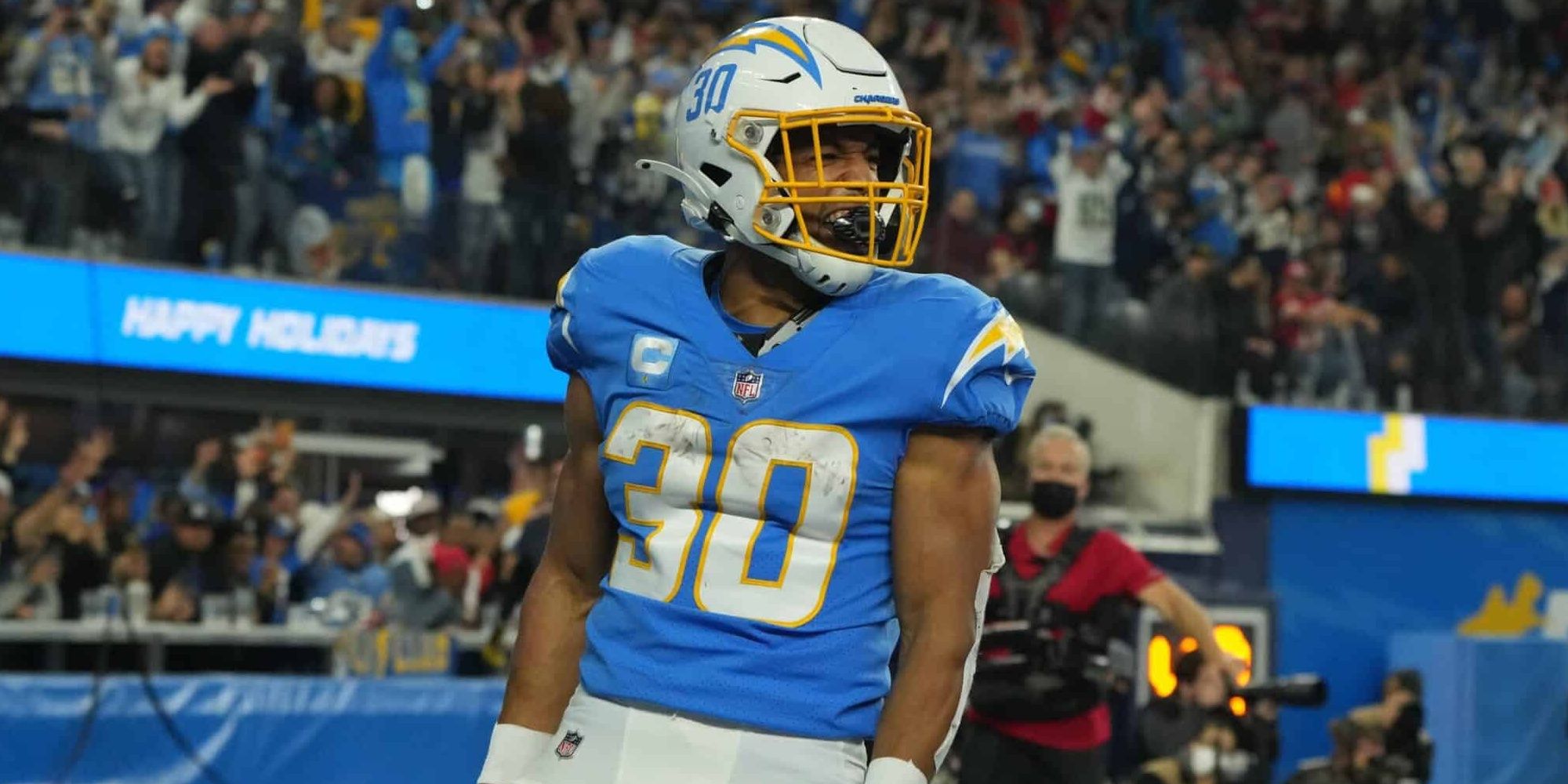 After spending his first few years in the league behind Melvin Gordon on the depth chart, Austin Ekeler ascended in the 2021 season to be a key cog in the well-oiled machine that is the Chargers' offense. He paired a career-high 911 rushing yards with 70 receptions for 647 yards, proving his elite dual-threat capabilities.
12 rushing touchdowns and eight receiving touchdowns tied him with Jonathan Taylor for the most TDs by a running back in 2021. His 92-rated agility and 93-rated awareness are his best attributes and contribute to his ability to beat linebackers on quick routes out of the backfield.
8

Aaron Jones, Green Bay Packers, 89 OVR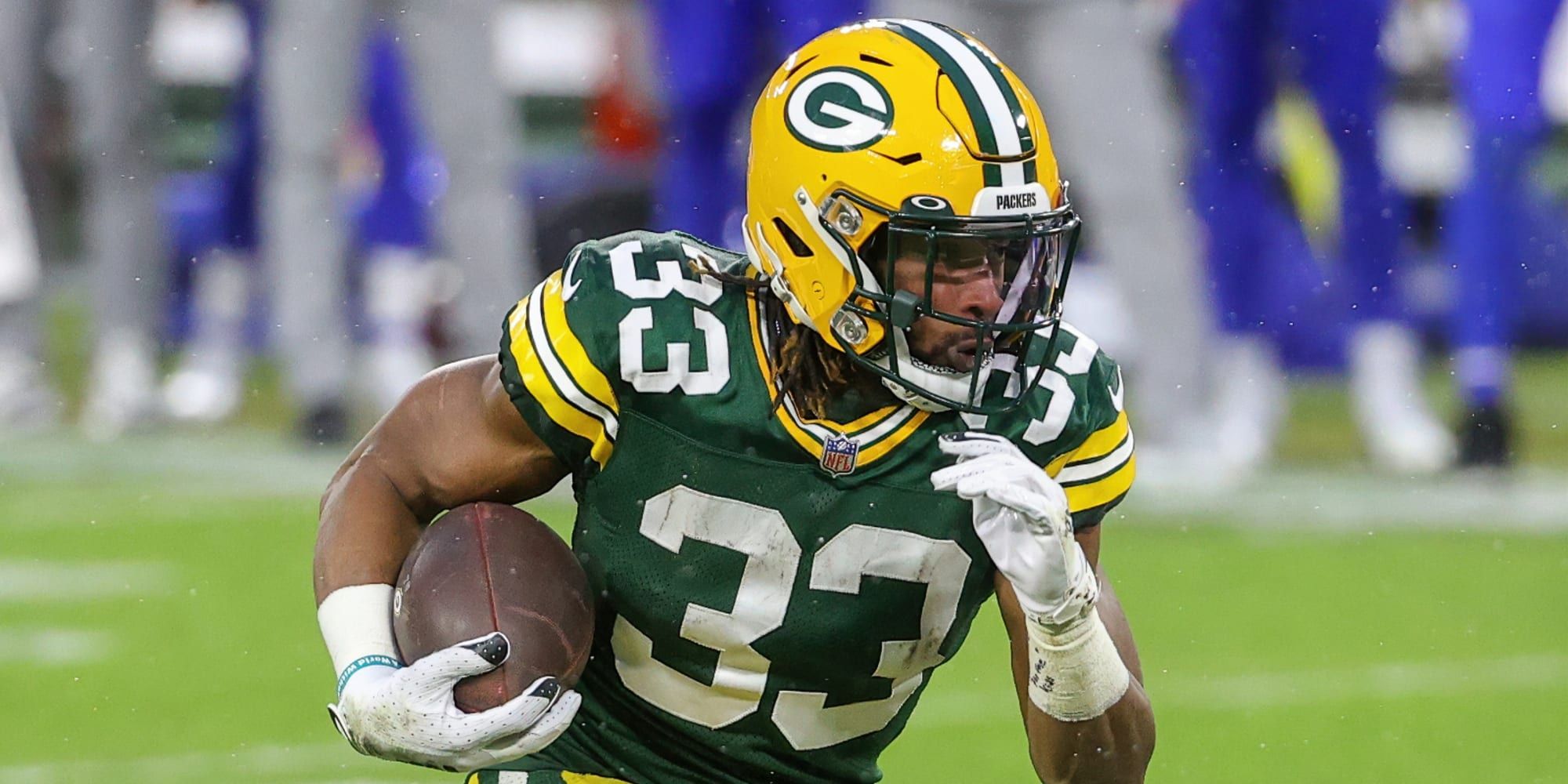 Anyone attached to the Packers' offense the past three years has posted incredible numbers as Aaron Rodgers has won back-to-back MVP awards. Aaron Jones is no exception. Long considered one of the best backs in the league, Jones was unleashed in 2019 and hasn't looked back since.
Despite sharing the backfield with another great running back in AJ Dillon, Jones had nearly 1200 all-purpose yards and ten touchdowns last year. His 90-rated change of direction and 94-rated juke move make him a nightmare to tackle in the open field.
7

Alvin Kamara, New Orleans Saints, 90 OVR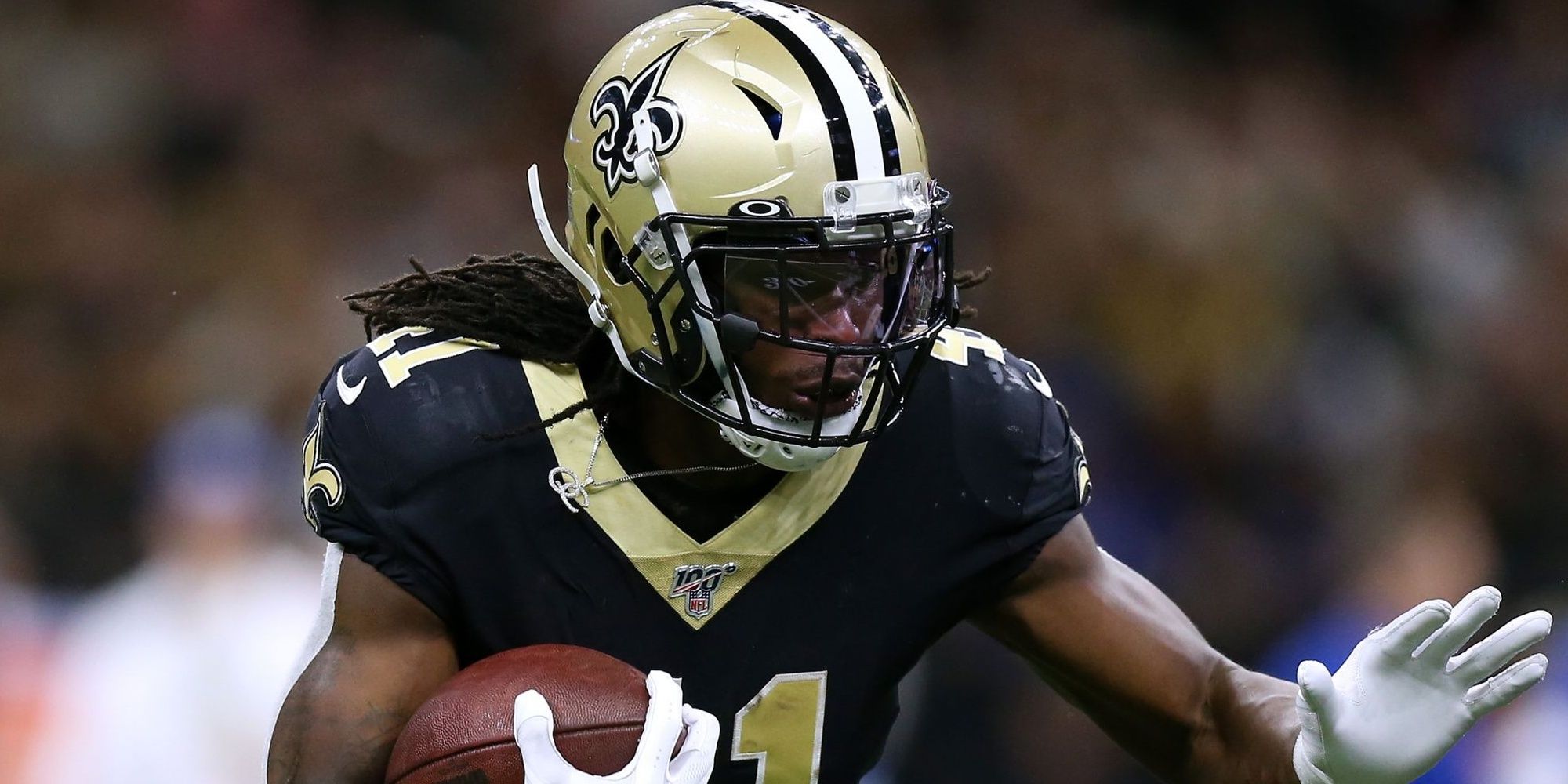 Alvin Kamara has been a sensation with a preternatural nose for the end zone since the moment he stepped foot on an NFL field. Despite only playing one full season in his five-year career, Kamara had scored 67 total touchdowns. When fans think of a running back breaking tackles, Kamara immediately comes to mind, a point backed by his 90 rating in that category.
His 76 catch rating ranks highly for running backs in Madden 23, and it's no surprise for a player who has 80 or more receptions in four of his first five seasons.
6

Joe Mixon, Cincinnati Bengals, 93 OVR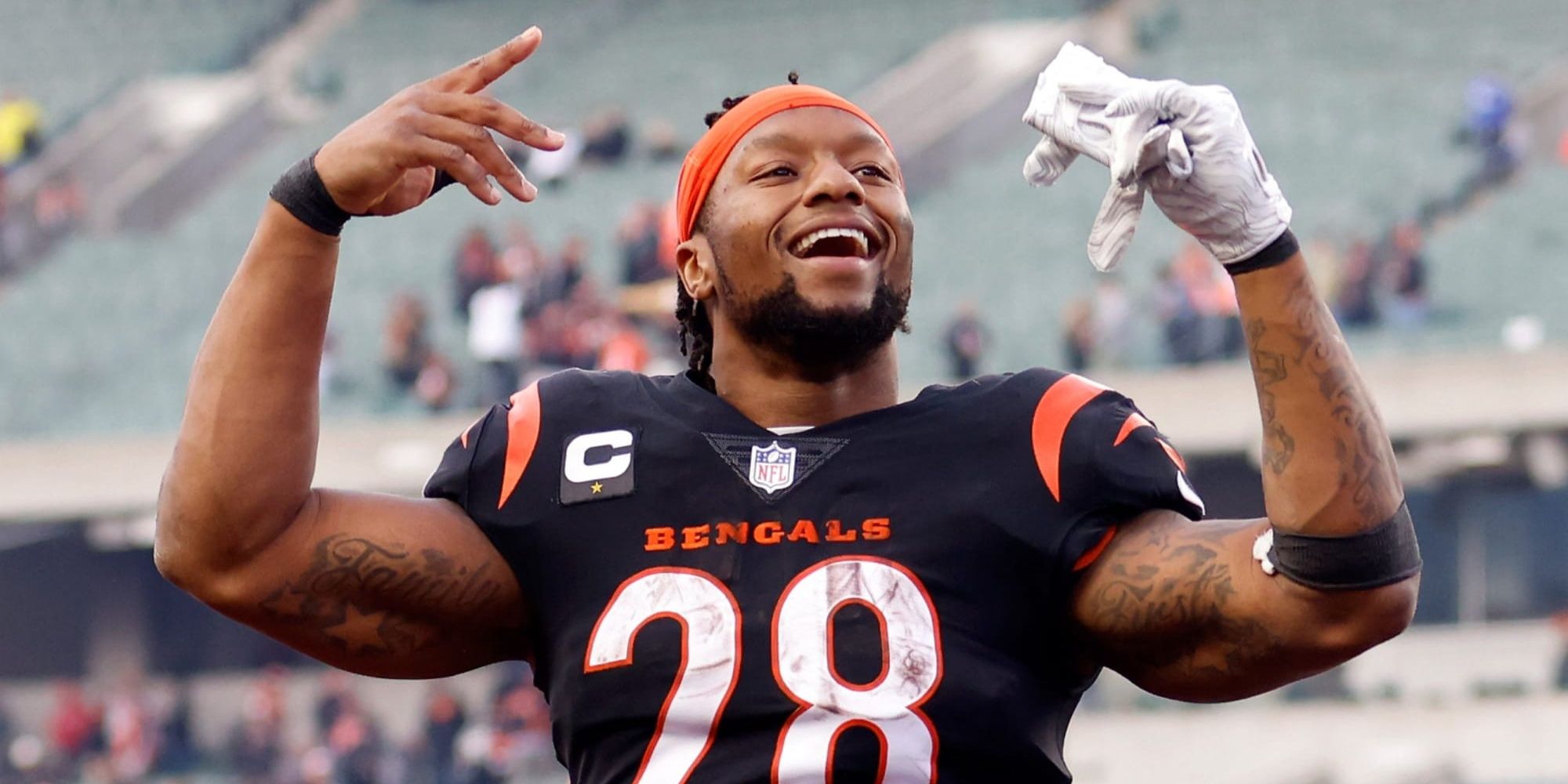 Joe Mixon was an electric complement to the Bengals' elite passing game in 2021. The fifth year-back posted career highs in rushing yards (1205), receiving yards (314), and touchdowns (16) as he and the Bengals made an improbable run to the Super Bowl.
His carry rating (96 OVR) means he won't put the ball on the ground often, and it shows on the field with only six career fumbles. In addition, his 90-rated stiff arm means he's not afraid to pop a defensive back in the face to gain a few more yards.
5

Dalvin Cook, Minnesota Vikings, 94 OVR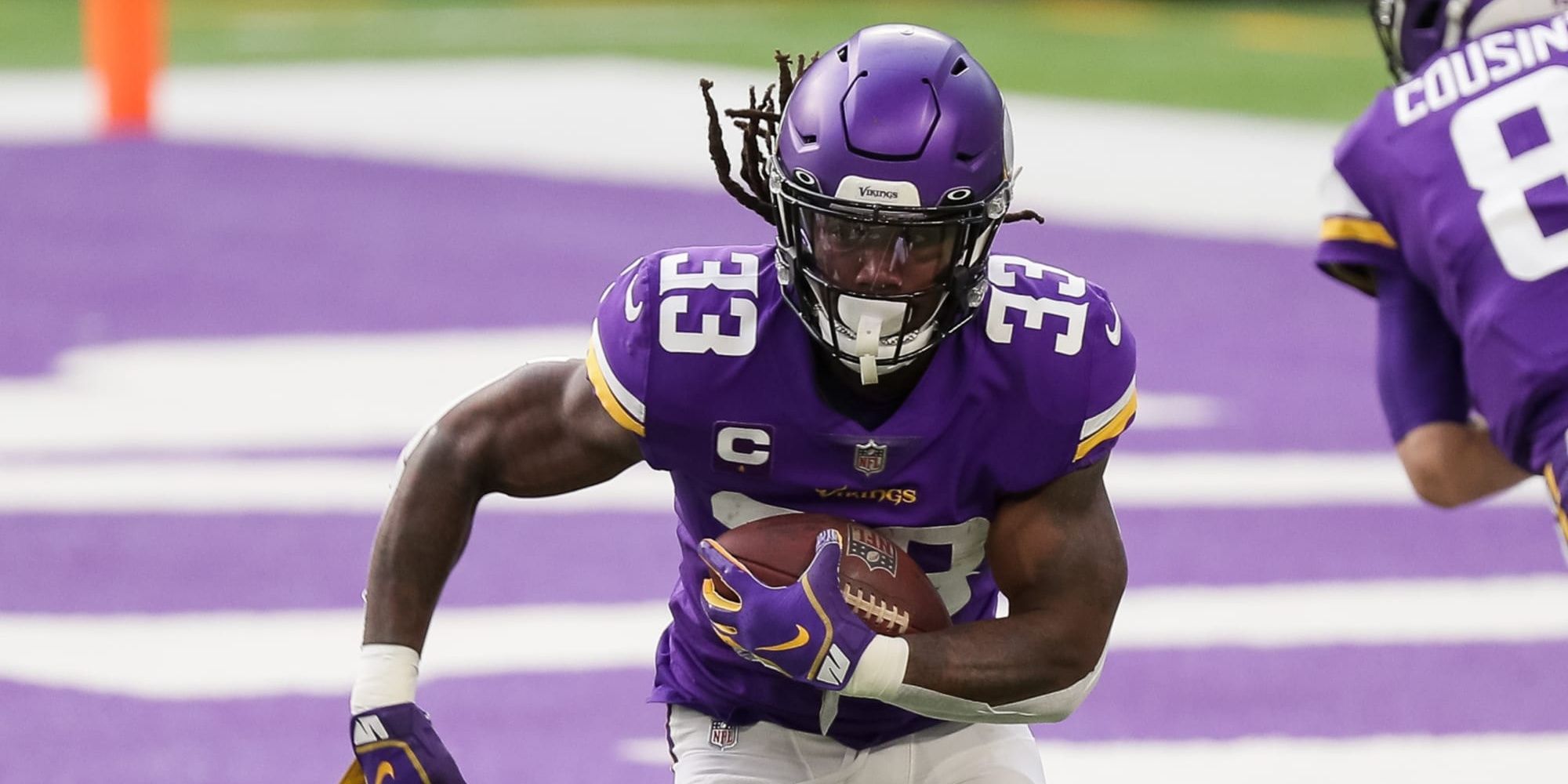 In a familiar scenario for the elite backs in Madden 23, Dalvin Cook spent his first couple of years in the NFL as a backup. By his third year, however, Cook was showing off the explosiveness that fans had seen in his college career.
Despite missing time due to injuries in each of his five seasons, Cook has posted three straight superstar seasons of over 1000 rushing yards. His burst and acceleration (92 OVR) jump off the television when you watch him, and combined with a 93-rated break tackle ability, he functions perfectly as the engine for the Vikings' offense.
4

Jonathan Taylor, Indianapolis Colts, 95 OVR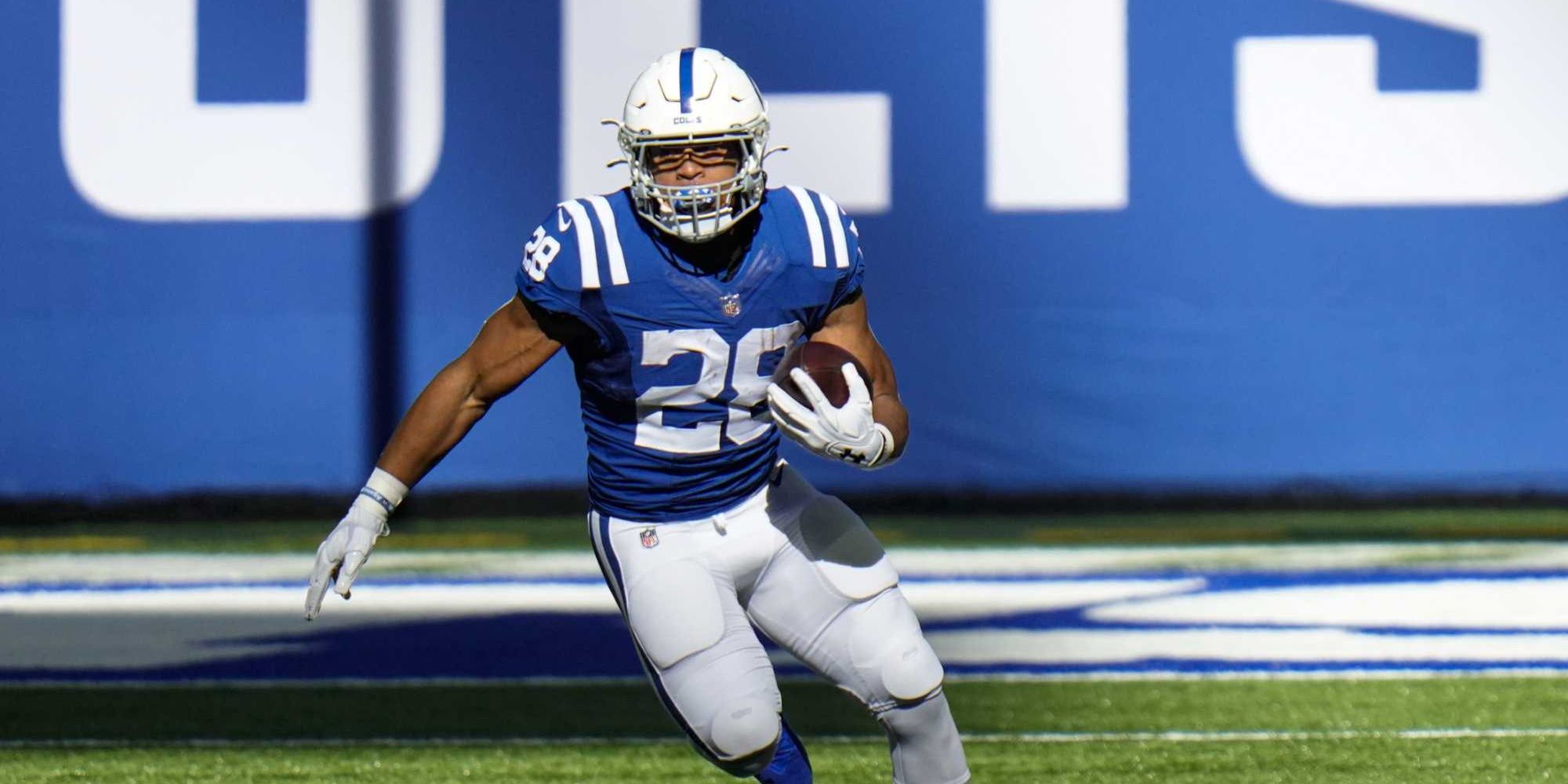 Jonathan Taylor broke out in a massive way in his sophomore season. After a great rookie year with 1169 rushing yards and 12 touchdowns, Taylor one-upped himself with an 1811-yard, 20 touchdown season. Behind the Colts' road grading offensive line, Taylor was the best running back in the league.
3

Christian McCaffrey, Carolina Panthers, 96 OVR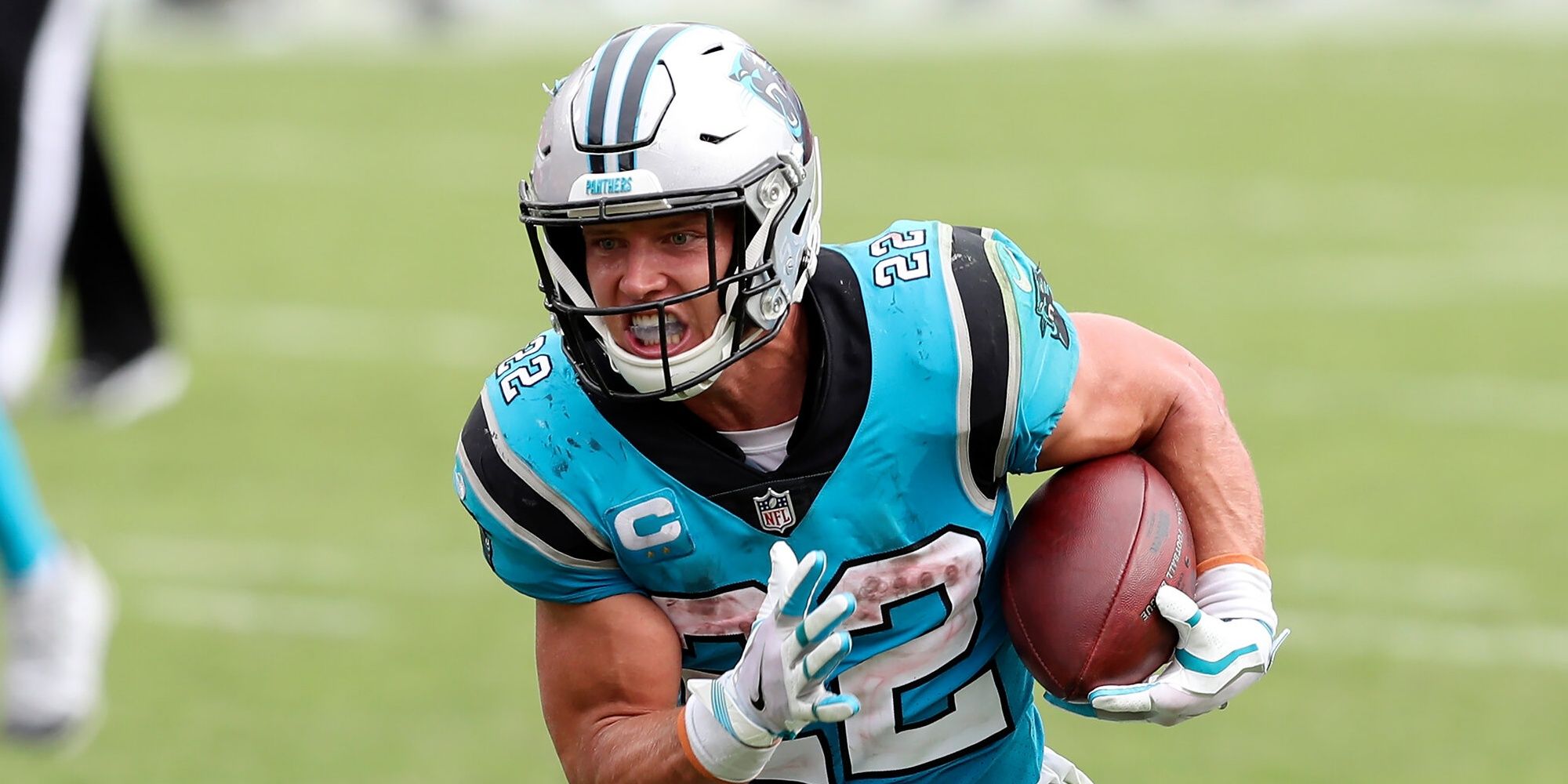 In the darkness that has been the Carolina Panthers' last few seasons, one consistent light has emerged to thrill fans and confound defenses; the do-it-all running back, Christian McCaffrey. Injuries have derailed his past two seasons, resulting in only ten games played, but this rating is a show of respect for how dominant "Run CMC" was in 2018 and 2019.
He is one of three players in NFL history to record 1000 rushing and receiving yards in the same season. An 83 catch rating and 81 short route running rating mean you can line him up as a receiver and watch his versatility shine like it does on Sundays.
2

Nick Chubb, Cleveland Browns, 96 OVR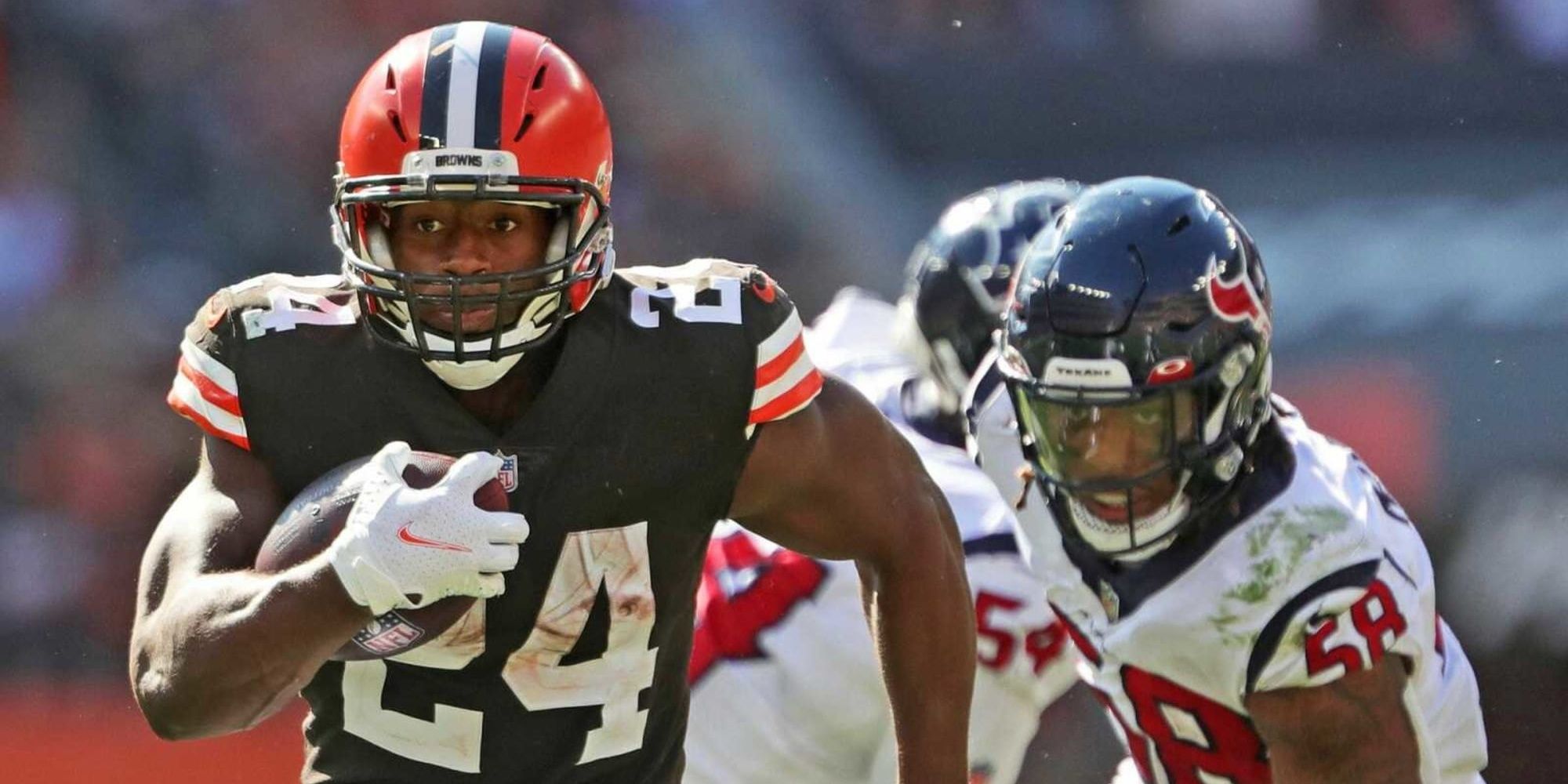 Power is the first thing that comes to mind when discussing Nick Chubb. He is the king of fighting through contact with elite burst that allows him to break off huge runs time and time again.
His 85-rated strength is put to good use as he bowls over would-be tacklers, and his 98-rated break tackle ability will definitely infuriate your Madden 23 opponents. Despite missing a few games in 2021, Chubb still ran for 1259 yards and eight touchdowns despite a disappointing year for the Browns.
1

Derrick Henry, Tennessee Titans, 97 OVR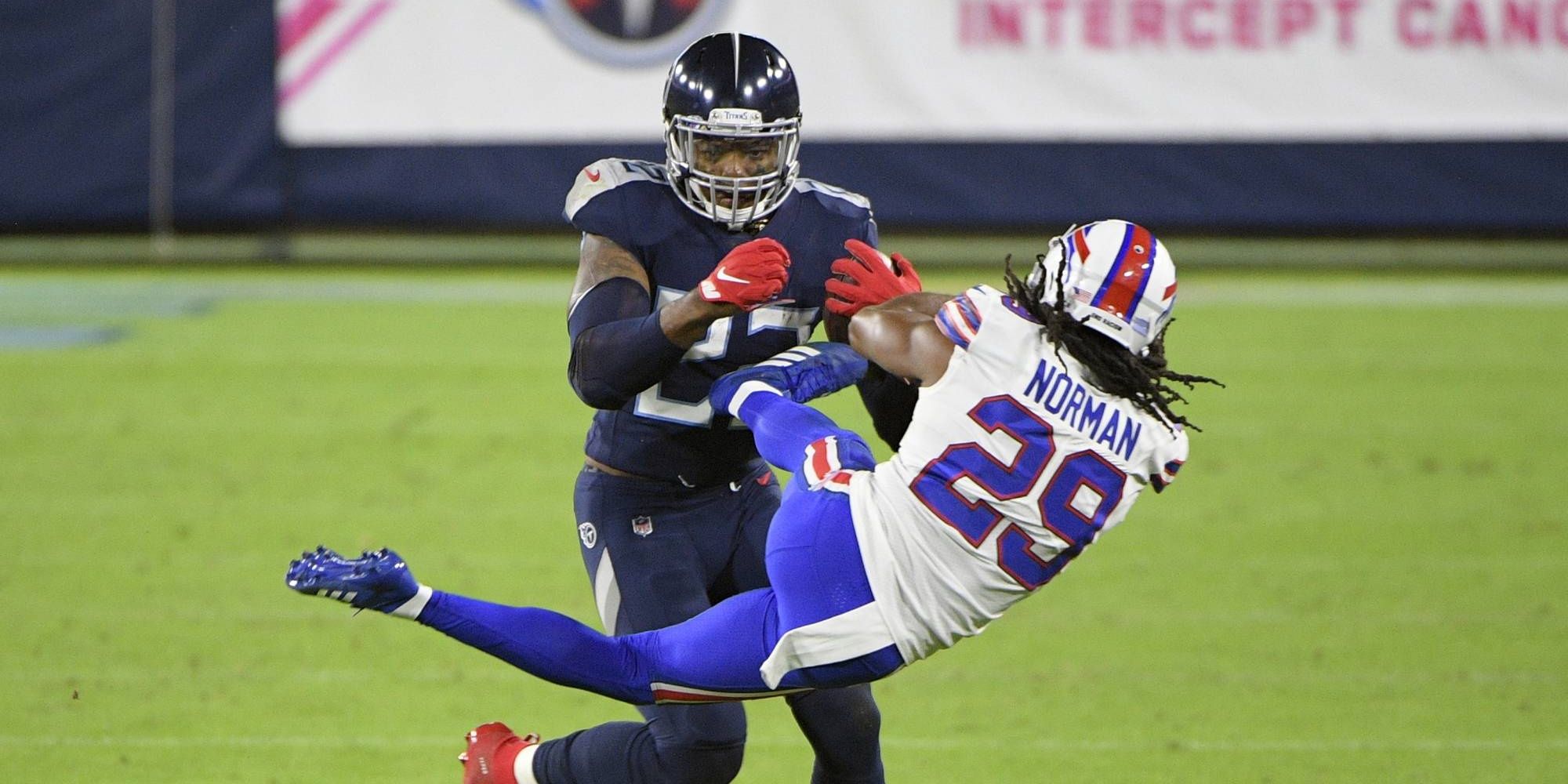 There is not much to say about King Henry that hasn't already been said. Although he missed games due to injury in 2021, when healthy he displays a level of dominance and raw power that we have never seen from such a mountain of a man.
His 2020 season in which he ran for 2027 yards (79 short of the all-time record) and 17 touchdowns was awe-inspiring, and he followed it up by running on pace for 1991 yards before getting injured last year. With 87-rated strength, 93-rated speed, and a 93-rated trucking ability, defenders would be wise to make a business decision and just get out of his way.
Source: Read Full Article