People are bidding on a note on eBay so that a parent can afford to buy a PS5 for their son this Christmas.
New consoles are always hard to come by when first released. We were reminded of that when BBC released archive footage last month of people fighting over PS2s 20 years ago. However, the last few weeks have felt next level. That's because a number of factors have made PS5s and Xbox Series X/S consoles harder to fund at launch than any of their predecessors.
The ongoing pandemic is undoubtedly one of those factors. Not only has it been more difficult for PlayStation and Xbox to manufacture consoles, but shipping them around the world continues to prove problematic. There are also more gamers in 2020 than ever before. That has left a situation in which there are more gamers than ever with fewer consoles to share between them.
On top of all that, scalpers buying up the little stock available means hundreds of thousands of you will be left without a next-gen console this holiday season. One group in the UK claims to have bought and resold 3500 PS5s. That might be the group one parent in the UK is trying to buy a PS5 from. They have taken to eBay for help to raise the funds for a new console, using a method that is definitely a new one on us.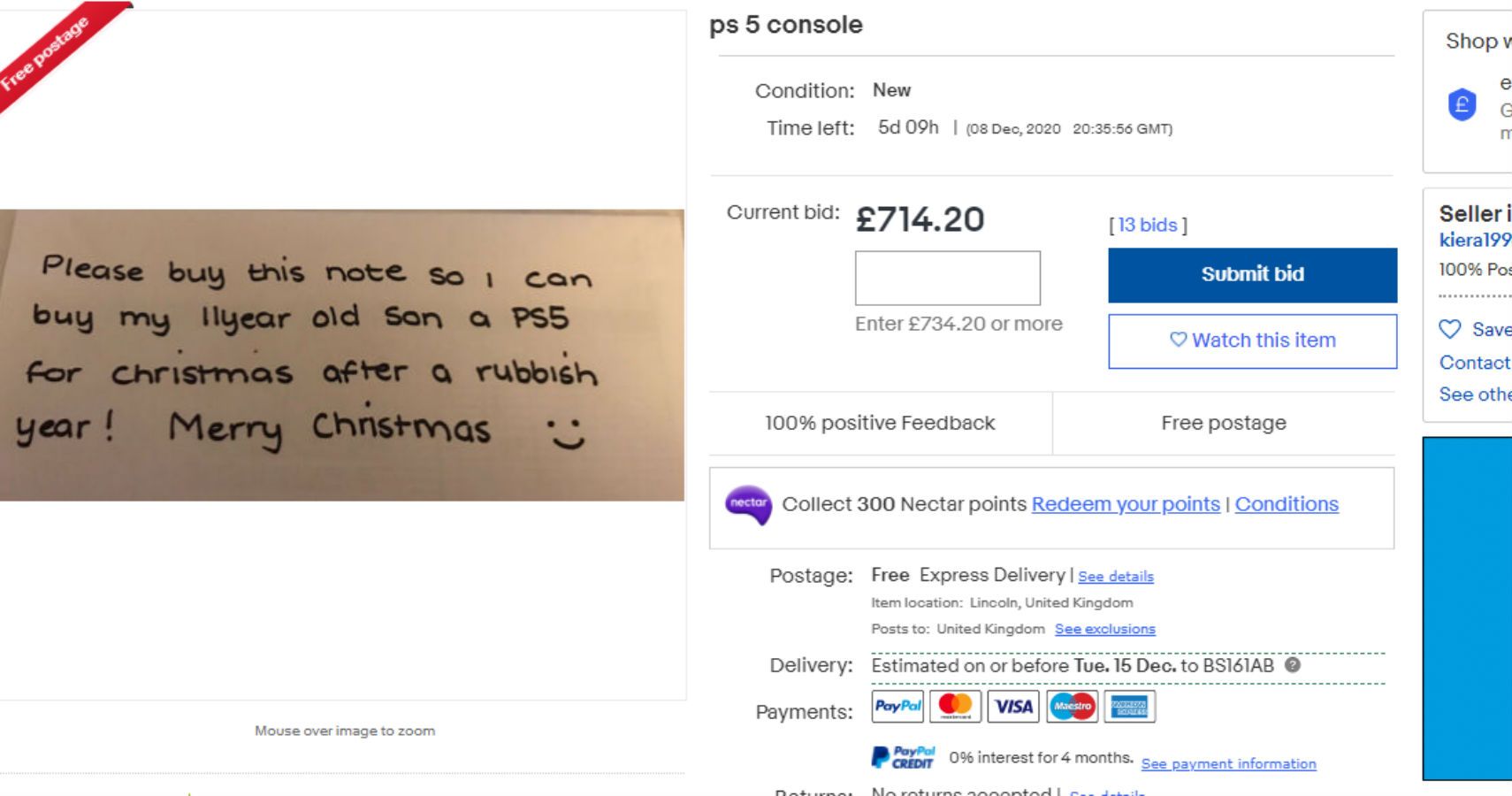 The listing is for nothing more than a note. The note reads, "please buy this note so I can buy my 11-year-old son a PS5 for Christmas after a rubbish year." So far the note has been bid on 13 times and the price is up to £714.20 ($958.10). A touching gesture from those who are submitting bids, and one that requires a lot of faith that the seller of the note is actually telling the truth.
It would be understandable that anyone seeing this would be skeptical. Some people are doing just about anything to get their hands on a PS5. People in the US brought their mattresses to GameStop last week so they could sleep outside prior to Black Friday, and Amazon drivers in the UK have been accused of replacing the consoles with other items. A few more bids and the parent will be able to afford a PS5 as they are currently on sale via CEX for £750.
Source: Read Full Article