Episode 112 of the Pokemon Sword & Shield series aired in Japan last week, taking Ash and his friends to Alola for a special battle royale between Kukui, Gladion, Kiawe, and Ash, the reigning champion of the Alola Region. While it was great to catch up with the Alolan characters and see Ash get a bit of fanfare (for once) the most noteworthy part of this episode was a short scene between Eevee trainers Chloe and Lana. While discussing what Eeveelution her Eevee will choose, Lana seemingly shuts down the theory that Chloe's Eevee will evolve into a new Eeveelution.
Chloe's Eevee has been the center of much speculation over the last year. Chloe met her at the Vermilion City Eevee Evolution Lab in the first episode of Master Journeys, and the two quickly discovered they were kindred spirits. While Chloe was having doubts about her future as a Pokemon trainer, Eevee was struggling to find her own identity. The lab assistants tried every method to evolve Eevee, but none of them would take. Chloe agreed to take Eevee on an adventure to help her discover herself, and 63 episodes later we still don't know what Eevee's destiny is.
Many have speculated that Eevee hasn't evolved yet because it's waiting to become a new Eeveelution that will be introduced in Scarlet & Violet, while others believe that Eevee simply can't evolve because it has the Gigantamax gene, just like Ash's Pikachu. It's clear that there's something special about Chloe's Eevee, but we've yet to see any evidence either way. A third theory posits that Eevee remains unevolved as a nod to Let's Go Eevee, but that seems to be the point of Lana's Eevee, Sandy, as evidenced by the Let's Go hairdo.
The meeting between Chloe and Lana was long overdue, considering how much the two trainers have in common. Like Chloe's Eevee, Sandy was introduced to the series years ago and still hasn't evolved. When Chloe asks Lana which of the eight Eeveelutions she thinks Sandy will choose, Lana tells her that she's forgetting the ninth path, AKA the "Eevee Path". Lana says that their Eevees are like Ash's Pikachu, which suggests that, whether it Gitantamaxes or not, Chloe's Eevee isn't going to become a new Eeveelution.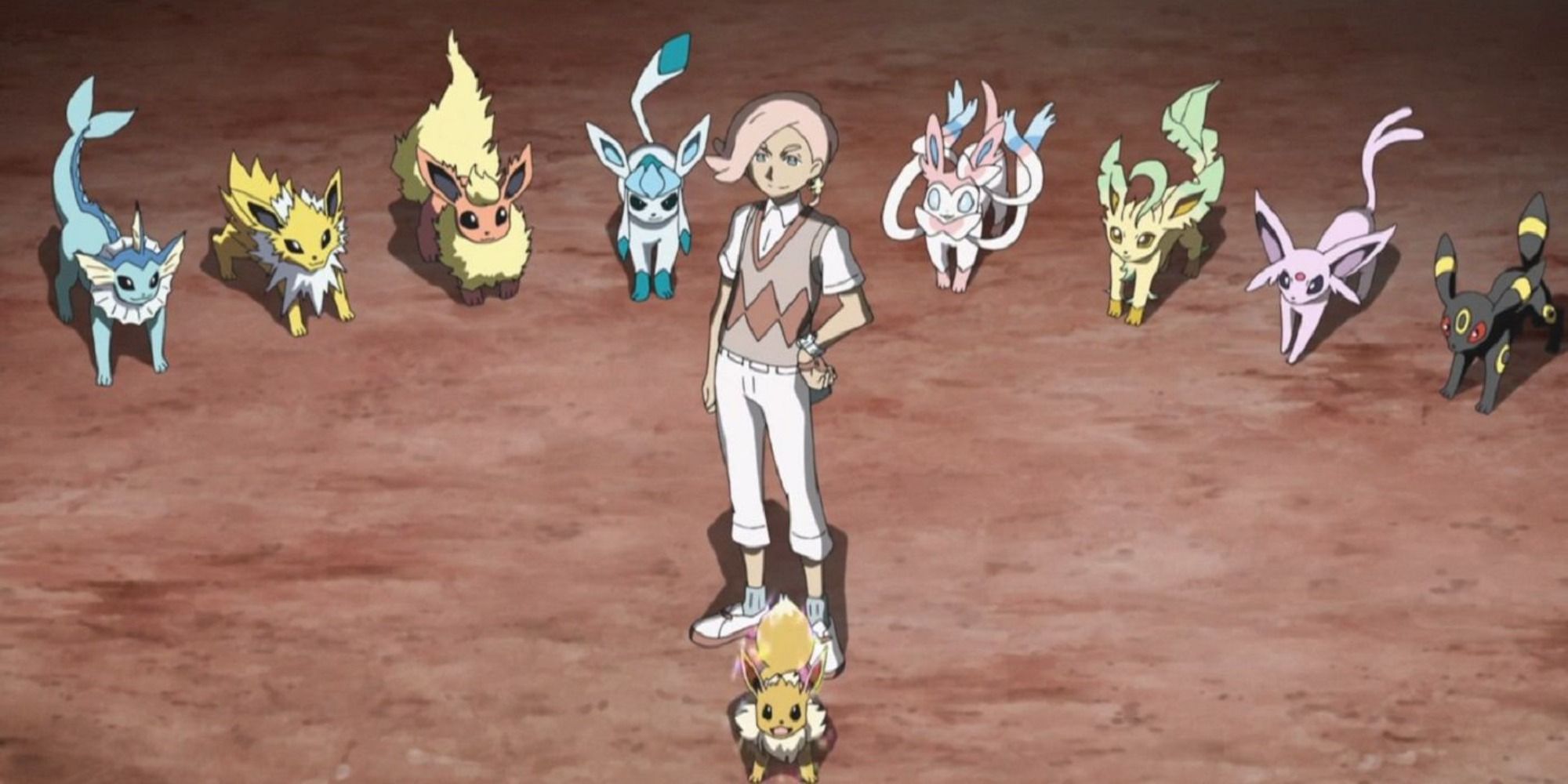 Before you take this scene as a confirmation that no more Eeveelutions are coming next generation, take a look at the Pokemon channels across social media. As @soulsiverart pointed out, several of the official Pokemon Twitter accounts have recently changed their banners to an Eeveelution theme. The official Pokemon UK Twitter page has tweeted about a different Eeveelution every day since last Thursday. The Pokemon YouTube channel has been uploading old clips of Eeveelutions frequently for the last two weeks. Further, Espeon is the newest fighters in Pokemon Unite, following Sylveon, and the datamines indicate Glaceon is coming soon. Though Chloe's Eevee may have turned out to be a red herring, there's still plenty to indicate a new Eeveelution is coming.
Scarlet & Violet will be the third generation since a new Eeveelution was introduced, and already the longest we've ever had to wait between them. There's plenty of evidence for and against a new Eeveelution in Gen 9, regardless of what happens to Chloe's Eevee. E3 season is only a week away, so there's a good chance we'll see a lot more Scarlet & Violet – and hopefully some Eeveelution news – sooner rather than later.
Source: Read Full Article