The Razer Anzu Smart Glasses aren't the first Bluetooth-enabled glasses I've tested, but they're certainly the most impressive. Packed in these durable plastic frames are a pair of hyper-directional speakers that can pump crystal-clear audio into your ears without disturbing those around you. What's more, the touch-enabled controls and virtual assistant features make the Razer Anzu's a far more capable smart device than any smartwatch or even a feature-packed wireless earbud can be. What struck me the most about the Razer Anzu compared to similar smart glasses is just how versatile it can be thanks to the easy-to-remove lenses and customization options available in the Razer Audio mobile app. Despite the fact that this isn't my first pair, the Razer Anzu frames are the first smart glasses that made me stop asking the question "Who really needs this?" Now, I rarely take them off. The Anzu Smart Glasses have become a vital tool for convenience and productivity for me, and I think there's a tremendous amount of utility here for just about anyone, gamers or otherwise.
Razer is targeting the lifestyle and productivity category with the Anzu frames rather than the gaming category, and it's easy to see why. Razer's signature neon green and three-headed snake icon are intentionally missing from the box. Instead, the Anzu is packaged like a high-end tech accessory that would look perfectly normal on a shelf alongside an Apple Watch or Fitbit. I think it's a smart branding decision because the Anzu frames have just as much utility for non-gamers as it does for gamers. Anyone that listens to audio, makes phone calls, and needs to protect their eyes can use the Anzu smart glasses.
The frames come in either a round or rectangle style, sporting both large and small sizes. While I'm by no means a fashion expert, the slick black frames are clean and simple-looking enough that I'd have no problem wearing them around without worrying about getting weird looks. The arms are definitely chunkier than normal glasses, but I think overall the frames blend in just fine.
Each set comes with a pair of interchangeable lenses, one clear lens for blue light filtering and the other a polarized sunglass. The blue light lenses are meant for prolonged screen time, like working at a computer or playing games. A lot of people use built-in screen filters to cut down on blue light already, but the protection that these lenses offer is as good or better. The sunglass lenses are a standard black color that look to be about 80% tint, which is great for me and likely what most people are used to.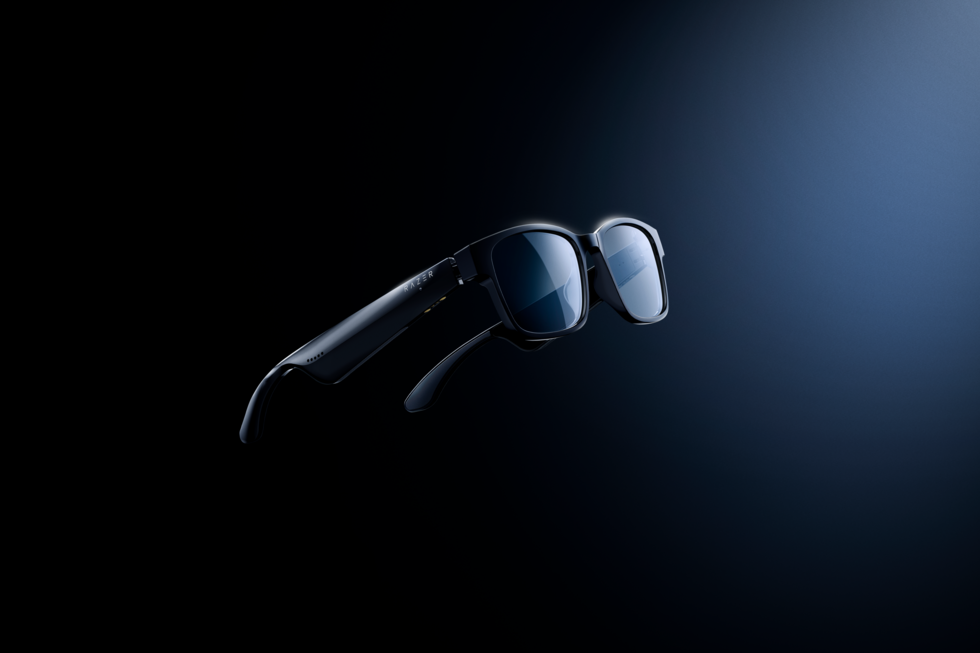 The main feature of the Anzu frames is, of course, the Bluetooth speakers, which I've had a pretty great experience with. At full volume, the two speakers sound great for both music and podcasts. You won't get a lot of bass out them, and there are only two EQ options besides the default — one for clarity and one for treble boost — so I don't imagine hardcore audiophiles will be particularly impressed. What is impressive is how loud and focused the sound can get while remaining relatively quiet to the outside world. At max volume, you can definitely still hear it across the room, but barely. I found at about 20% volume anyone more than ten feet away couldn't hear it at all in a quiet room, though it will also be pretty quiet to you as well.
That's not to say the frames aren't for gaming, though. For mobile players, there's a low-latency mode you can turn on to make sure your audio is perfectly synced, but I never had an issue playing Game Pass on my phone without it. For real immersion, the Anzu frames can't stack up to a nice pair of earbuds or headphones, but the convenience of the frames still makes them great for mobile gaming.
Setting up and using the frames couldn't be simpler. Opening the arms turns them on and puts them in pairing mode, or automatically connects them to your phone if they're already paired. This means that anytime you want to use them, all you have to do is put them on and go. You can control your audio with your phone, but you can also use the touch controls on the frames themselves to pause your music, change tracks, answer calls, and activate your virtual assistant. The timing of the touch controls takes a little practice, and it can be difficult at first to touch the right spot when they're on your face. I also had a bit of trouble remembering the shortcuts at first. Single tap, double tap, triple tap, long hold, and triple tap then hold all have different functions. You can customize these inputs in the app, but you'll still need to learn and remember what all of them do.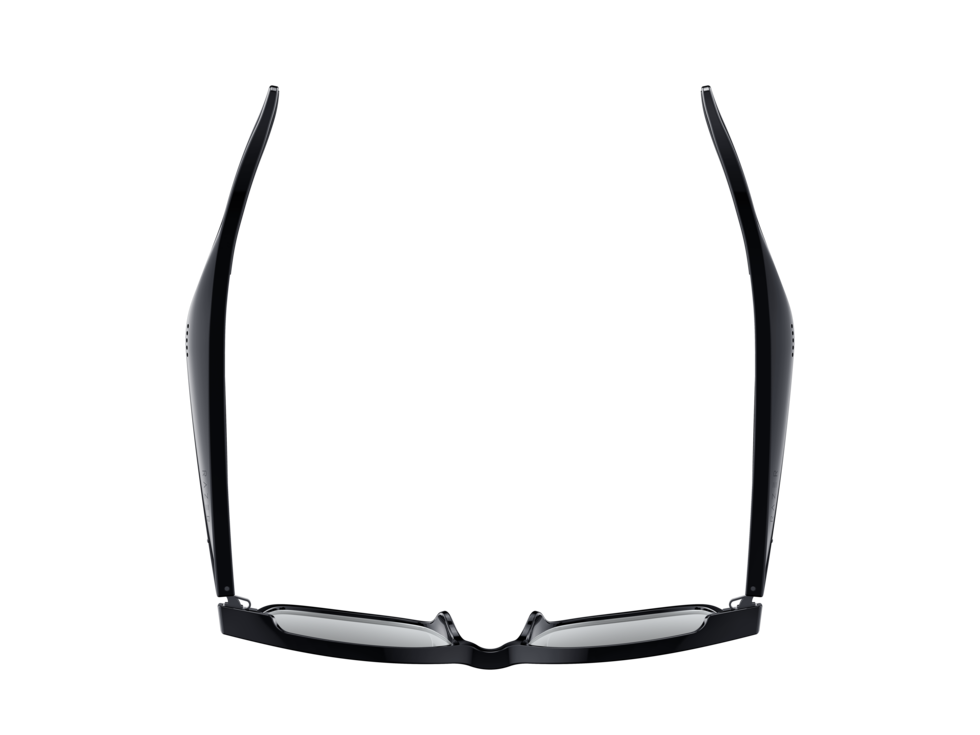 The open ear style is a completely different experience from a headphone or earbud. While it can be nice to put on noise-canceling headphones while I work, there are other situations when it's really nice to listen to music and still be able to hear people around me. Not only can earbuds be uncomfortable sometimes, but they also close you off from those around you in a way that the glasses just don't. It's kind of great to just wear glasses as I normally do and have the option to play music or podcasts at any time without needing to carry around earbuds or disturb the people around me. It's a totally new way to engage with audio and I'm still discovering new circumstances where I can benefit from the frames.
The number one reason these things have been stuck on my face is the virtual assistant functionality. With just a short press you can activate whichever assistant you use on your phone, be it Google, Siri, or Alexa, and engage with it just as you would normally. Not only has this saved me from picking up my phone a hundred times a day to set an alarm, leave myself a note, or just to Google something, but it's actually brought the virtual assistant into my life even more. Call me lazy, but I've found that digging my phone out of my pocket, unlocking it, and activating the assistant just to set myself a reminder is a serious barrier. Some people use smartwatches to expedite this process, but for me, tapping on the side of the glasses I'm already wearing is the perfect solution. Wearing them for a week has already helped my productivity immeasurably.
If you already wear glasses, the process for acquiring prescription lenses can be a bit of a hassle. One of the best things about the Anzu frames is that the lenses are easy to swap out on your own, but if you want to replace them with prescription lenses, you'll need to go through a third party called Lensabl. Lensabl offers a 15% discount on lenses for the Anzu, but it's a complicated ordering process to get them. Normally, one would need to mail their frames to Lensabl to have them switched out. If you want Lensabl to just send you the lenses for the Anzu frames, you'll need to email their customer service directly with your order number and frame specifications and ask them to send you the lenses instead of sending them the frames. None of this is explained anywhere on Razer or Lensabl's websites, but the Lensabl customer service reps are friendly and helped me get everything sorted for my order in the span of six emails over four days. The process is less than ideal, but the end result is so worth it.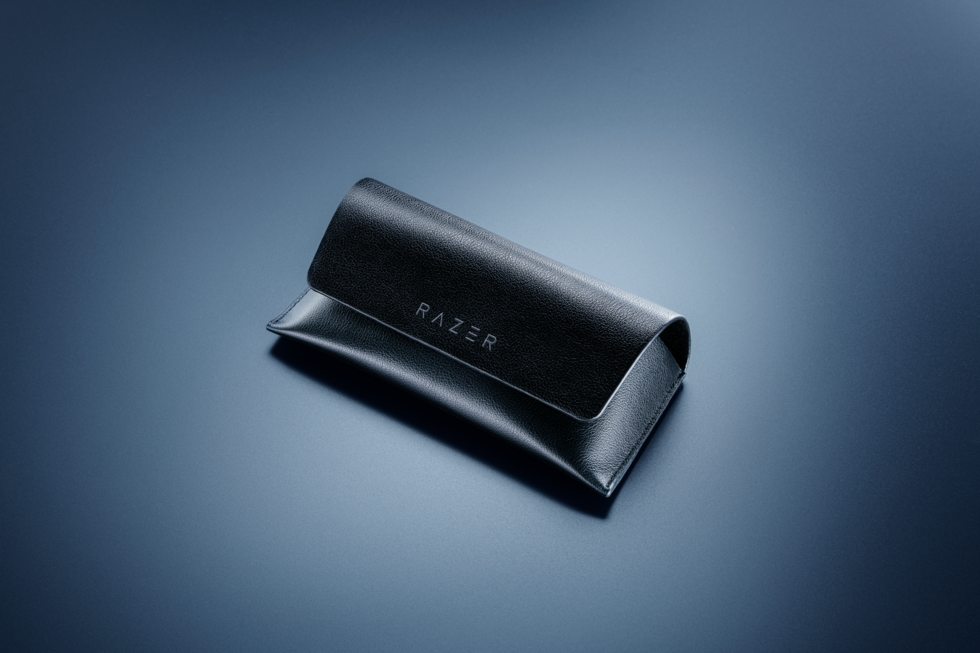 That's just one of several improvements I'd like to see in the next iteration of the Anzu frames. They have a five-hour battery life, which isn't totally unreasonable for a device like this — AirPods are about the same — but I want the Anzu's to be powered on and ready all day if I'm wearing them all day. Additionally, since the frames have a separate speaker in each arm, it comes with a proprietary charger. I'm never a fan of non-standard chargers because I tend to lose them, but luckily there's a spot built into the case for the glasses to store the cable. Unfortunately, this makes the case quite bulky. It would be fine in a glove box, but there's no way I can fit the case in a pocket. The glasses will fit just fine in any case, but it'd be nice to have a slimmer option from Razer.
Smart Glasses are a fairly new category that hasn't exactly caught on yet. The term makes people think of Google Glass, the failed tech experiment with built-in cameras that made everyone feel extremely creeped out. I think the Razer Anzu frames are exceptionally useful though, and a great alternative to smartwatches with more pros than cons, at least for me. I love wearable tech, and the Anzu frames are the perfect example of a device that blends seamlessly into your lifestyle without asking for more of your attention. At a retail price of $200, the Razer Anzu Smart Glasses are one of the most affordable smart accessories around.
A pair of Razer Anzu Smart Glasses were provided to TheGamer for this review. Learn more about Razer Anzu on the official Razer website.
Source: Read Full Article