The Daily Challenges in Red Dead Online will have you trekking all across the vast American West in search of countless species, flora, and fauna alike. However, if you're riding to and froe without mapping out any specific hunting grounds, you'll be making more than a day's work for yourself. Still, these various tasks don't need to be a burr in your boot. No matter how rare, you should be able to locate any plant or animal the game asks you to track down, as long as you put in a bit of research before heading out on the hunt.
Plotting out a few good gathering locations is especially important when looking for Indian Tobacco, as the tall stalky plant with sharp pointy leaves does not grow abundantly across each state. Indian Tobacco primarily grows in New Hanover and Lemoyne, though it is said you can find it in Ambarino as well.
It's a shame Indian Tobacco doesn't boast a more liberal growth, as it is mighty beneficial to shooters for extending their Dead Eye when consumed raw. Indian Tobacco is also a key ingredient in both the Potent Snake Oil and Special Snake Oil recipes, along with the Potent Miracle Tonic brew. Now that you know how incredibly useful this plant can be, here are the best Indian Tobacco Locations in Red Dead Redemption 2 and RDO.
Indian Tobacco Locations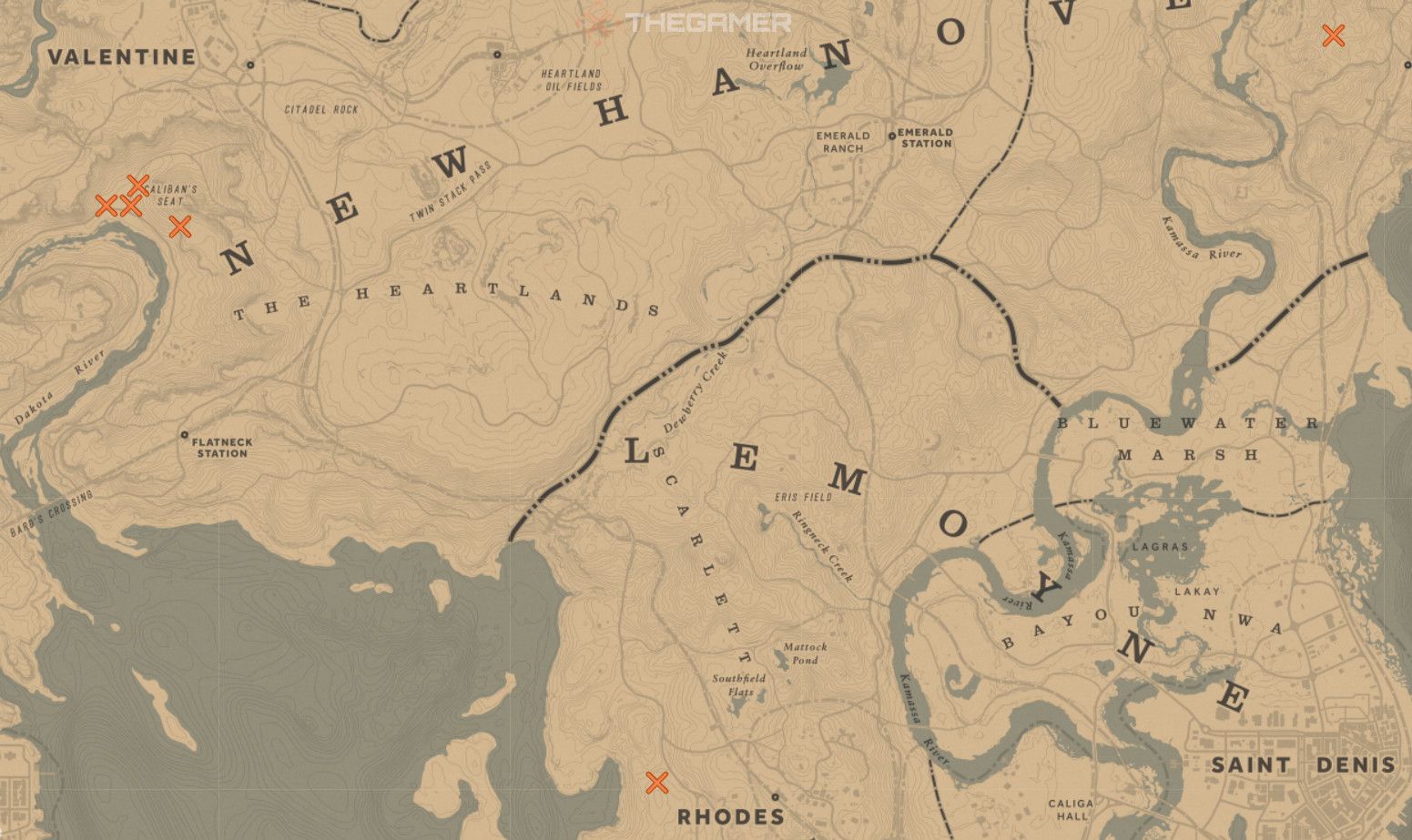 RELATED: Red Dead Online: Best Raspberry Gathering Locations
New Hanover
New Hanover is the best state for picking Indian Tobacco. You can find the plant growing in both The Heartlands and Roanoke Ridge.
Caliban's seat is the best area for gathering Indian Tobacco in The Heartlands, with ten plants spread out across four different regions.

Three patches of Indian Tobacco are growing along the roads west of Caliban's Seat, with a few plants to harvest at each location.
There's another growth of Indian Tobacco in the fields south of Caliban's Seat as well.

Heading east into Roanoke Ridge, you should also find some Indian Tobacco growing at the end of a dead-end path between the Van Horn Trading Post and the Elysian Pool. This area is lush with an array of vegetation, so if you have other harvest tasks on your list, it might be worth seeing how many items you can check off in one go by combing the area to the east of the farmland nearby.

Lemoyne

The Scarlett Meadows is the best area to gather Indian Tobacco when you're in Lemoyne, though we'd still suggest searching across New Hanover first when there's a greater need.

West of Rhodes, there is a patch of Indian Tobacco growing in the fields on the far side of the conjoining paths. From the crossroads that branches south straight down to Braithwaite Manor, turn and head Northwest instead, and you should find a couple of patches of Indian Tobacco in the meadows there.

Source: Read Full Article