When I first loaded up Sackboy: A Big Adventure on the Steam Deck, I was convinced it was broken. The dev logos were replaced by coloured error bars you usually only see when a TV channel loses signal, the main menu chugged and jittered as assets loaded, and when I jumped into gameplay, the frame rate was barely hitting double digits.
However, lots of games the Steam Deck lists its support for as "unknown" are actually quite playable given the right tinkering, so I remained hopeful. After a few adjustments, I hit "apply changes" and everything stopped responding for a minute – until I was greeted with a "fatal error" crash notification and kicked out of the Sackling's game.
Considering every other Sony first-party game brought to Steam has been optimised for the Deck, it's strange Sackboy isn't. That's reflective of a lot of the feel of this port, and as a result, it has been struggling on PC unlike any other Sony game released on the platform. It's a shame because this game is an overlooked gem; releasing alongside Spider-Man: Miles Morales and Demon's Souls' remake, this seemingly straightforward platformer was always going to be viewed as nothing more than launch day padding.
When people theorise what a Mario game with the power of a modern console would look like, Sackboy should be the prime example. Like Nintendo's flagship plummer, Sackboy is full of verve and joy at every turn. The game introduces new mechanics at a perfect clip and puts fresh spins on them as soon as they start to become a little stale. The game's sound design and music is a modern counterpoint to traditional Nintendo soundtracks. It's a joy to see games like these incorporate remixes of licenced bangers like Britney Spears' Toxic or Madness' House of Fun for one-off themed levels.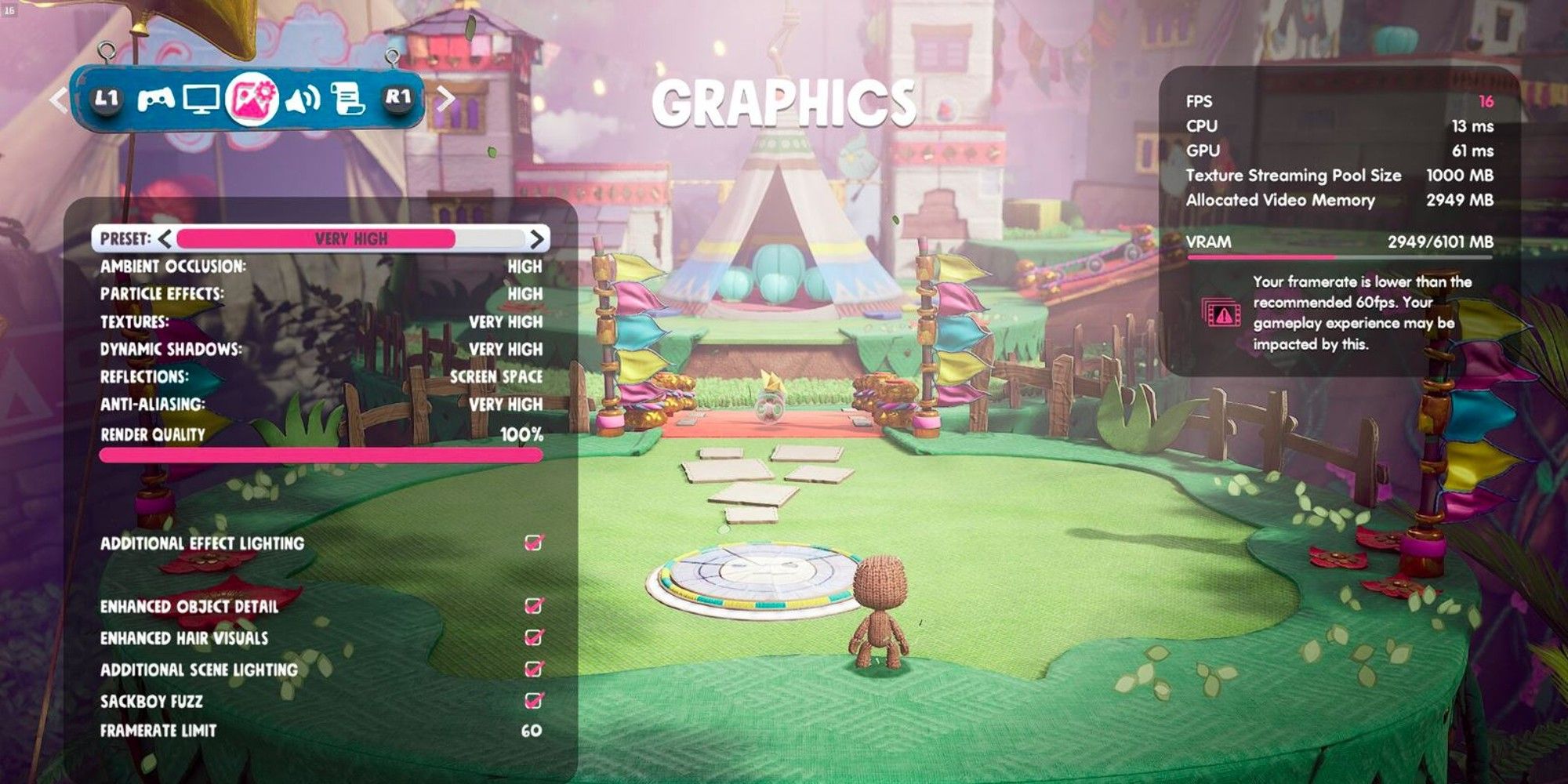 Sackboy operates with a level of freedom to experiment you don't see with other established platformers. Boss fights have unique twists and aren't simply three-hit-and-done encounters, instead having some extended sequences that require you to use the skills you've learned throughout the world. Levels move and change as you play them – especially in the back half of the game where the game's villain takes control of platforming challenges as you play to try to trip you up. Moreover, the game's movement – which at first may seem somewhat slow and shallow – has a surprising amount of depth and nuance, making the Knitted Knight Challenges enjoyable playgrounds to test your skills.
Playing Sackboy: A Big Adventure two years after its release on PlayStation 5 felt like discovering a future cult classic everyone ignored on release. The problem is the PC isn't the place to do it. The game has been patched since release, and eventually, I found settings that let me play at a locked 60fps, but the game's occasional stuttering issue will remain, and on the Steam Deck, all video files fail to load like the logo splash screen, leading to some very amusing, but very broken, cutscenes and menus.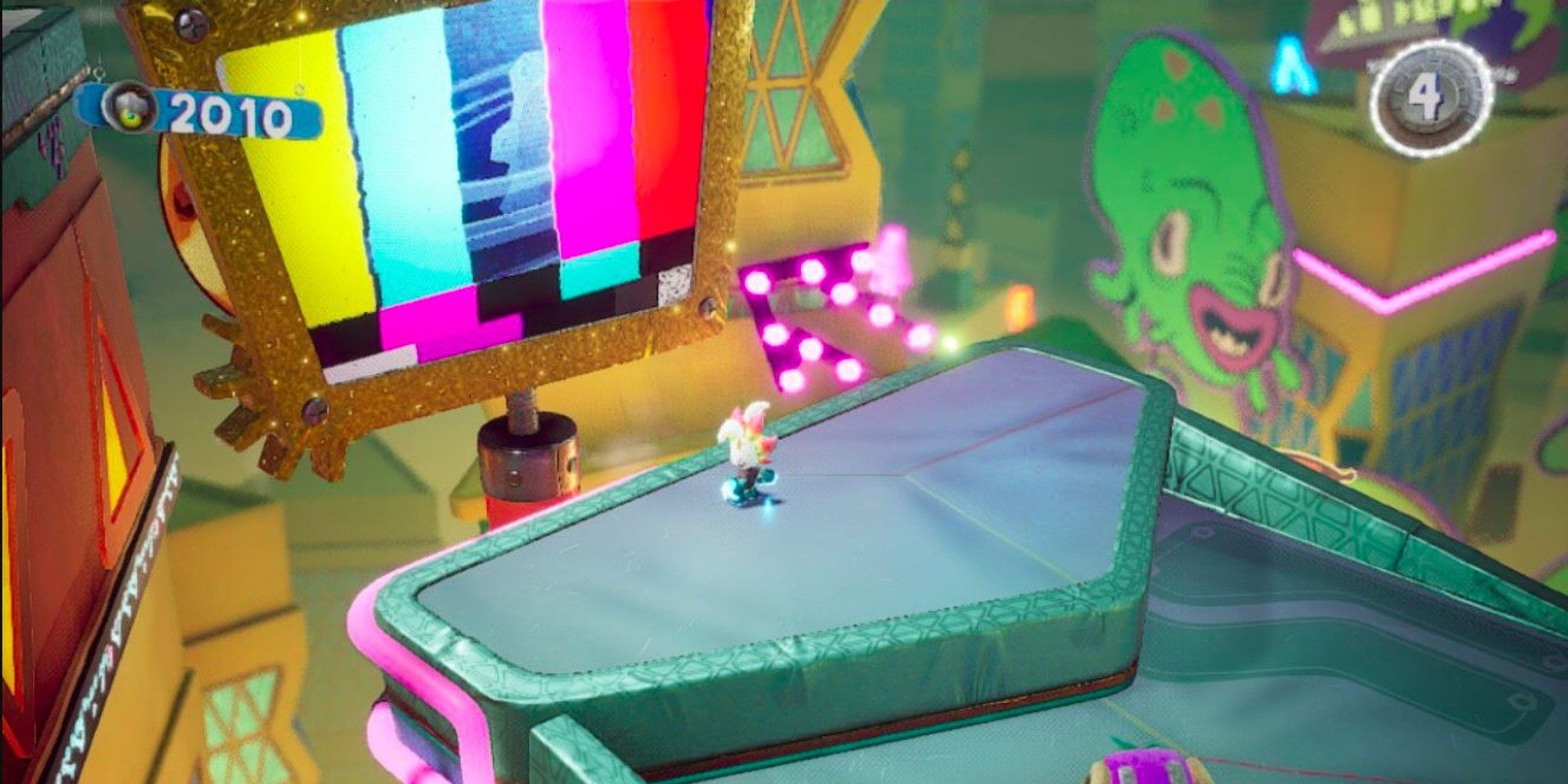 After some investigation, this juttering is seemingly part of how the game streams loading new assets for the first time. This isn't an issue you can brute force with a better graphics card. Every time a new model, texture, or effect appears on-screen, the game will hitch for a second. This wouldn't be as big of a problem if Sackboy wasn't such a fluid platformer to begin with. Paired with its admirable commitment to introduce new elements right to the end, what might seem like a small problem persists throughout. Even in the last few levels, you might miss a jump because the game hung for a second or two while you were suspended in the air.
Two years ago, Sackboy: A Big Adventure proved Sumo Digital was more than capable of creating its own unique vision of Media Molecule's banner Little Big Planet series. Now in 2022, as I write this while listening to the game's choral remix of Material Girl, I can't help but be excited for what is next for weird potential of future Sackboy games. People should go back and play this game, just not on PC.

Score: 2.5/5. A PC code was provided for this review.
Source: Read Full Article