Quick Links
Should You Complete These Cuadrado SBC?
Juan Cuadrado is the latest player to receive a Moments SBC in FIFA 23, this time to celebrate his performance against Uruguay in the 2014 World Cup. The card looks excellent – Cuadrado's pace is the key stat here, although there are positives throughout the card – but the price is pretty extortionate.
This guide covers how to complete Cuadrado, including the cheapest players to use in the SBCs, as well as a deep-dive into the card's stats. Let's get into it.
How Much Is Cuadrado?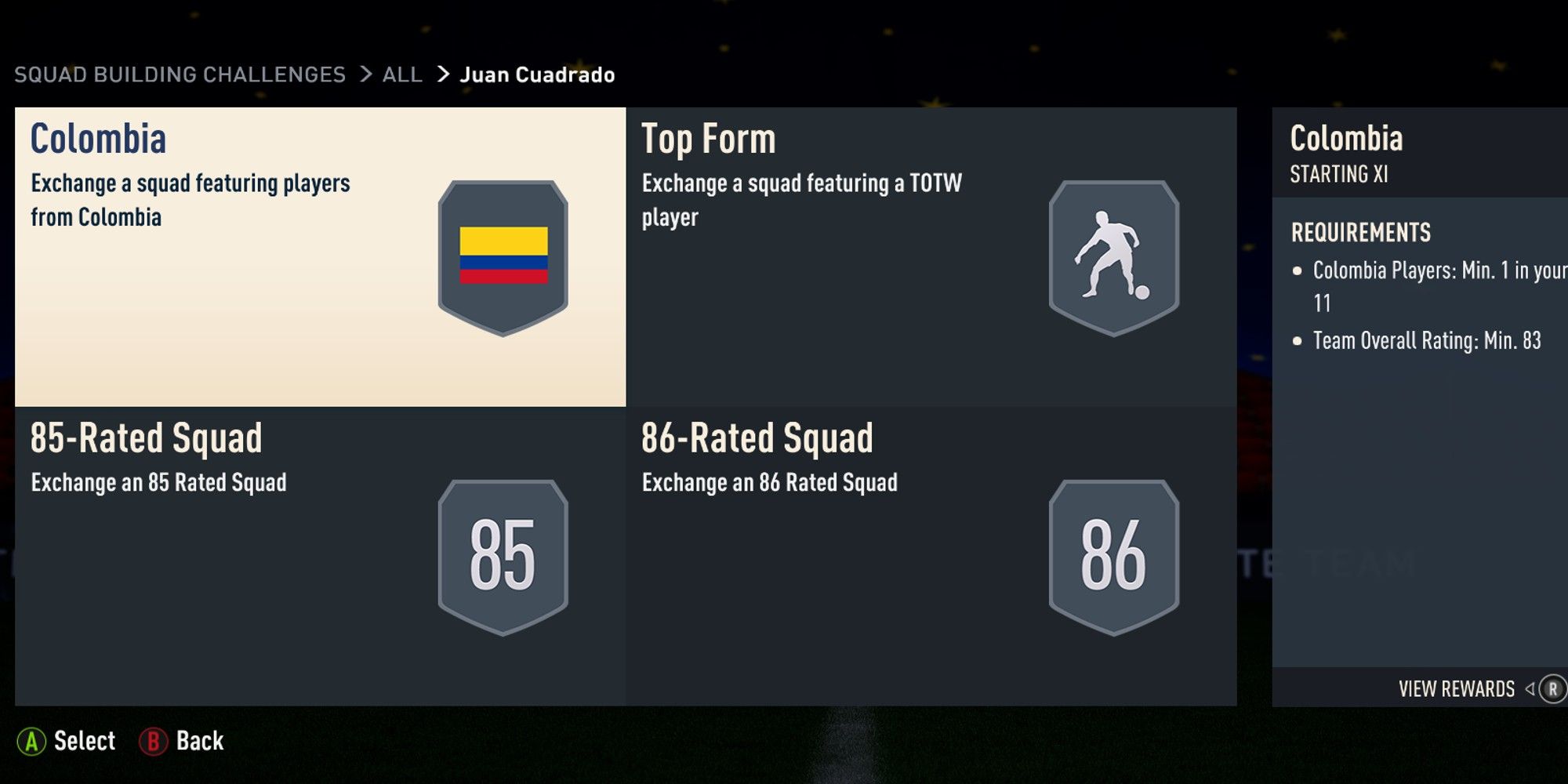 Cuadrado is coming in at around 250k or just under. Depending on how much fodder you have available in the club, this may be cheaper. However, there is a big lack of fodder in the game right now so your club might be pretty dry. If so, think wisely before putting fodder into this card.
How To Complete Cuadrado
To complete Cuadrado you need to enter a total of four squads.
An 83-rated squad with one Colombian player

The cheapest 83-rated players in the game right now are Ziyech, Henderson, and Firmino at around 2k

An 84-rated squad with one TOTW player

The cheapest 84-rated players are Bellingham, Vlahovic and Di Maria at around 3k
An 85-rated squad, no special requirements

The cheapest 85-rated players are Sommer, Schick and Moreno, all at around 7.5k
An 86-rated squad with one TOTW player

​​​​​​​The cheapest 86-rated players are currently Laporte, Szczesny and Coman at around 14-15k.

Should You Complete These Cuadrado SBC?

Cuadrado's card obviously looks fantastic, and EA know this fully, hence the pretty high price. Here's a look at some attributes and stats of the card.

Pace

Cuadrado is blisteringly fast with 94 total pace, with 95 Acceleration and 93 Sprint Speed

This is even more present in the game that Explosive and Controlled have been brought more in line with Lengthy

Shooting

80 Shooting, obviously not the card's best attribute, but this is still extremely high for a card that will likely play a more defensive role in your team

Passing

Really decent passing at 82, but nothing spectacular. 88 Crossing is great for those swings down the wings, but 76 Vision is pretty low

Dribbling

Cuadrado has outstanding dribbling – 90 overall, with 96 Agility but a weird split of 85 Balance. 93 Dribbling stat and 82 in Composure.

Defending, Physical

Really decent defensive stats for a card that be can used in multiple positions – key stats are 85 Stamina and 80 Defending overall

Weak Foot, Skills, Traits, etc

Cuadrado has Five Star Skills
Three Star Weak Foot
Flair, Team Player Traits
Can play at RWB, RB, RW, or RM

This card looks like it's definitely meta right now in FIFA 23. That combination of explosive pace, perfect dribbling with five-star skills, as well as an improved finishing product, make Cuadrado a very compelling SBC.

Cuadrado can play in multiple positions which is great for team chemistry and team-crafting. You can also play Cuadrado in different postions by using different chemistry styles. For example, with a Sentinel Cuadrado is suddenly one of the better RBs in the game, although with a Finisher you've also got a fantastic Winger.

Overall

Cuadrado is a meta card and has been priced accordingly by EA. You will come across this card and probably despise it, especially during this coming Weekend League, but for the average player we really can't recommend you complete this SBC. ​​​​​​​ That price is still very, very high! Right now you can grab a player like Vinicius Jr (wrong position, different links, of course) for only 75k. You can pick up Messi for 100k. Both of these players will give you tradeable coins in the future. Best to steer clear of this unless you've got a load of fodder and you really love the card.

Source: Read Full Article