Call of Duty: World at War is a classic no doubt, a staple of the World War 2 shooter boom that developers are itching to monetize the nostalgia of even today. But, is it worth $1,000? Probably not, but someone on eBay seems to think so.
"Condition: Good," and a hefty price tag of €1,111.11. There's a huge missed opportunity to run with €1,115.11, but sometimes life is disappointing. At any rate, it's on sale from an eBay user who has 100% positive feedback, and they're no stranger to pricey games, as they are also running a sale for the Wii U copy of Batman: Arkham Origins for £953.95.
You may think that the seller notes would indicate just why the game is so pricey – is it a limited variant that got pulled quickly? A censored copy that's in rare supply? Well, all that's said is, "Only the game CD + OVP + instructions [are] sold. It is used goods and there may be signs of wear on the CD and the packaging. The game works without any problems and has been tested by us. Enclosed codes may no longer be usable. You can find many more games in our shop."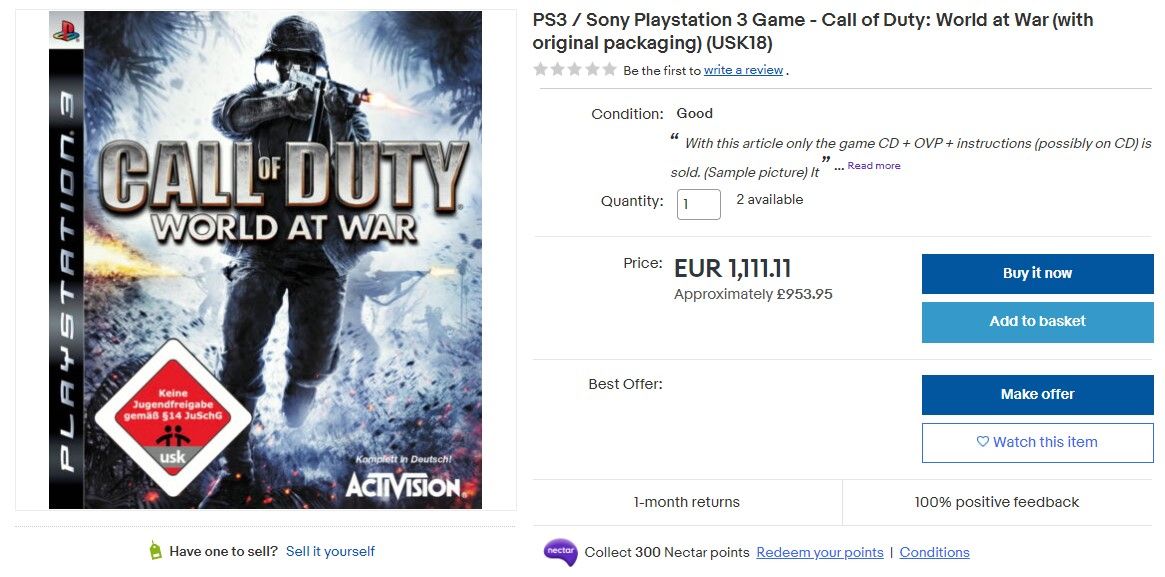 Perhaps you'd be inclined to assume it's a goof then since nothing about it screams limited edition or collector's item – after all, it's just a PS3 copy of World at War from Germany. Fine, we'll do some digging of our own then and perhaps find a reason for this hefty price-tag. It might be that it's such a high price because of the censored differences that could appeal to intrigued collectors across Europe.
In Germany, there are no Nazi symbols, blood splatters were removed, mutilation was absconded, enemies cannot be set on fire, Hitler was cut, and the Zombies mode is completely gone. Even then, €1,000 is a steep price, as the game wasn't banned in Germany – rather, it was readily available because Activision made sure to tweak the game to fit in with stricter regulations. At any rate, this seller has two copies up for grabs if you wanna burn some cash.
Source: Read Full Article