Rugs are decorative objects in Stardew Valley that can be placed inside buildings on your farm. In total, there are 23 rugs that you can collect, with some of them being more difficult to find than others. If you are on a quest to collect every rug, we are here to aid you.
In this guide, we are going to go over how to obtain every rug in Stardew Valley. In general, you will just need to buy the rugs from various vendors, so we will present the rugs in a list, along with their price and location.
Where To Find Each Rug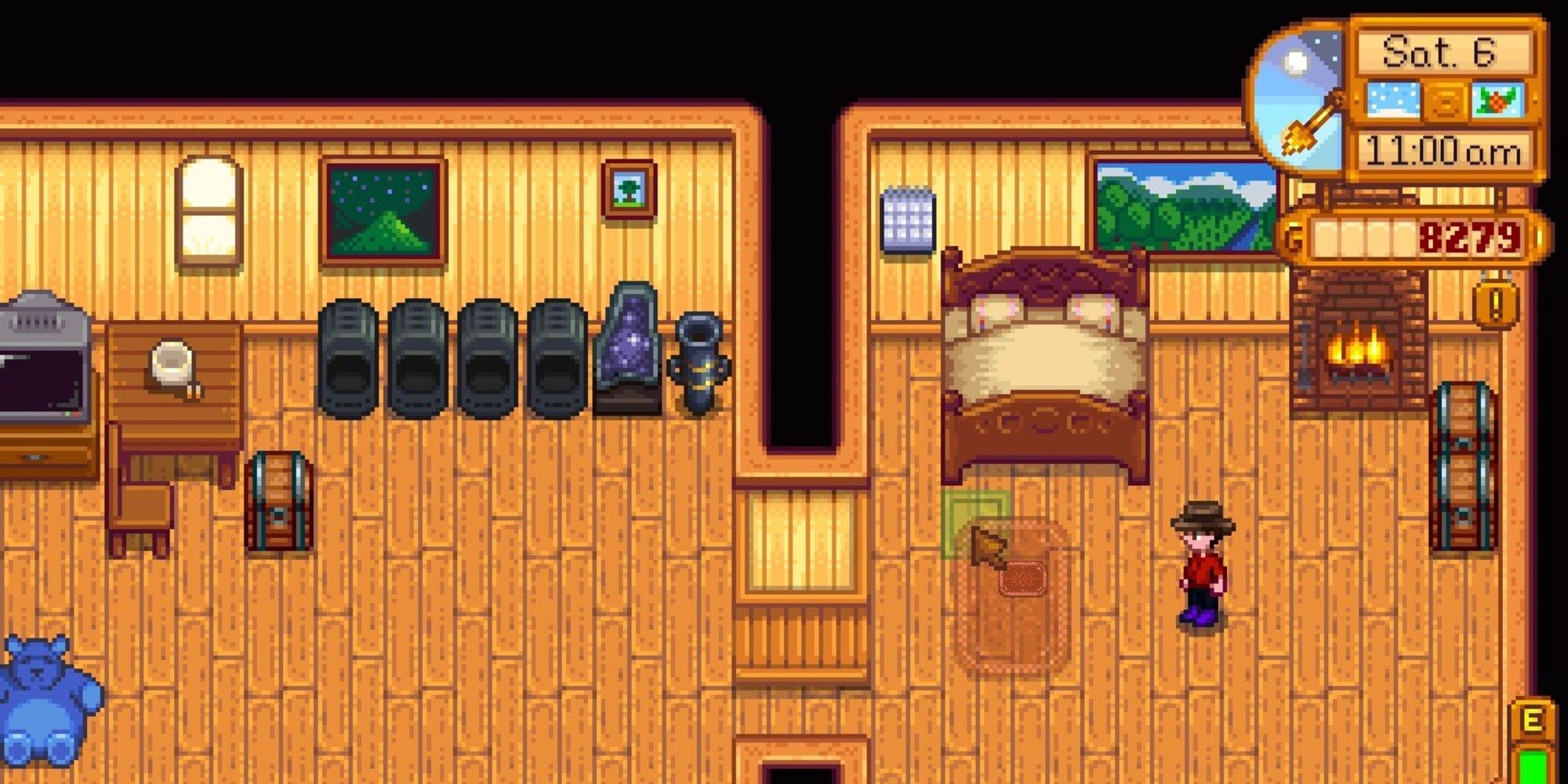 Below, you can find every rug, as well as where to find it and what it costs (if applicable). Every rug is available from the Furniture Catalogue, but we will make note if this is the only method of obtaining the rug.
Rug

Price

Vendor

Appearance

Bamboo Mat

250g

Carpenter's Shop

Blossom Rug

N/A

This is only available from the Catalogue

Bone Rug

During Penny's 14-Heart Event, you will receive this rug if you choose 'Pirate Theme'

N/A

N/A

Burlap Rug

350g

Carpenter's Shop

Dark Rug

2,000g
Between 250g and 2,500g at the Traveling Card

Carpenter's Shop
Traveling Cart

Funky Rug

4,000g

Pierre during Spirit's Eve

Green Cottage Rug

N/A

This is only available from the Catalogue

Icy Rug

4,000g

Festival of Ice Vendor Stall

Large Cottage Rug

2,000g

The Oasis Shop every Monday

Large Green Rug

2,500g

The Oasis Shop every Friday

Large Red Rug

1,000g

Pierre during the Feast of the Winter Star

Light Green Rug

500 Points

Pierre during the Stardew Valley Fair

Modern Rug

4,000g

Pierre during the Dance of the Moonlight Jellies

Monster Rug

N/A

This is only available from the Catalogue

Mystic Rug

During Penny's 14-Heart Event, you will receive this rug if you choose 'Forest and Moon: Peaceful Blue'

N/A

N/A

Nautical Rug

1,250

Carpenter's Shop

Oceanic Rug

1,250g 3x Blue Discus at Island Trader

Carpenter's Shop
Island Trader

Old World Rug

2,500g

The Oasis Shop every Thursday

Patchwork Rug

800g
Between 250g and 2,500g at the Traveling Card

Carpenter's Shop
Traveling Cart

Red Cottage Rug

During Penny's 14-Heart Event, you will receive this rug if you choose 'Strawberry Home'

N/A

N/A

Red Rug

1,000g
Between 250g and 2,500g at the Traveling Card

Carpenter's Shop
Traveling Cart

Snowy Rug

During Penny's 14-Heart Event, you will receive this rug if you choose 'Forest and Moon: Peaceful Blue'

N/A

N/A

Woodcut Rug

800g

Carpenter's Shop
Source: Read Full Article