Streets of Rage 4's release is just less than a week away, and many are more excited than ever for the returning series' next installment. To pique the interest of fans and share some insight, Streets of Rage 4 Art Director and CEO of Lizardcube Ben Fiquet led an in-depth discussion about the redesigns of a couple of returning characters from the Streets of Rage series.
In a post on the PlayStation Blog, Fiquet shared several images of both Blaze Fielding and Adam Hunter. In his discussion of Blaze Fielding, he said that designing her for a 2020 installment of Streets of Rage was a challenge. According to Fiquet, it was important to keep the red color scheme and tight skirt due to her strength and independence.
Fiquet stated that Fielding's jacket from the first episode was particularly appealing for its modern look, so that was to be kept. A guiding principle for her design, however, was her idle stance.
Some initial drawings of Fielding can be seen below.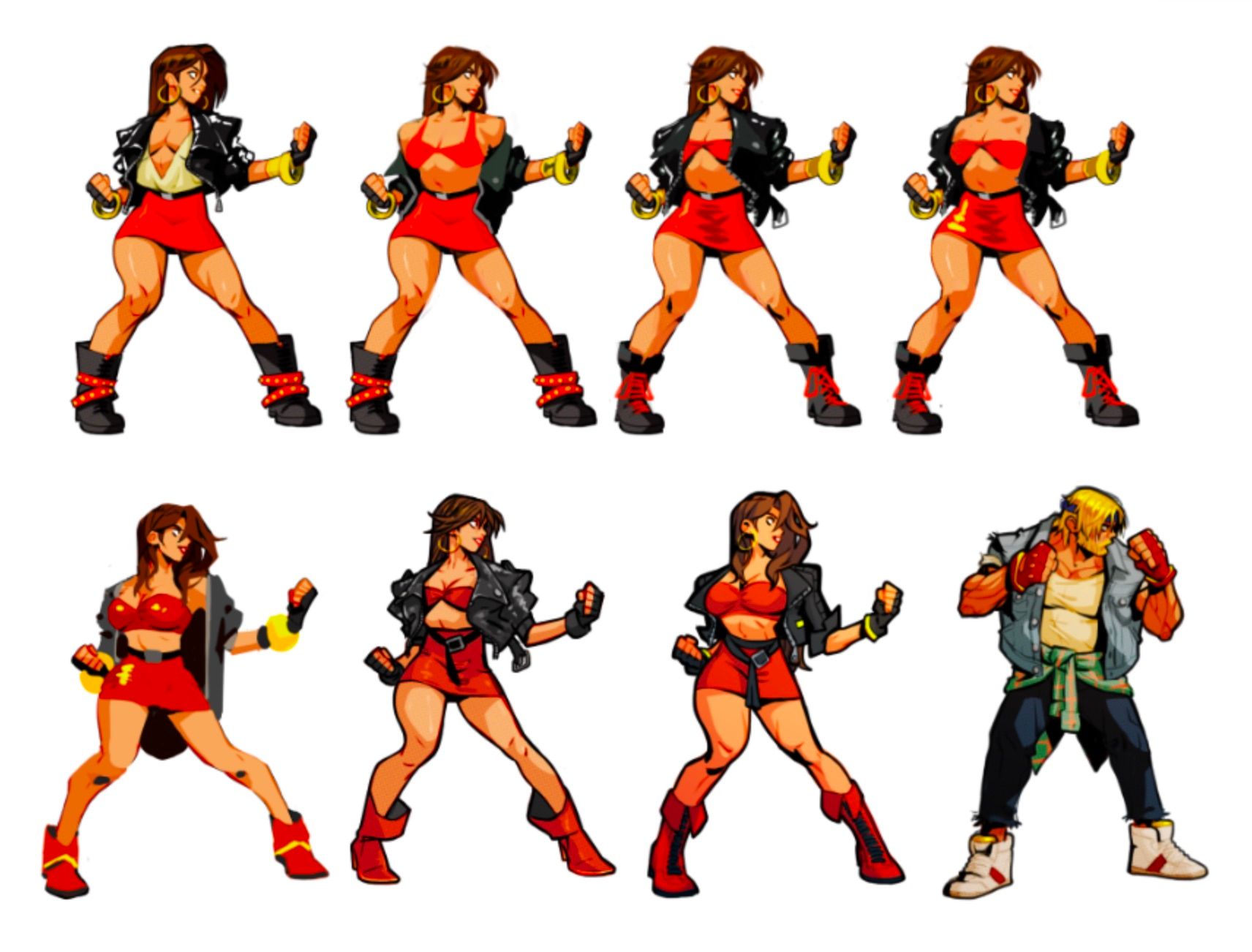 Fiquet also presents some animations with the illustrations of Fielding, explaining that enhanced technology allows for increased fluidity, which is apparent in Fielding's smooth motions during battle.
Further, Fiquet mentions that he wanted to increase the impact of the visual effects when Fielding launches her special attacks. In other words, when Fielding uses a special move, the colors are more vivid, distinct, and vibrant.
Fiquet then discusses Adam Hunter's redesign, which involved a bit more work since Fiquet states that Hunter didn't have many moves in earlier installments of Streets of Rage.

A major addition, Fiquet emphasizes, was the use of the color green for Hunter's special moves. The special moves, as shown in some animations on the blog post, primarily involve bright green swords emerging from the ground to attack enemies as well as a wolf-shaped green projectile.
As shown by Fiquet's post, a lot of attention and detail was put into the design of these characters. For a series as beloved as Streets of Rage, that kind of passion in development would seem beneficial.
Streets of Rage 4 releases April 30, 2020 on Xbox One, PS4, Switch, and PC.
Source: Read Full Article