Quick Links
Character Creation Questions
Character Stats Explained
Symphony of War: The Nephilim Saga is an indie fantasy strategy RPG set across 30 chapters. Each one of these forwards the story before throwing your character into a tactical, turn-based battle – usually on a large map with multiple squads at your command. Afterwards, you can improve your items and troops.
You'll meet lots of friends, and enemies, along the way. And develop complex relationships. But before you get started, you need to create your character. Read on to find out the best ways to create a character you'll be happy with throughout the game.
Game Mode Setup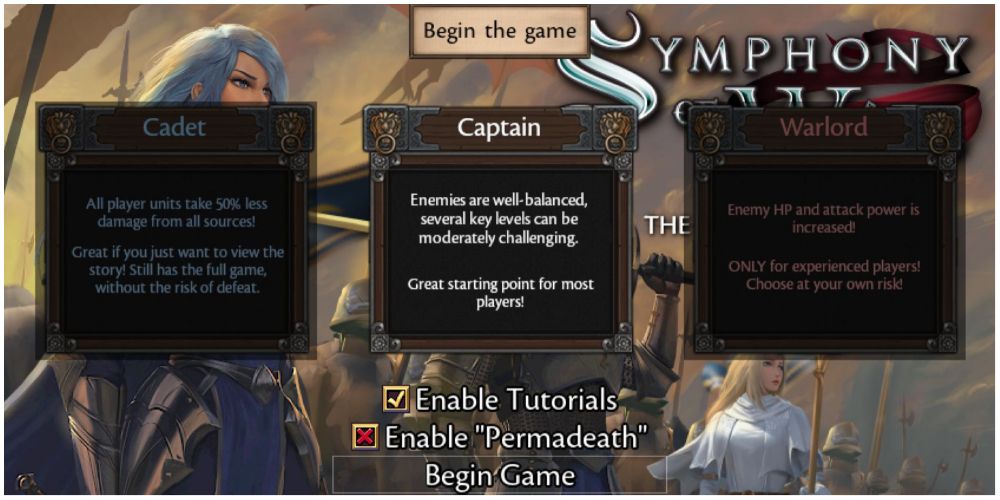 You have three main options when you start a new game:
Cadet: This is basically easy mode, with your units taking only 50 percent damage. If you don't like surprises, are new to strategy RPGs, or just want to go through the story, this is the way to see the whole game without it being too much of a challenge.
Captain: Standard mode. Good players should win each level relatively comfortably, but it can still be tough to get a perfect score for each chapter.
Warlord: Hard mode, with enemies being tougher throughout. If you want a real challenge, this is the mode for you.
In addition, you can choose whether to show Tutorial hints (you can change your mind later).
Also, note that below these choices is a 'Permadeath' option. It will be crossed out if you don't click it, so don't worry. But this is another way to up the challenge – in any mode. It means that if you lose a unit in battle, they're gone forever – unless they're part of the story. Usually, as long as you win the overall battle, all your units are fit and healthy again for the next chapter.
Character Creation Questions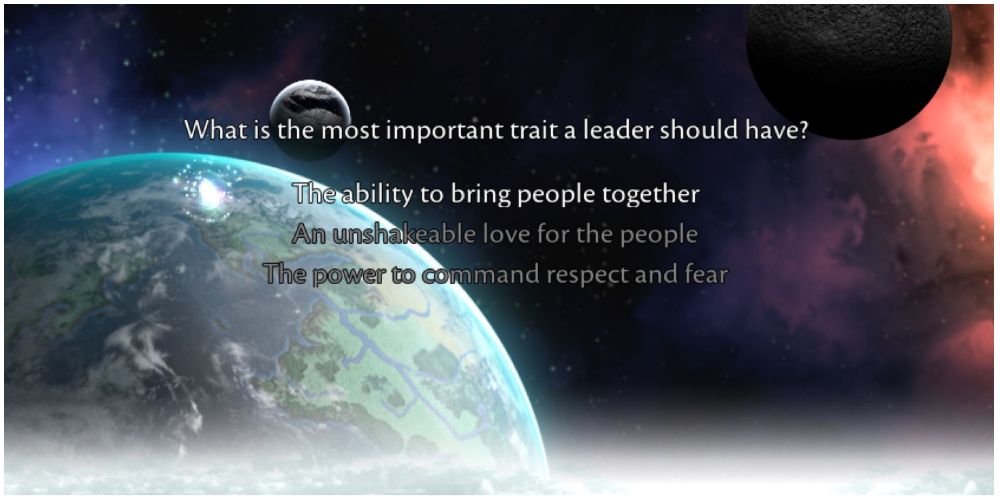 Next, you'll come to a series of screens where you'll be asked five random questions from a potential list of nine. Each answer will make a small alteration to your character's starting stats and may affect those stats moving forward. There are seven potential opportunities to pick up bonus Strength, Intelligence, and Leadership, and six to get Skill – depending on the questions you're asked.
These are the questions, and the skill your answers will give bonuses to:
When on death's door, what will you consider a life well-lived?
(Strength) I did it my way.
(Intelligence) I fulfilled who I was meant to be.
(Leadership) Many will mourn my passing.
A desperate beggar corners you, demanding money. What do you do?
(Strength) Intimidate him into backing down.
(Skill) Talk your way out of the situation.
(Leadership) Offer him a warm meal at the pub.
As a potential ruler in difficult times, what are your most effective tools?
(Intelligence) Your kind heart.
(Leadership) Your inspiring charisma.
(Strength) Fear.
What do you look for most in a mate?
(Strength) Beauty.
(Skill) Wealth and prestige.
(Intelligence) Intellect.
What is the most important trait a leader should have?
(Leadership) The ability to bring people together.
(Intelligence) An unshakeable love for the people.
(Strength) The power to command respect and fear.
What most leads to the downfall of great civilizations?
(Strength) Faithlessness.
(Skill) Poverty.
(Leadership) Intolerance.
Which personal flaw do you want to avoid most?
(Leadership) Deceptive and exploitative.
(Skill) Easily manipulated.
(Intelligence) Lack of willpower.
You must give up your most valuable possession. What is it?
(Skill) Your vast wealth.
(Strength) Your battle prowess.
(Intelligence) Your faith.
You were blessed with a child. If you could choose their fate, what would it be?
(Skill) A famous musician.
(Leadership) A great general.
(Intelligence) A devout follower of the faith.
After this, you'll be taken through a short tutorial battle, and then it's straight into Chapter One – after which you'll be able to see how your choices affected your character. Click Organise Army, then Squad Operations. Choose the squad with your main character leading it, then choose the Unit Status option – and click your character.
The image below shows a character that chose answers giving Strength (x2), Skill (x2), and Leadership (x1). Note how Magic is much lower. Also, note you'll start with around 50 Leadership.
Character Stats Explained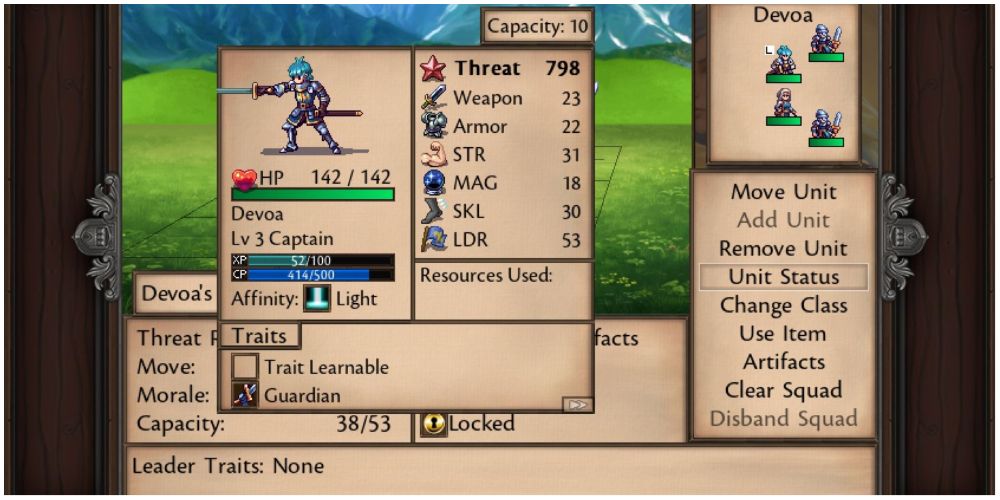 Leadership (LDR)
This stat works differently (in Character Creation) from the others below. Each Leadership answer given adds a single point of Leadership. This is a one-off deal. Leadership is always important, as it determines a character's squad capacity. Units cost around ten leadership each. This can be affected by Artifacts and Traits, which can make certain units cheaper or more expensive for you – while some Artefacts themselves have a Leadership cost – or bonus.
Magic (MAG)
This affects the individual's Magic damage and Healing strength. It also determines how much defence you have versus Magic attacks. Every point put into magic will give a one-off starting bonus to the stat, plus a bonus each time the stat improves as you level up. Your character won't be able to use Magic abilities until later in the game.
Skill (SKL)
Determines Critical Hits, chances of Evasion, and Glancing Blows, plus your Hit Rate. Each Skill point received in character creation gives a Skill starting bonus, plus extra points as the stat improves. Good if you want to be part of a skirmish squad.
Strength (STR)
This works the same as Skill and Magic, giving an initial and ongoing Strength stat bonus for each question answered this way. In-game, Strength improves the physical damage your character does, alongside giving you extra physical resistance. Good if you want to be part of a well-armoured brute strength squad.
Which Stats Should I Increase?
No matter what you pick, you'll have plenty of chances to affect your stats further as the game goes on. It is worth noting that your character has no choice but to be melee for the first two-thirds or so of the game, so Magic will be less useful early on. Also, it won't be long until you're commanding ten or so squads in a battle, so a small one-off addition to your Leadership can also feel suboptimal long-term. But there are no wrong answers – just play the game your way.
Source: Read Full Article