Fireworks are a fantastic light display that brings people together on some of the most important holidays of the year. However, fireworks aren't limited to the real world because you can experience them in video games as well.
When you're viewing the fireworks in video games, they often have an even more unique shape or sound than in the real world since there aren't as many limitations. Here are the best firework displays in video games and what makes them each so special.
10

Far Cry 6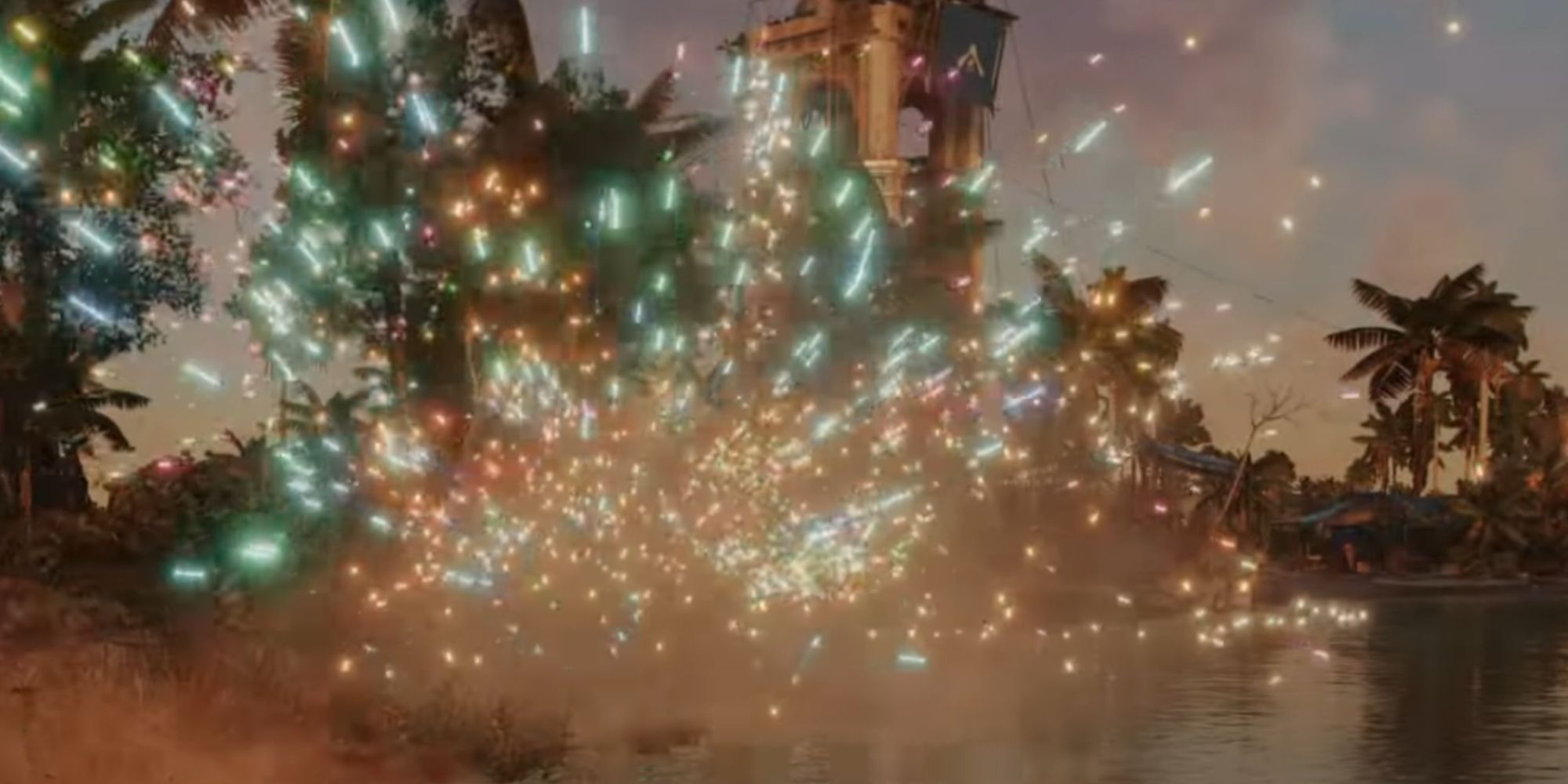 Far Cry 6 is unlike many of the other games on this list because instead of a light show, you can deploy the fireworks directly with the Pyrotechno weapon. This weapon shoots fireworks rapidly wherever you aim it, which is a lot of fun.
Your enemies will flee in fear when they hear the crackling of your shiny firework launcher shooting at them from across the battlefield. If you like fireworks and want to create your own light show while simultaneously fighting enemies, then use the Pyrotechno in Far Cry 6.
9

Batman: Arkham Asylum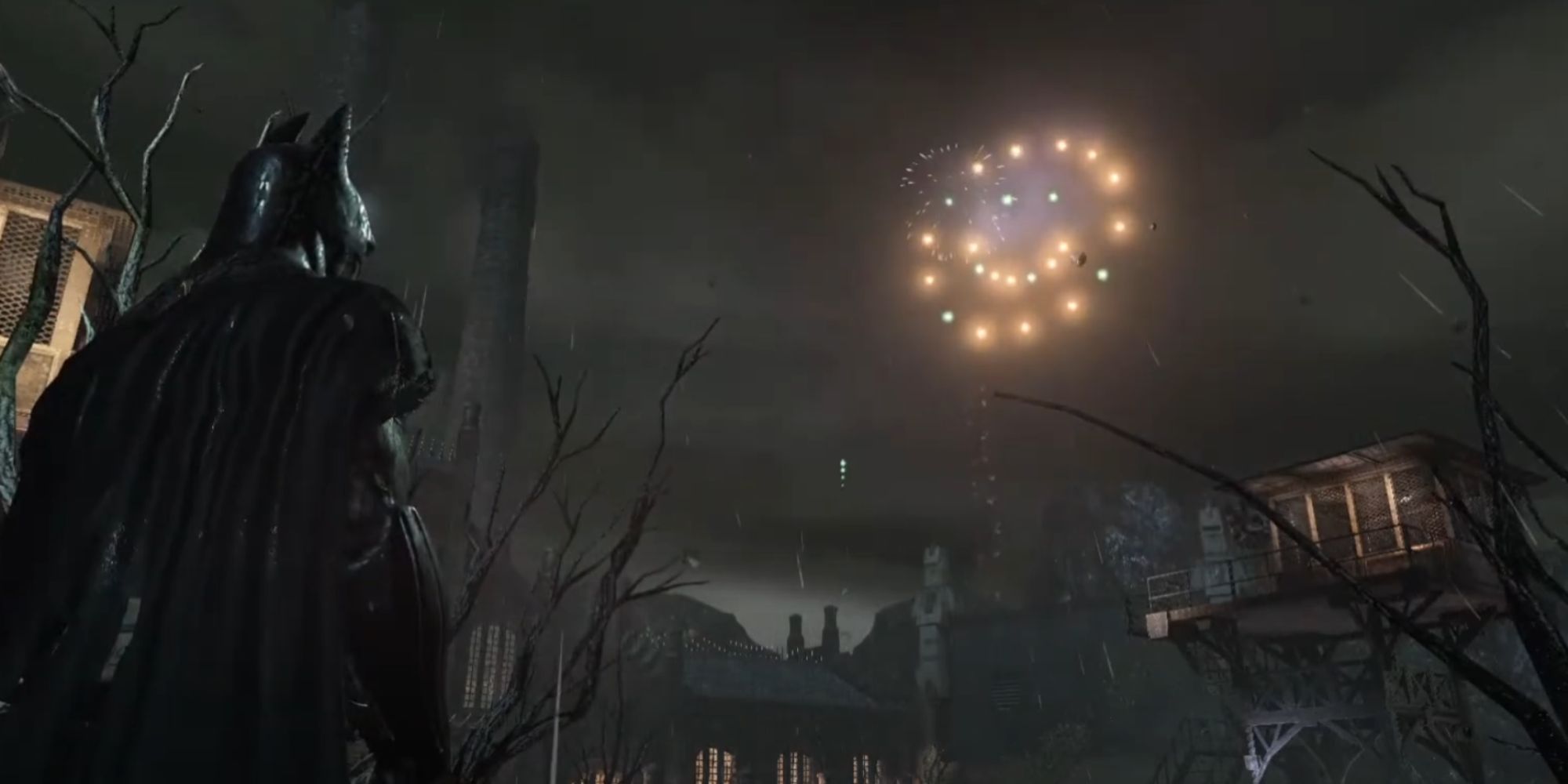 Batman: Arkham Asylum is famous for its challenging combat and exciting story, but there's another reason to praise this superhero game. There are fireworks when you enter the courtyard in Arkham Asylum, and they're a sight to behold.
Although Joker and the other villains are evil, they still love a beautiful display of jumping light, so they thought it important to include fireworks in Batman's challenging adventure. If you like fireworks and superheroes, then it doesn't get better than Batman: Arkham Asylum.
8

Forza Horizon 5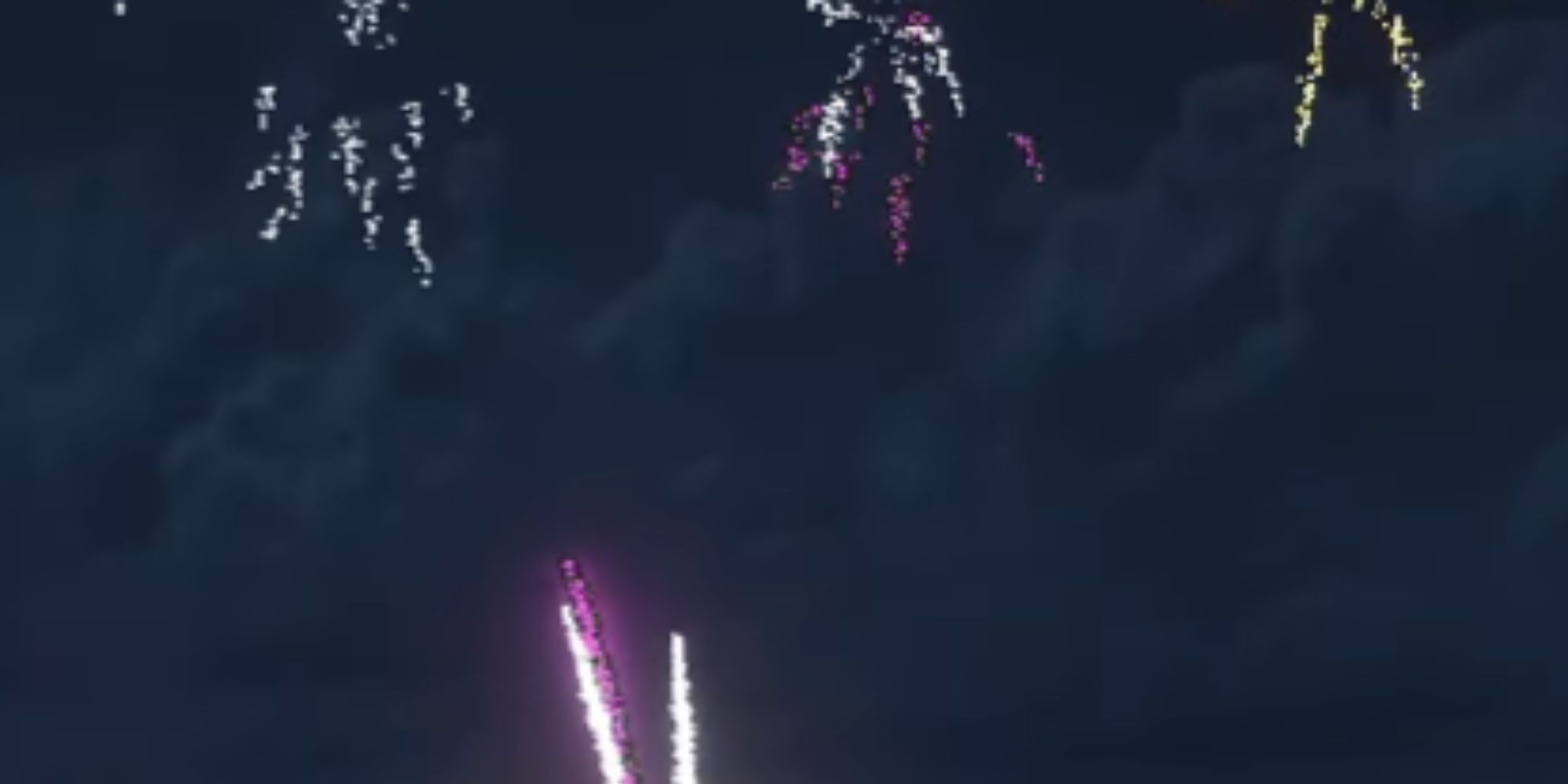 Forza Horizon 5 is one of the most beautiful games available on Xbox consoles, so it's no surprise that the fireworks are also a sight to behold. You can occasionally witness a display of fireworks while cruising around the map, and it includes many colors of the rainbow.
It was already a blast to drive around Forza Horizon 5's open-world in its regular form, but adding fireworks to the night sky makes it a sweeter drive that you won't soon forget, especially if you enjoy realistic graphics.
7

Minecraft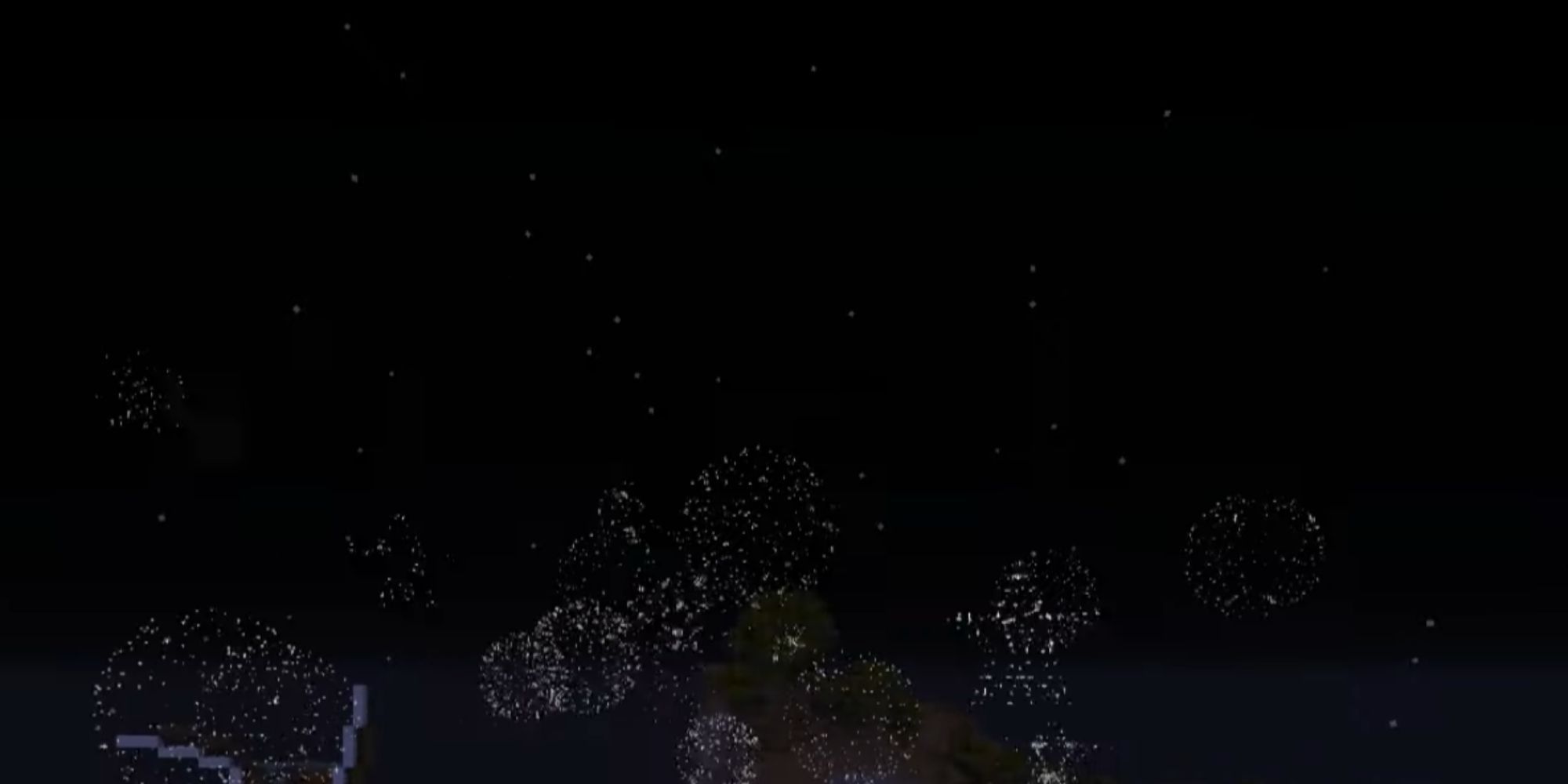 Minecraft features many ways to customize your world, which includes fireworks. You can create tons of different fireworks with multiple shapes and colors, so even the rockets themselves are customizable. You can use dispensers to launch multiple fireworks at once if you want to create a massive display of lights.
Since you can customize the firework's shape, you can create your own beautiful light show that fits your unique style. If you're more interested in creating a firework show than viewing one, then Minecraft is the perfect game to celebrate a holiday with fireworks.
6

Fortnite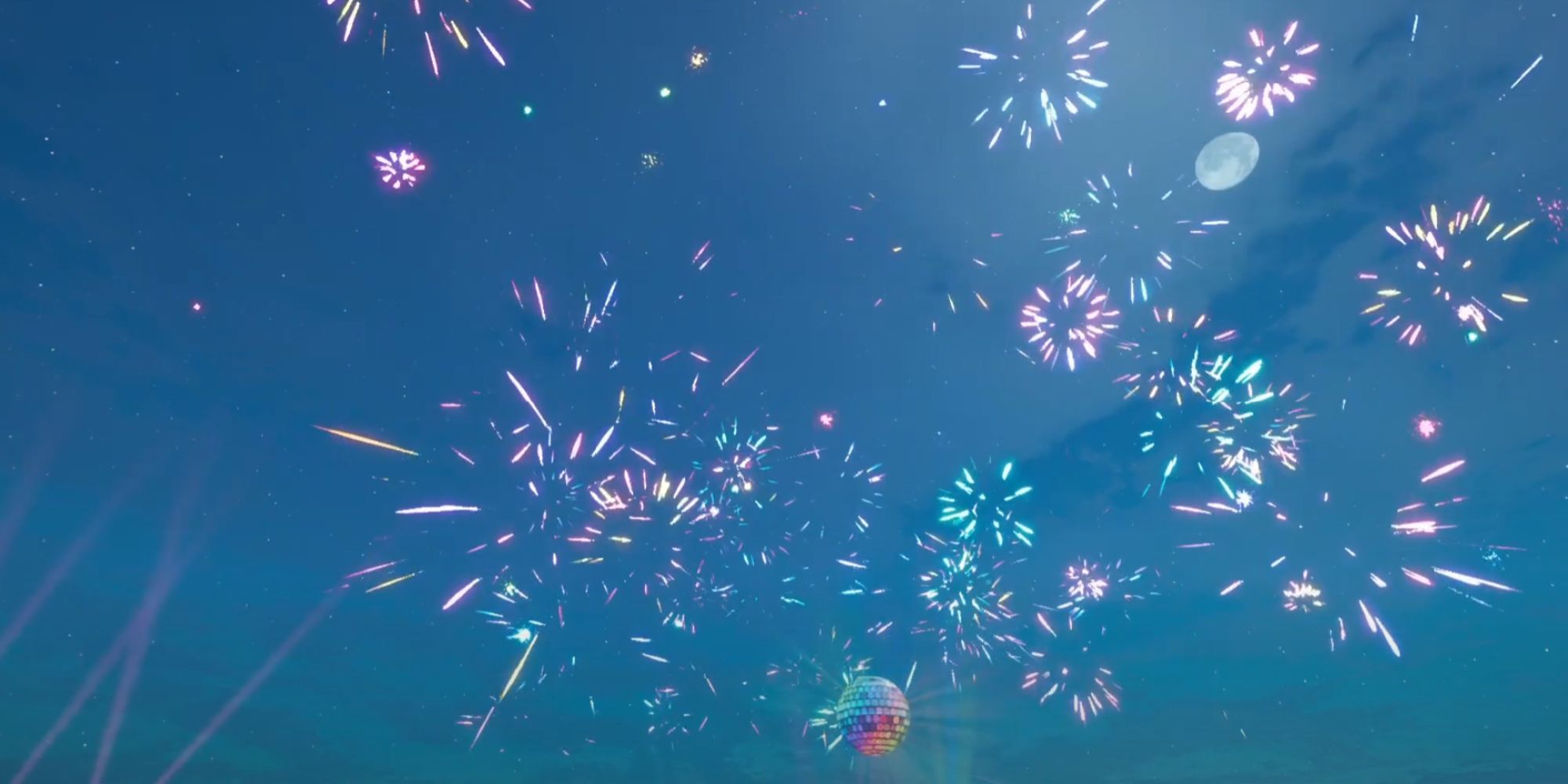 There are a few different types of fireworks in Fortnite's battle royale mode, but each of them is spectacular in its own way. There's a firework item that you can use to destroy structures, which is particularly useful during a build battle or when an enemy is hiding in a building.
Additionally, fireworks occasionally visit the Fortnite map during events, such as New Year's Eve. The displays usually feature specific shapes, and they work well with Fortnite's style of setting up events during a live match but don't let the fireworks distract you from your enemies.
5

Disneyland Adventures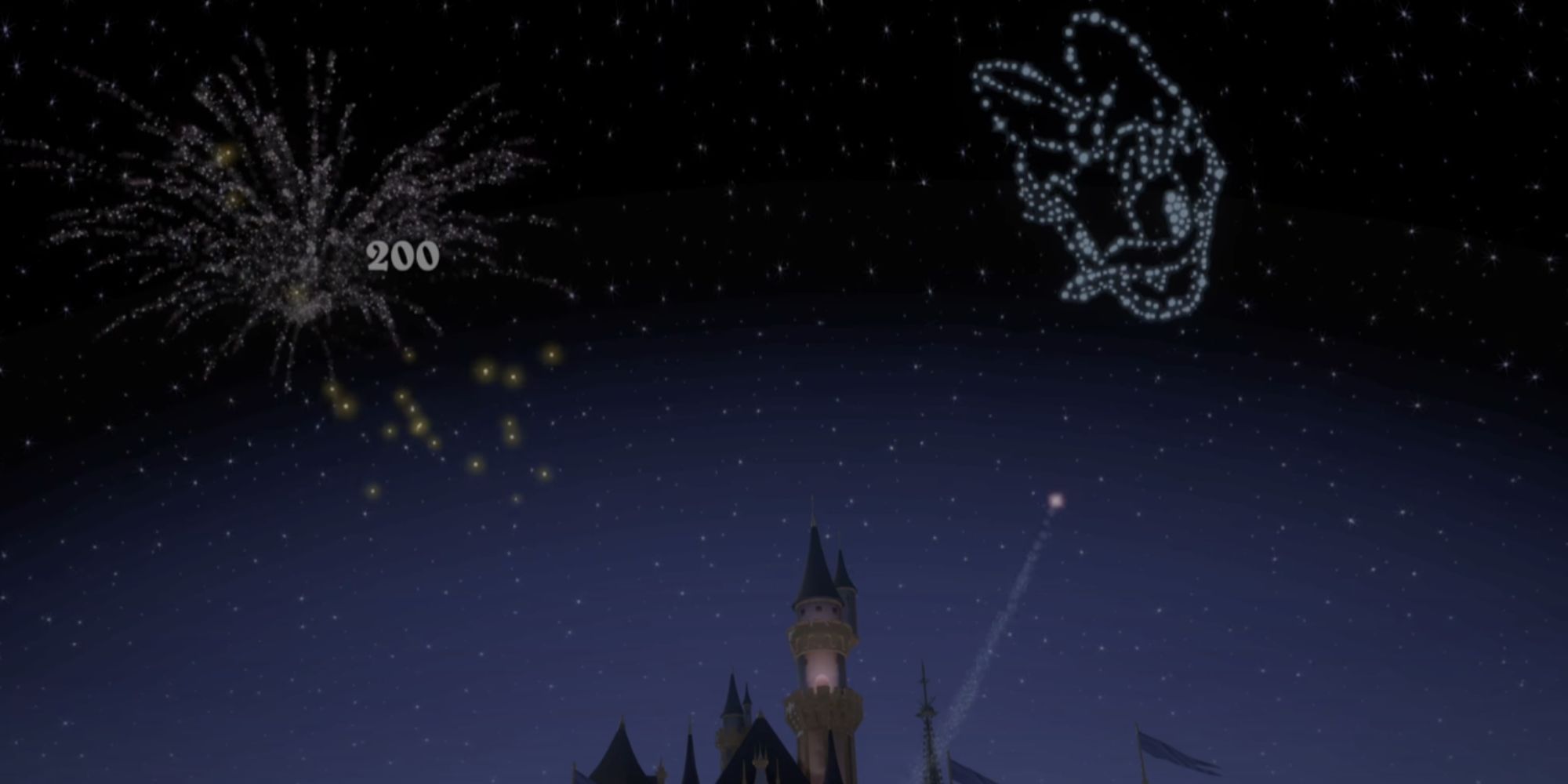 Lots of video games include fireworks, but Disneyland Adventures has an entire attraction dedicated to blasting fireworks. The minigame "Firework Spectacular" features dozens of possible fireworks.
One of the best things about the fireworks in Disneyland Adventures is that they include lots of shapes and colors, with a much different flow between the blasts. All firework enthusiasts should stare at these for a while because they're truly a unique sight to see.
4

Fallout 4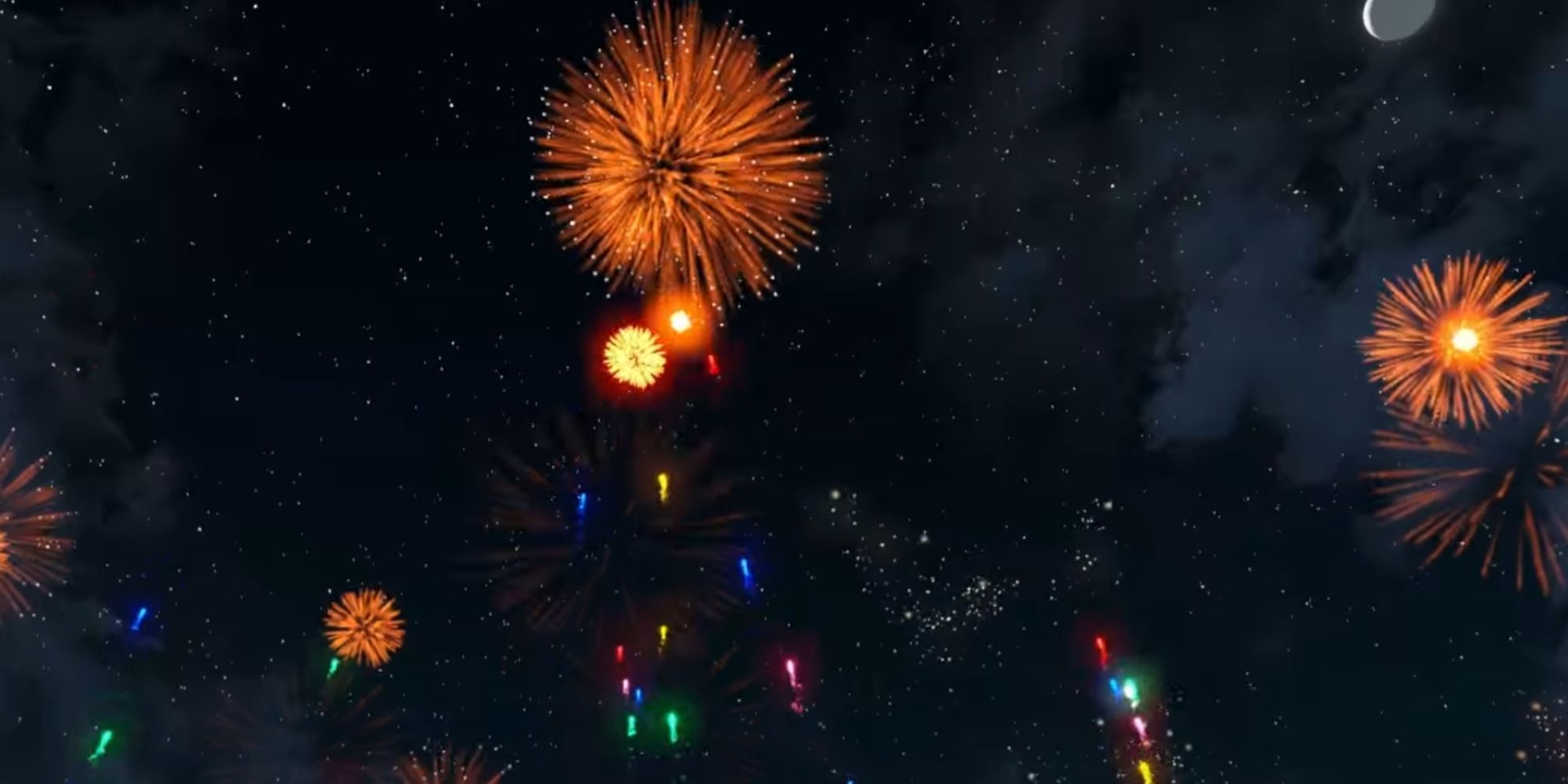 Similar to Fortnite, Fallout 4 also has fireworks in a few different places. You can create your own firework show with the Contraptions DLC. Although the fireworks are somewhat basic, it's still a treat to see them over post-apocalyptic Boston.
Additionally, there's a firework show you can witness upon turning on the power to Nuka-World in the Nuka-World DLC. Nuka-World is already a beautiful destination from a distance, so witnessing fireworks above the park is the cherry on top, especially at night.
3

Hitman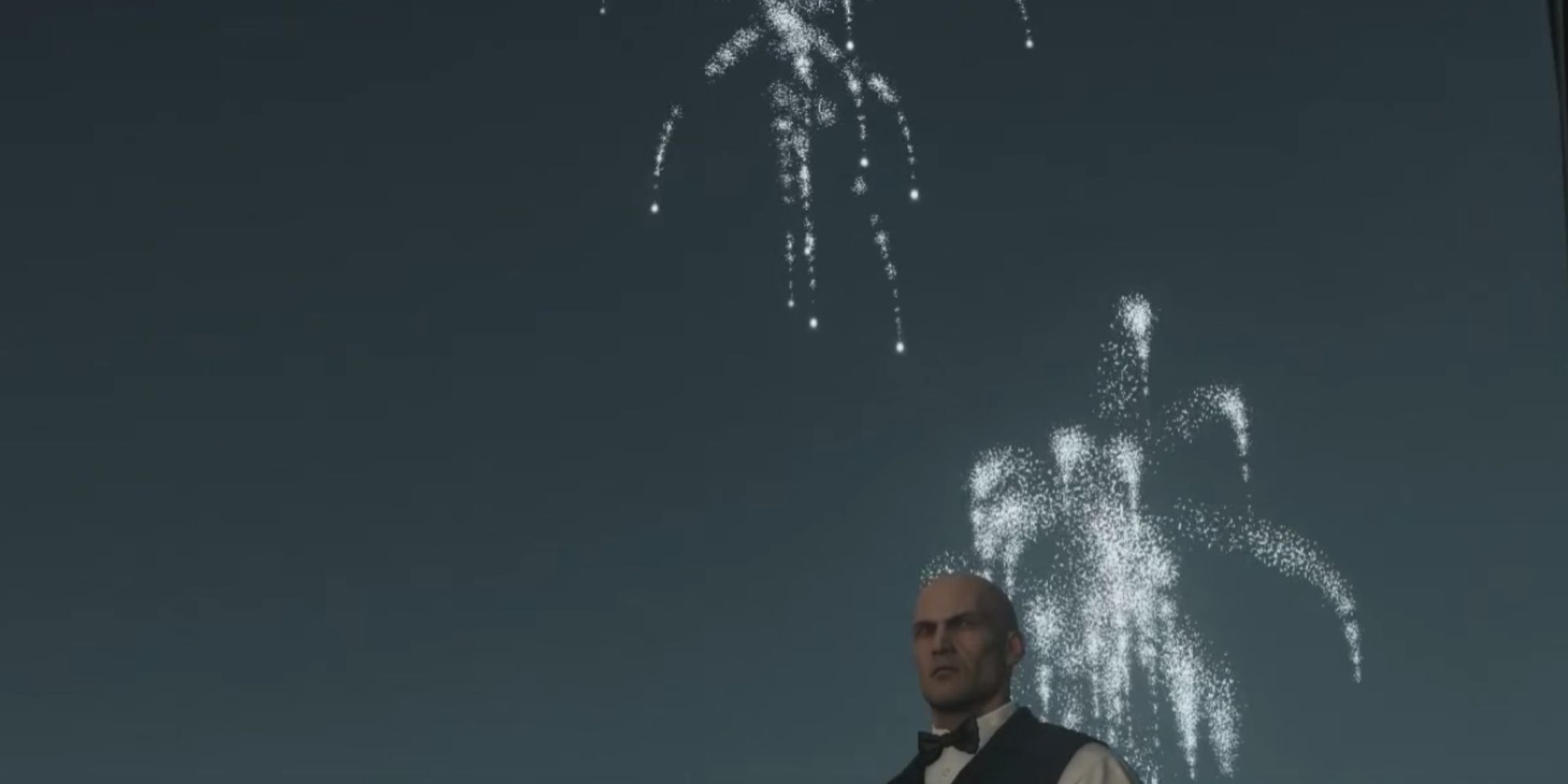 There's a lot to love about Hitman as a video game. It has unique gameplay, beautiful graphics for its generation, and a great protagonist. You can also attend a firework show on the balcony during the first episode.
The missions in Hitman have a serious tone, so the firework display is a nice change of pace while tracking down targets. The fireworks themselves are quite beautiful and fast-paced, so you can expect a show that'll stick in your memory. Hitman is a phenomenal game, and like every other game on this list, it's even better with fireworks.
2

Grand Theft Auto 5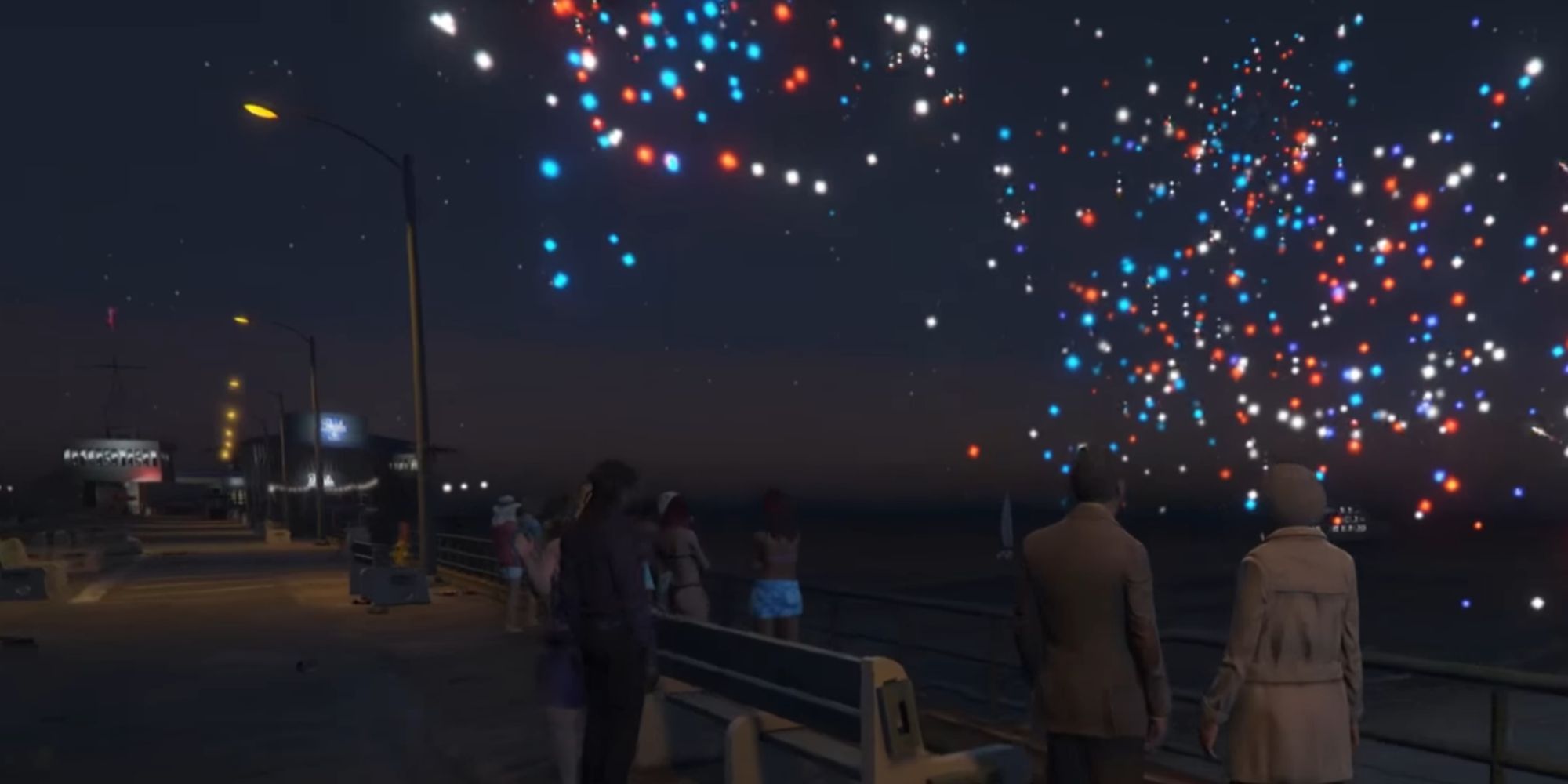 Grand Theft Auto 5 has a lot of content to experience and it regularly updates with new activities that keep the game's online mode feeling fresh. There are a few events and holidays that allow you to experience a wonderful display of fireworks, such as the Fourth Of July.
If watching fireworks crackle above the city's lights is the type of event you love to experience, then the firework displays in Grand Theft Auto 5 are guaranteed to entertain you. Fireworks add a bit of extra color to the Los Santos sky.
1

Tetris Effect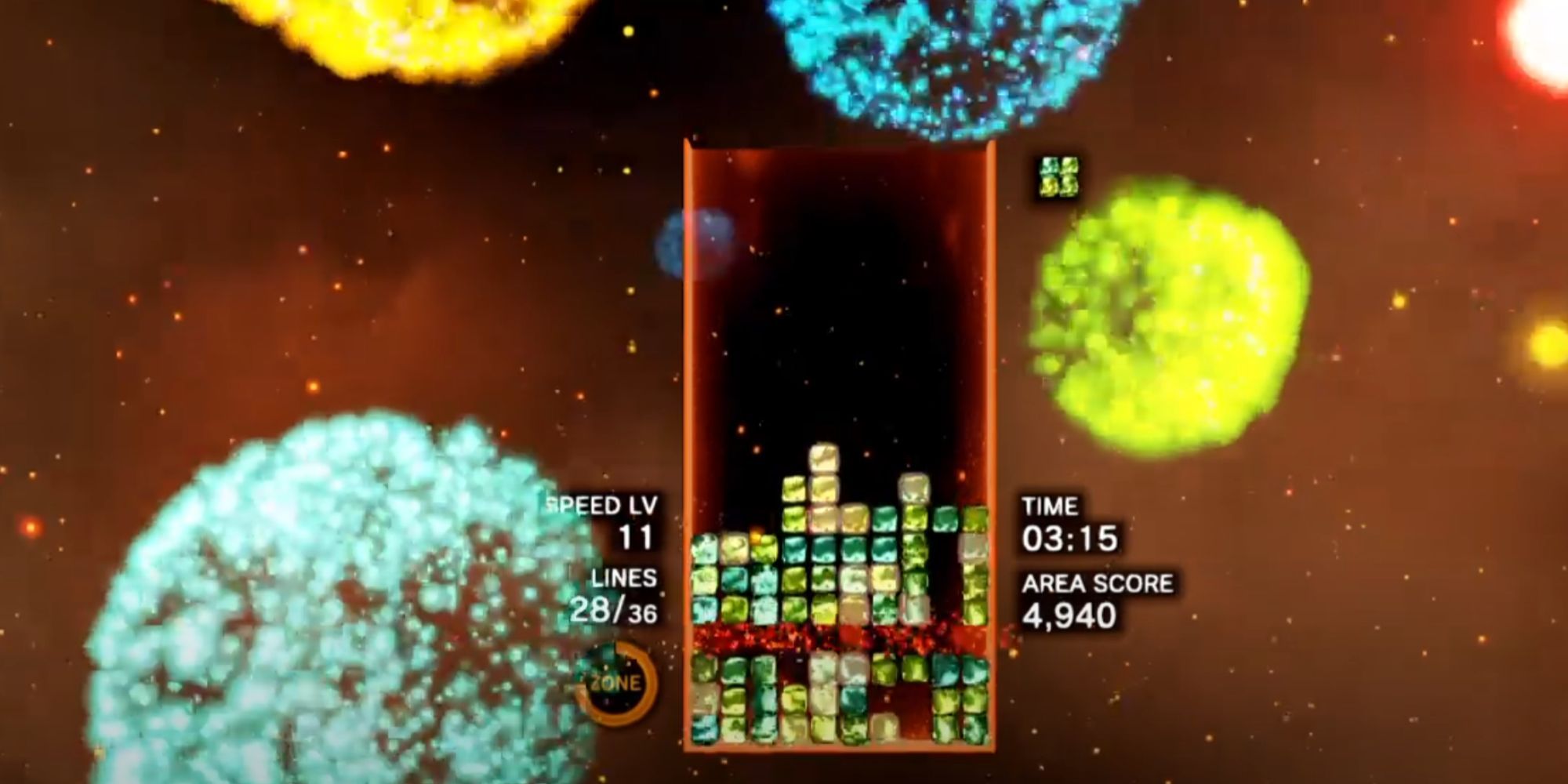 Tetris Effect is an amazing game if you love the Tetris franchise and it's even more colorful than usual because of all the fireworks. You'll see fireworks as you complete levels on the side of your screen.
Although the fireworks in Tetris Effect aren't its primary appeal as a game, they add a certain magic that video game developers can't capture with any other mechanic. Fireworks and Tetris go together surprisingly well, it's an explosive combination.
Source: Read Full Article