This article contains minor spoilers for The Guardians of the Galaxy Holiday Special.
There are 11 songs in The Guardians of the Galaxy Holiday Special. It is 44 minutes long.
Much of James Gunn's identity as a director is built around his taste in music. When Guardians of the Galaxy came out in 2014, its soundtrack became almost as big a hit as the movie itself. It was the first time a soundtrack album with no new songs had ever topped the Billboard 200, and its dominance suggested that Gunn wasn't just a distinctive filmmaker; he was an auteur of the aux cord. Though MCU movies are designed to feel like small pieces of one big, interconnected story, Gunn's Guardians movies have always felt different thanks to his focus on curating a pop soundtrack.
It's a trait that he shares with some of the best directors working today. Filmmakers like Jordan Peele, Martin Scorsese, and Quentin Tarantino are renowned for their ability to make memorable sequences by pairing iconic images with indelible pop. But, with the Guardians of the Galaxy Holiday Special, I couldn't help but feel like maybe Gunn needs to start paring it back a bit. With roughly half as many songs as the original Guardians of the Galaxy in a third of the runtime, the GOTG Holiday Special feels like if The Beatles had tried to cram the White Album onto one disc. There just isn't enough room for all this music.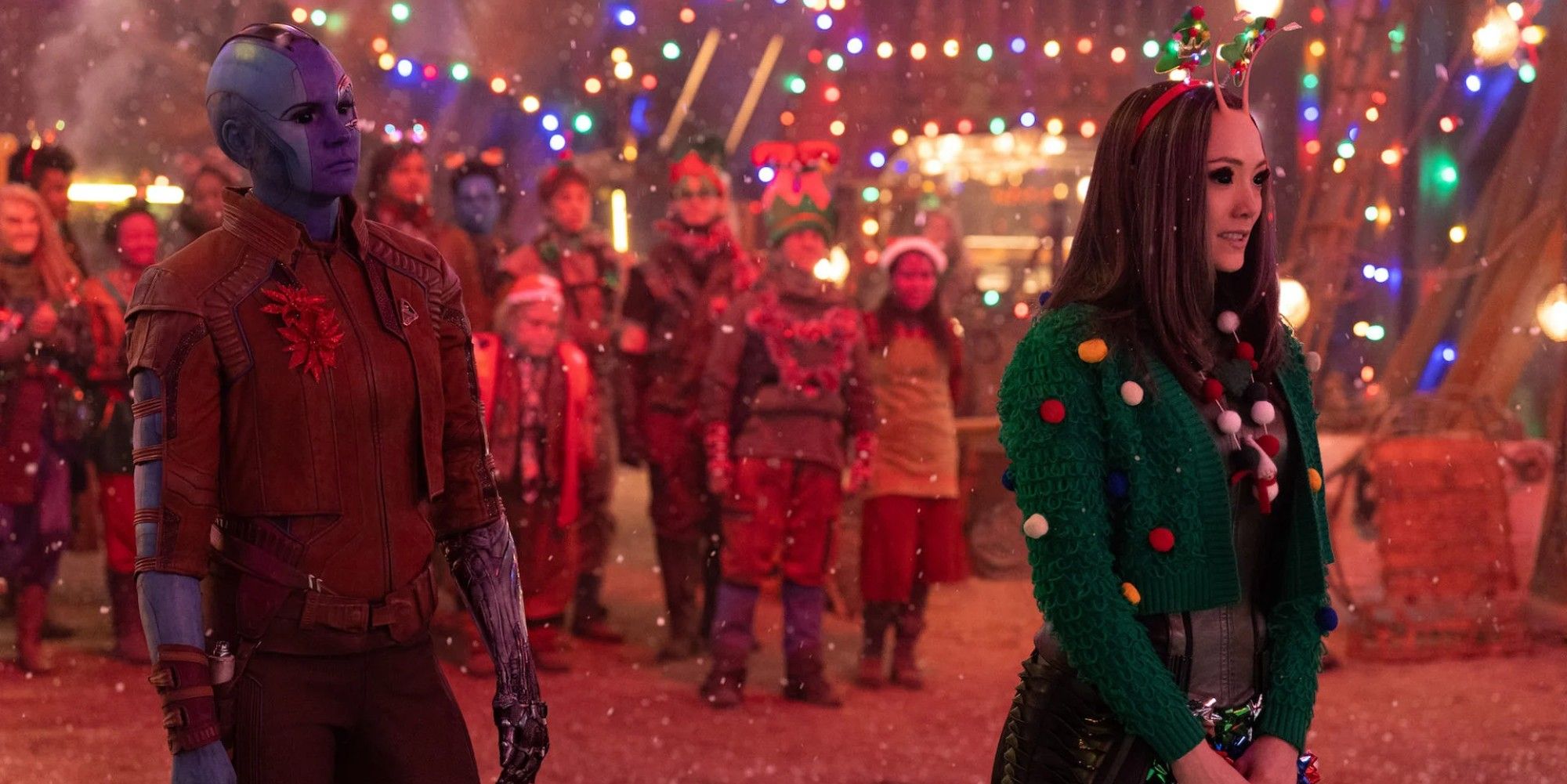 The special starts well with The Pogues' Fairytale of New York playing over the Marvel logo and into a flashback to the story's inciting incident: when a young Peter Quill's Christmas was ruined by Yondu going Scrooge. The Pogues' rough and tumble Christmas anthem is a perfect fit for the Guardians of the Galaxy. "It was Christmas Eve babe / in the drunk tank," isn't a lyric that would fit the vibe of many Marvel heroes, but it's a perfect encapsulation of the Guardians' misfit appeal.
Shortly after that, there's an original song, I Don't Know What Christmas Is (But Christmastime Is Here), played as a live performance. The special similarly ends with a live performance featuring Kevin Bacon, which plays over some important character moments. All of this stuff is good and is the kind of stuff that Gunn excels at.
But, in between, there are eight licensed tracks that just kind of come and go. Dead by X-Mas by Hanoi Rocks, Christmas Treat by Julian Casablancas, Is This Christmas? by the Wombats, Just Like Christmas by Low, I Want an Alien for Christmas by Fountains of Wayne, Christmastime by the Smashing Pumpkins, Christmas Wrapping by the Waitresses, and Mrs. Claus by Little Jackie are all worthwhile choices, but they're blink-and-you'll-miss-it inclusions on an overstuffed soundtrack.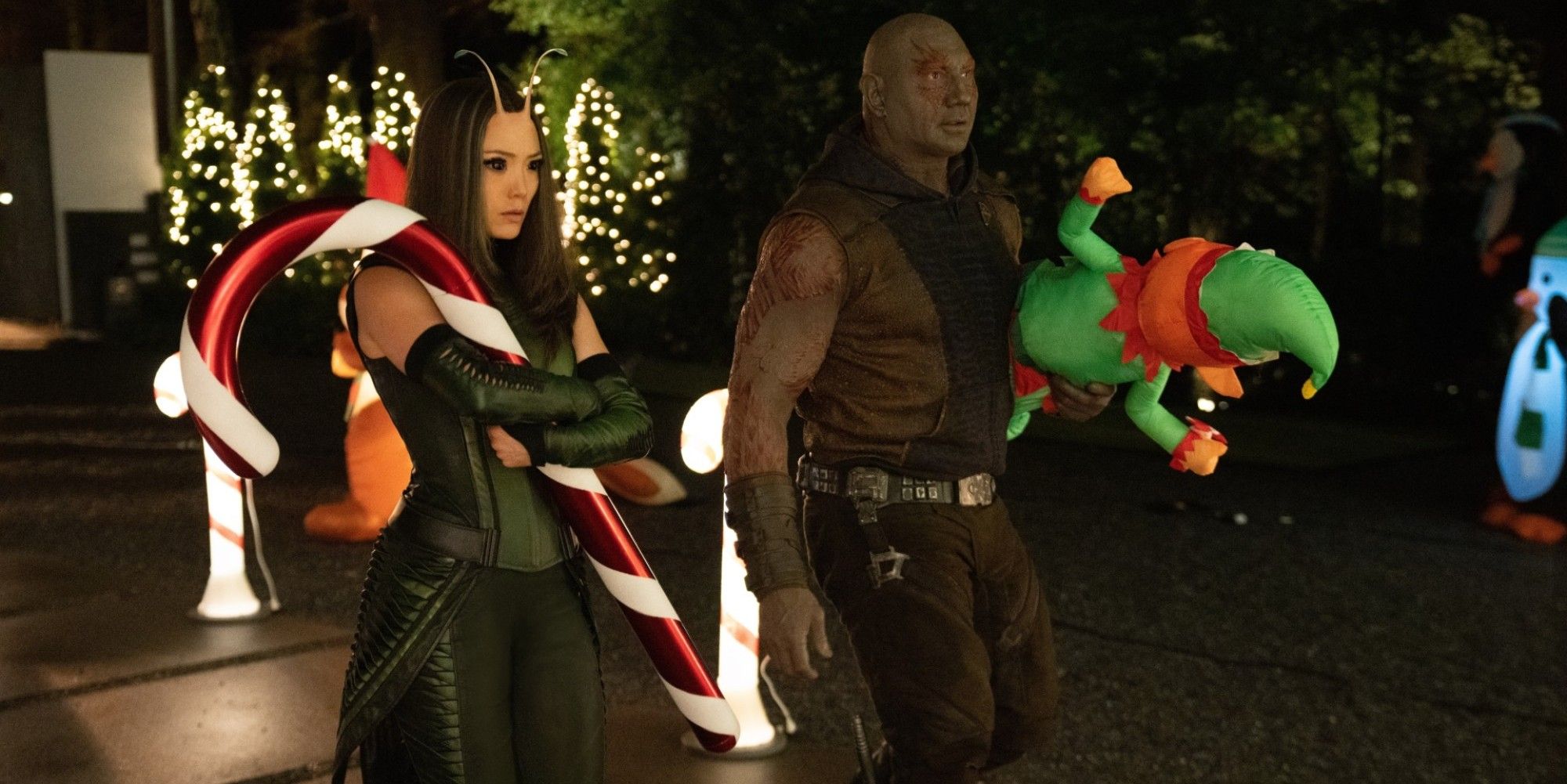 Something that makes the filmmakers I mentioned above such talented needle droppers is that they know to do it sparingly. The Stuck in the Middle with You scene in Reservoir Dogs is one of the most memorable uses of pop music in a film because everything about the moment feels calibrated to achieve a singular emotional effect: the disturbingly jaunty voyeurism of watching a psychopath happily getting down to violent work. It's perfectly tuned. But, when a director cues up new songs with the regularity of a top 40 DJ working through a playlist, it diminishes the effect that each needle drop can have.
It's an understandable impulse. Though Gunn has filled Guardians of the Galaxy, Guardians of the Galaxy Vol. 2, and The Suicide Squad with music that he loves, it seems unlikely that he'll make another Christmas movie again. When you have the power to revive the fortunes of lesser known artists by including their music on a soundtrack, the temptation to include everything must be overwhelming. But, this time out, Gunn has put way too many presents under the tree.
Source: Read Full Article