Quick Links
Grendel Endurance Mission Tips
The Lua's Prey update for Warframe gave a massive overhaul to Grendel, a Warframe known for devouring foes whole and turning them into toxic projectiles. What was once a niche Warframe has become much easier to understand, build around, and use in endgame content.
With the right build, Grendel is a juggernaut that can annihilate entire rooms by regurgitating foes and spreading Viral procs. A good Grendel is virtually unkillable and deals amazing damage in Steel Path, making this a Warframe you don't want to miss. This guide will cover how to get your hands on Grendel, what each ability does, and cover some useful builds that make Grendel fantastic for most content.
How To Craft Grendel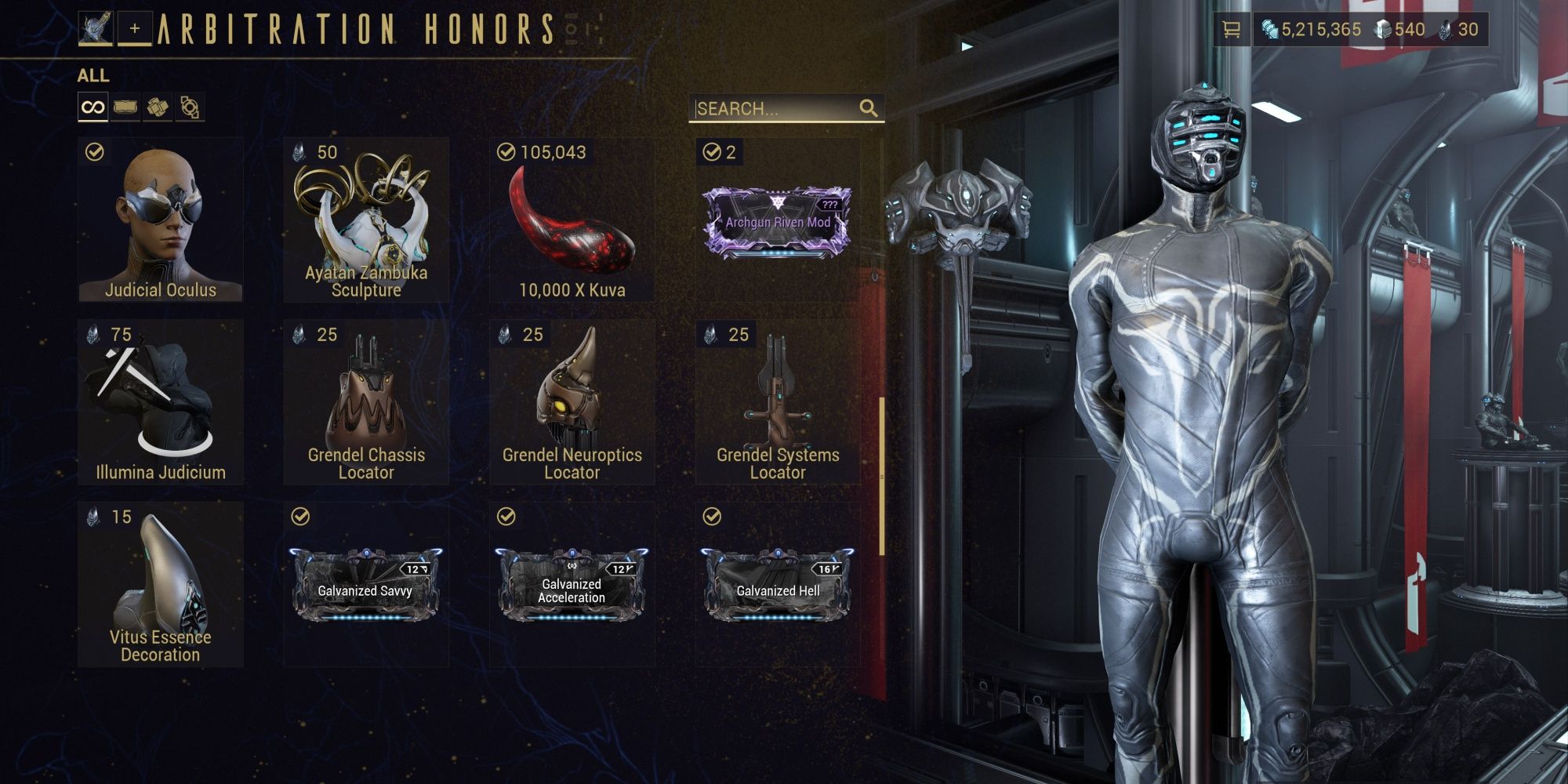 Grendel's parts can be obtained by completing endurance missions sold by the Arbiters of Hexis' Arbitration vendor. Each component (excluding his blueprint) is tied to a specific endurance mission on Europa, accessible only when you purchase these Arbitration coordinates. Only the host needs the Grendel coordinates if you're doing this with a group. Each coordinate costs 25 Vitus Essence. Failing a run does not consume your coordinate.
These missions disable your mods, substantially increasing the difficulty of these missions. We'll give specific tips for completing these missions in the next section of the guide. You'll need to complete the following missions:
Neuroptics: A 20-minute Survival mission.
Chassis: A 10-wave Defense mission.
Systems: Extract 800 Cryotic in this Excavation mission.
The good news is that Grendel's parts are guaranteed to drop. Once you finish the mission, you'll get the part you're looking for. Grendel's main blueprint may be purchased from the market for 35,000 Credits.
Grendel Blueprint
Drop Source

In-Game Market (35,000 Credits)

Crafting Costs

25,000 Credits
1 Grendel Neuroptics
1 Grendel Chassis
1 Grendel Systems
3 Orokin Cells

Crafting Time

72 Hours
Grendel Neuroptics
Drop Source

Archaeo-freighter, Europa

Crafting Costs

15,000 Credits
2 Argon Crystals
5 Control Modules
3,500 Ferrite
3,800 Alloy Plate

Crafting Time

12 Hours
Grendel Chassis
Drop Source

Icefields of Riddah, Europa

Crafting Costs

15,000 Credits
25 Condroc Wings
30 Kuaka Spinal Claws
20 Tralok Eyes
15 Murkray Liver

Crafting Time

12 Hours
Grendel Systems
Drop Source

Mine of Karishh, Europa

Crafting Costs

15,000 Credits
1,125 Circuits
10 Morphics
125 Fish Meat
100 Fish Oil

Crafting Time

12 Hours
Return to Quick Links
Grendel Endurance Mission Tips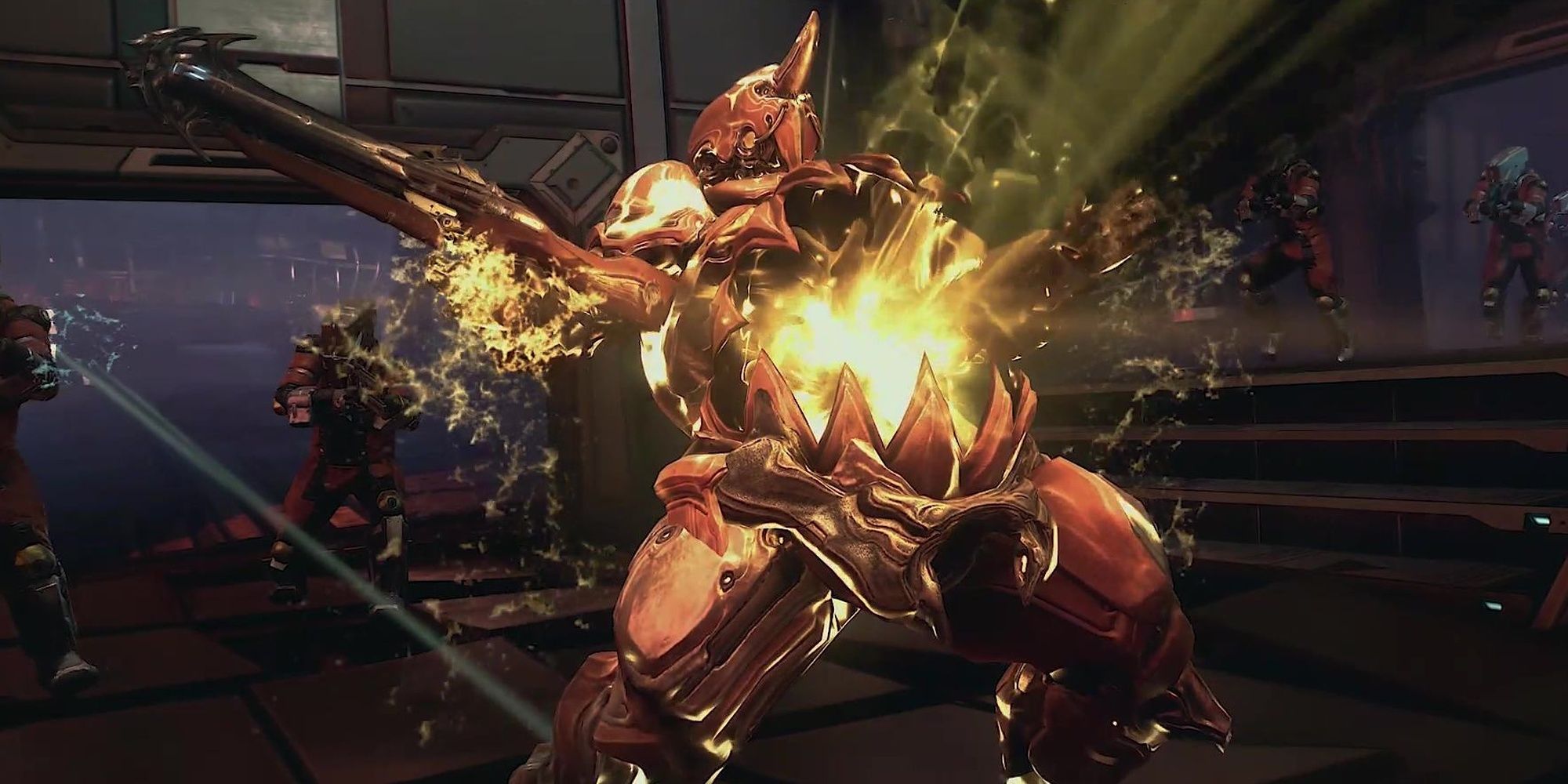 Before we give specific loadout recommendations, we need to cover loadout restrictions because you aren't just limited to no mods:
All mods are disabled.

Augment mods and Helminth powers still work.

Gear items do not function.
Operators and Focus passives are disabled.
Incarnon alt-fire modes are disabled.
Kuva and Tenet weapons lose their progenitor damage bonus.

In essence, you will need hard-hitting weapons and Warframes with good base abilities. We recommend you bring Octavia, a sniper rifle, and the Broken Scepter. Octavia's Mallet ability reflects a large portion of incoming damage, cleaving through tougher foes with little issue. Sniper rifles have a combo system that drastically ramps up their damage output, making them excellent for killing Eximus targets with Overguard. The Broken Scepter will desecrate corpses to spawn Health and Energy Orbs, keeping your Energy meter topped off.

Some other Warframes worth considering are Hildryn with an Elemental Ward subsume (use Cold) and Revenant. Hildryn can reflect incoming damage and has a massive shield reserve, while Revenant can deal serious damage by chaining Enthrall and Reave.

Return to Quick Links

Grendel Abilities

Stats

Grendel

Armor: 350
Energy: 150
Health: 350
Shields: 25
Sprint Speed: 0.95

Passive

Passive: Each enemy consumed grants 250 bonus armor.

Grendel's passive ties into his first ability, Feast. You may consume up to five enemies at a time, granting a maximum armor bonus of 1,250. This armor is a flat bonus that is unaffected by mods, added to your armor total after mods and other effects are accounted for. So long as you can keep five enemies in your gut, you'll gain a massive boost to your survivability.

Feast

Feast: Swallow enemies whole and store them in Grendel's gut. Hold to vomit out stored enemies, covering them in toxic bile.

Feast Stats

Drain

25 Energy

Radius

25 Meters

Damage

Bile: 500 Toxin

Consumed: 2% HP per second

Applicable Mods

Duration

Range

Efficiency

Strength

N/A

Affects ability radius

Affects cast Energy cost

Affects bile damage

Grendel opens his stomach and begins devouring his foes, sucking them directly into his gut. This ability gives you just over a second to consume any target near your cursor. These enemies are then stored in Grendel's gut, denoted by a UI icon on the bottom-right of your screen. Enemies stored in your gut take 2% of their maximum HP as damage per second and grants 250 armor to Grendel. You must keep enemies in Grendel's gut to access your second and fourth abilities.

If at any time you want to remove the enemies from your gut, you may hold the cast input to spit them out, covering them in Toxic bile that deals 500 damage per second. We don't recommend ever disposing of enemies this way, as your ultimate ability does the same thing but deals significantly more damage. If you haven't played Grendel since he got reworked in Lua's Prey, you never want to discharge enemies from your gut; Regurgitate has now taken that role.

Feast scales best with Ability Range, making it easier to eat targets from a distance. Strength only affects the Toxin damage dealt when spitting out foes, something you shouldn't be doing anyway. Get comfortable using this ability, as eating enemies is required to gain access to Nourish and Regurgitate. Always keep enemies in your gut.

Nourish

Nourish: Regenerate health as Grendel absorbs nourishment from enemies in his gut. While he digests, enemies that attack or are attacked by Grendel suffer Viral damage, and energy sources provide more energy. These buffs extend to squad mates.

Note: This ability can be subsumed with the Helminth system.

Nourish Stats

Drain

50 Energy

Radius

25 Meters

Duration

25 Seconds

Heal On Cast

1,000 HP

Energy Multiplier

2x Energy earned

Viral Explosion

Damage: 250 Viral

Radius: 12 Meters

Viral Damage Bonus

Gain 75% weapon damage as extra Viral damage

Applicable Mods

Duration

Range

Efficiency

Strength

Affects buff duration

Affects ability and Viral explosion radii

Affects cast Energy cost

Affects HP restored, Energy multiplier, Viral explosion damage, and Viral damage bonus

Nourish has a large ability description and a ton of moving parts, so here's how it works:

Grendel damages an enemy in his gut, removing 20% of their max HP (moddable).
In turn, Grendel immediately restores 1,000 HP and grants himself and nearby allies three buffs:

Energy Multiplier: All Energy received is doubled, affected by Ability Strength. This works with any source of Energy, even Zenurik's Wellspring ability.
Viral Damage: All weapons deal 75% of their total damage as bonus Viral damage, capable of inflicting Viral status on targets.
Viral Explosion: If you take damage, you'll explode and inflict x10 Viral stacks onto nearby targets. This has a two-second cooldown.

All three buffs are immediately activated when you cast Nourish, you don't need to juggle them anymore. This is an absurdly powerful buff that makes it easy to inflict Viral onto your foes, increasing the damage of your Pulverize and Regurgitate abilities. Allies also receive the buff if they were near you on its initial cast, similar to how Rhino's Roar works.

In essence, Nourish is a panic heal, doubles all Energy sources, and allows you to inflict Viral by dealing or receiving damage. Pair Grendel with a passive Energy source like the Zenurik Focus School, and you can avoid building for Efficiency altogether.

Nourish benefits from Strength, Range, and Duration. Focus on increasing your Strength above all else, as a high Strength stat greatly buffs your panic heal, Energy multiplier, and bonus Viral damage. Range makes the Viral explosion much more effective, and Duration makes it easier to keep Nourish active.

Pulverize

Pulverize: Grendel curls into a ball. He heals over time as he rolls, knocking over anyone in his path. Jumping slams Grendel into the ground and generates a damaging shockwave.

Pulverize Stats

Drain/Second

3 Energy per second

Radius

5-15 Meters

Health Regeneration

200 HP per second (tapers off to 100)

Armor Reduction

50% on hit

Damage

Hit: 500-2,000 Impact

DoT: 25 Toxin per second

Slam: 150-500 Impact

Applicable Mods

Duration

Range

Efficiency

Strength

Affects Energy drain while < 175% Efficiency

Affects impact and slam radii

Affects Energy drain

Affects HP regen, armor strip, and damage

Grendel turns into a massive ball, disabling your access to weapons and bullet jumping. Default run speed gives you precise control over your movement, and toggling sprint makes you move substantially faster at the cost of strafe control. Run over targets to deal Impact damage or jump to perform a slam attack. You can use all of Grendel's abilities while in this form, enlarging the ball as you consume targets. The bigger Grendel gets, the more damage Pulverize will deal.

The damage of Pulverize has been massively nerfed since Grendel has been reworked, so use this ability for its healing and mobility qualities only. Pulverize is a fantastic tool for getting around open world maps or quickly healing yourself, but the damage of this ability no longer has level scaling or high base damage values, resulting in Grendel ragdolling foes more often than not. If you're going to impact targets, focus on stripping their armor.

Feast Synergy

If enemies reside in Grendel's gut, Pulverize does not cost any Energy to use.

Pulverize scales best with Ability Strength and Range. A Strength stat of 200% will fully strip armor when you impact targets, and a solid Ability Range stat should make hitting enemies much easier. Keep five enemies in your gut whenever you're in this form to maximize your damage output. Sprint speed has no impact on Pulverize, but double jump mods like Motus Impact behave how you'd expect. If you want to move incredibly fast in this 'meatball' form, use the Catapult augment.

Regurgitate

Regurgitate: Violently puke out a bile-soaked enemy from Grendel's gut, turning the consumed into a toxic projectile. Nearby enemies are slowed and have their armor dissolved by the bile.

Regurgitate Stats

Drain

50 Energy

Radius

6 Meters

Armor Reduction

75%

Damage

2,000 Toxin

Applicable Mods

Duration

Range

Efficiency

Strength

N/A

Affects explosion radius

Affects cast Energy cost

Affects damage and armor strip

A consumed target will violently launch out of Grendel's gut toward your cursor, turning them into a bile-covered projectile. On impact, the target will violently explode and deal 2,000 Toxin damage with a guaranteed Toxin proc. You'll lose one consumed target upon using this ability. Both the impacted targets and the enemy you launched will be damaged by the ability and have a percentage of their armor stripped.

Regurgitate is your bread and butter for killing enemies. Consume five targets, activate Nourish to spread Viral procs, then use Regurgitate to kill anyone you see. You effectively run your gut into a man cannon of utter destruction.

Build for Ability Strength and Range. Strength will increase the armor stripped and Toxin damage, allowing this to fully strip armor with 134% Ability Strength. Ability Range makes the AoE explosion cover a larger distance, improving Regurgitate's consistency for larger tile sets.

Return to Quick Links

Grendel Augments

Grendel has access to three Augment mods, one for each ability excluding Regurgitation. All Augment mods are sold by the Steel Meridian and Red Veil Syndicates for 25,000 Standing each. You'll need to be at max rank with either Syndicate to purchase these augments. Alternatively, you may trade any of these mods with other players through Warframe's trading system.

Gourmand

Gourmand: Feast Augment: Instead of Energy, consumes 200 Health on cast. Glutton grants an additional 150 Armor per enemy.

Feast now costs 200 Health to cast, but each enemy consumed now grants a flat 150 armor to Grendel. The HP cost is affected by Ability Efficiency, and the flat armor received is unaffected by mods, including Ability Strength and armor mods like Steel Fiber. This flat armor does stack with Grendel's passive, however, allowing you gain 2,000 flat armor upon consuming five targets.

Hearty Nourishment

Hearty Nourishment: Nourish Augment: Clear Status Effects and gain 5s of Status immunity for each victim in Grendel's stomach.

Casting Nourish will cleanse all active status effects on Grendel and grant status immunity equal to 20% of Nourish's duration per enemy in his gut. If you have five enemies consumed, you'll be completely immune to status effects for the rest of Nourish's duration. The status immunity duration is affected by Ability Duration, and the status immunity received includes knockdown effects. Allies buffed by Nourish do not receive status immunity.

Since Hearty Nourishment scales off enemies in Grendel's gut, this augment does not work on the subsumed version of Nourish.

Catapult

Catapult: Pulverize Augment: Press the alt-fire key to launch Grendel in your aim direction. Costs 5 Energy per use. Crouch to slow down.

Catapult turns Grendel into the world's fastest meatball. Pressing your alt-fire button will give Grendel a massive surge of momentum for about two seconds, launching Grendel wherever your cursor is. You can use this to gain some speed mid-air or redirect where Grendel is going. Doing this costs five Energy, affected by Ability Efficiency.

Pulverize also gets a sort of e-brake you can activate by holding the crouch button, allowing you to quickly slow down or drift around corners. Sprint speed and Strength modifiers do not affect Catapult.

Return to Quick Links

Grendel Builds

We'll be looking at two Grendel builds today that showcase his effectiveness with no investment and numerous Umbral Forma. Grendel is an absolute powerhouse at all investment levels and doesn't need much work to get going in Steel Path and other endgame modes. Some meme builds also exist for him—notably building around Pulverize to move faster than Gauss—but we won't be covering those builds today.

In general, you're looking to spec for Ability Strength and Range on Grendel. A moderate investment into Ability Strength allows Grendel to fully strip armor and provide a massive Viral damage buff through Nourish, and some Ability Range helps with landing your Regurgitate projectiles. Efficiency isn't mandatory on Grendel anymore since Feast no longer drains your Energy while enemies are consumed.

As for Helminth abilities, we recommend replacing Pulverize for something else, notably Rhino's Roar. Pulverize, while fun, deals pitiful damage and is mostly a utility skill that heals and makes Grendel move incredibly fast, things you can replicate through mods and Arcanes. Roar is a great replacement, double-dipping on Regurgitate's guaranteed Toxin procs.

Finally, for your Focus School, use Zenurik. The Energy multiplier from Nourish affects Zenurik's Wellspring ability and Energy Pulse Passive, allowing Grendel to regenerate an absurd amount of Energy per second. You shouldn't have any Energy issues with Grendel if you use this Focus School.

Archon Shards

For Grendel, you're looking for Ability Strength and Duration Crimson Shards. Allocating multiple Strength shards can free up mod space for other effects like range or survivability. You might also consider Energy Max on Azure Shards if you don't have Crimson Shards to spare.

Starter Build (0 Forma, No Subsume)

If you don't have any spare Forma and want a powerful Grendel build, this is it. We focus on Ability Range and general survivability to buff Grendel's general consistency in all content. We start by equipping Umbral Intensify to increase Grendel's Ability Strength, allowing Regurgitate to fully strip enemy armor. If you want Pulverize to also strip armor, use Molt Augmented.

For range, we use Stretch and Augur Reach to greatly buff Regurgitate's AoE radius while making it easier to buff allies with Nourish. For Energy, we'll be using Primed Flow and Energy Siphon. Paired with Zenurik's Wellspring ability, your Nourish should skyrocket your Energy regeneration rate and make it fairly easy to chain Grendel's abilities.

Primed Continuity gives Nourish some much-needed duration, and we use Hearty Nourishment to give Grendel complete status and knockdown immunity. Just remember to cast Nourish when you have five enemies consumed to maximize the augment's duration. Finally, we use Vitality and Adaptation to greatly boost Grendel's survivability. You can shield-gate with Grendel quite easily if you're playing endurance content, but this HP setup should be more than enough for most content.

Return to Quick Links

Umbral Grendel (? Forma, Roar Subsume)

Forma: 4 (Aura, 2 Umbral, –)
Subsume: Roar (Rhino)

This build requires two Umbral Forma. Only recreate this build if you plan to frequently play Grendel.

This build uses Umbral mods to turn Grendel into an unstoppable force. We use all three Umbral mods to greatly boost his Ability Strength, HP, and armor. If you're short on Forma or don't want to invest two Umbral Forma on Grendel, get your hands on an unranked Umbral Fiber from Cephalon Simaris.

We use Overextended and Cunning Drift to double Grendel's range, then we use Augur Secrets to somewhat counter the Strength dip from Overextended. This allows Regurgitate to fully strip armor, although feel free to install a few Ability Strength Archon Shards to replace Augur Secrets for Stretch.

Primed Flow pairs exceptionally well with Zenurik and Nourish's Energy buff. We then use Hearty Nourishment to give Grendel complete status immunity, and we round off the build with Adaptation to gain some much-needed DR for harder content.

The aura is up to you. Combat Discipline is great since the HP loss can trigger Nourish's Viral retaliation effect. If you want more survivability, equip Brief Respite and a Decaying Dragon Key to easily shield-gate as Grendel. Pick whichever aura sounds more appealing to you.

For Arcanes, use Molt Augmented to gain 60% Ability Strength, Your second Arcane is up to you, but remember that Combat Discipline can trigger on-damaged Arcanes like Avenger and Guardian. And if you own it, Arcane Energize is always a safe pick.

Return to Quick Links

Source: Read Full Article