If you asked me to describe the way I play FIFA, I'd say "recreationally". I'd also think you were a bit of an odd bod going around asking strange questions, but my answer would be fairly simple. I don't play Ultimate Team, I only dabble in Online Seasons, and while I used to tear through Career Mode until the game was full of fake players because the real ones had all retired, these days I get bored after a season and start playing something else. But over winter, there's nothing better than jumping on for a quick game of FIFA 23 against the computer and running around in the snow.
I say I don't play Ultimate Team, but that's an understatement. I've never understood Ultimate Team. In the very first year it launched, I used the dongle trick for free packs (ask you parents, kids), and only avoided a ban because I sold all my cards to buy my ideal team on the marketplace rather than pulling packs for hours on end like everyone else did. The injuries, the fatigue, the contract and fitness cards, and the fact it all starts over again no matter how many hours you sink in just makes it feel a bit pointless. Why spend 50 hours of my life trying to get Mbappe when I can just play as PSG in any other game mode right now?
The regular online matches are more my speed, but the beast is eating itself. A few years ago I was great at FIFA, getting myself into the third or fourth division and feeling pretty happy with myself. But now I play less, so I'm worse, meaning I lose more, meaning I play less, so I'm worse, meaning I lose more. I'm languishing in the seventh division and I'm more likely to be relegated than promoted. As for Career Mode, it's a mixture of the lack of any real upgrade outside of the aesthetics and a general roster upgrade each year that have left it stale.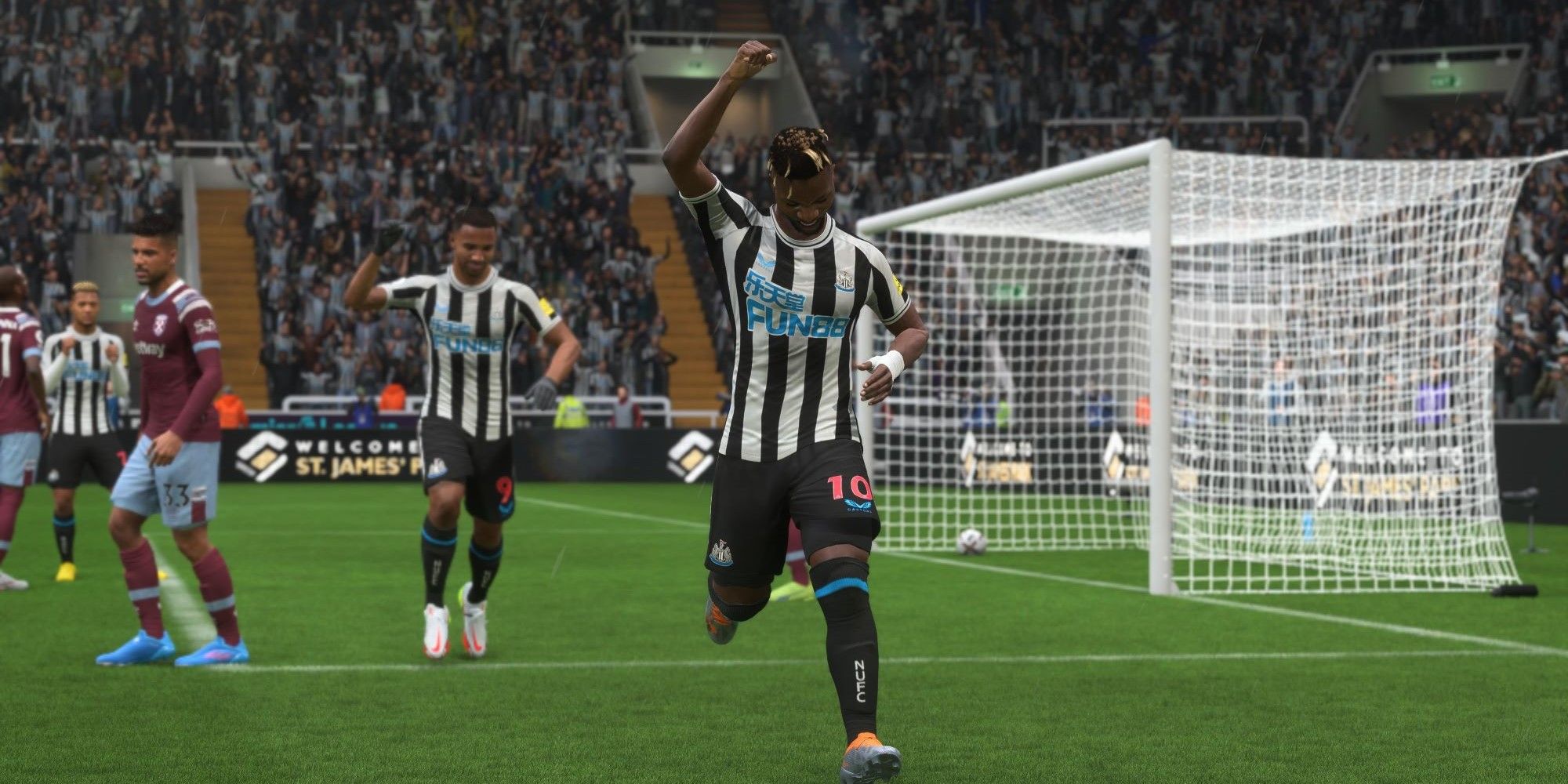 None of the modes work for me anymore, but the football is magical. On this pitch, FIFA 23 is one of the slickest in years. I briefly dove back in for the disappointing World Cup mode, but right now I'm finding myself booting it up and just playing a few friendlies for a laugh. St. James' Park, snow, night, orange ball. The Gallowgate under the lights with frost on the pitch – you just can't beat it. St. Maximin running down the wing, snow flicking off his heels as his dreadlocks bounce under his headband, Botman clattering someone as he slices up his socks launching into a sliding tackle, Bruno pinging the orange ball 40 yards into Wilson's path – it's majestic.
I've always done these one-friendlies in between other modes, but this year they're the way I play the most. I used to do the Tyne & Wear Derby, Newcastle and Sunderland, but it seems a bit unfair on poor ol' Sunlun, so I usually match wits with City, Liverpool, or Chelsea. They're more our level these days. In a game where winning is everything, where players are constantly pushed to max out packs and squads and forever rise up the league tables in the quest for Sisyphean glory, it's refreshing to just have a kickabout. When the pitch is beginning to look a lot like Christmas, there's no game better to get you in the holly jolly spirit.
Source: Read Full Article