Hunter, one of the most unique classes in World of Warcraft, got some nice attention in Dragonflight. With the expansion now live, that attention has paid off, as all the Hunter specializations look quite good to play. WoW has also become much more alt-friendly, and consequently, you can play as many classes as you want with very few inhibiting issues. All you need to do is level and gear your alternate characters.
When considering Survival Hunter, understand it's a unique Hunter specialization since it is the only one that is melee. As such, its playstyle is very different from its two ranged counterparts, and the diversity of the new talent trees makes that even more apparent.
Why Survival?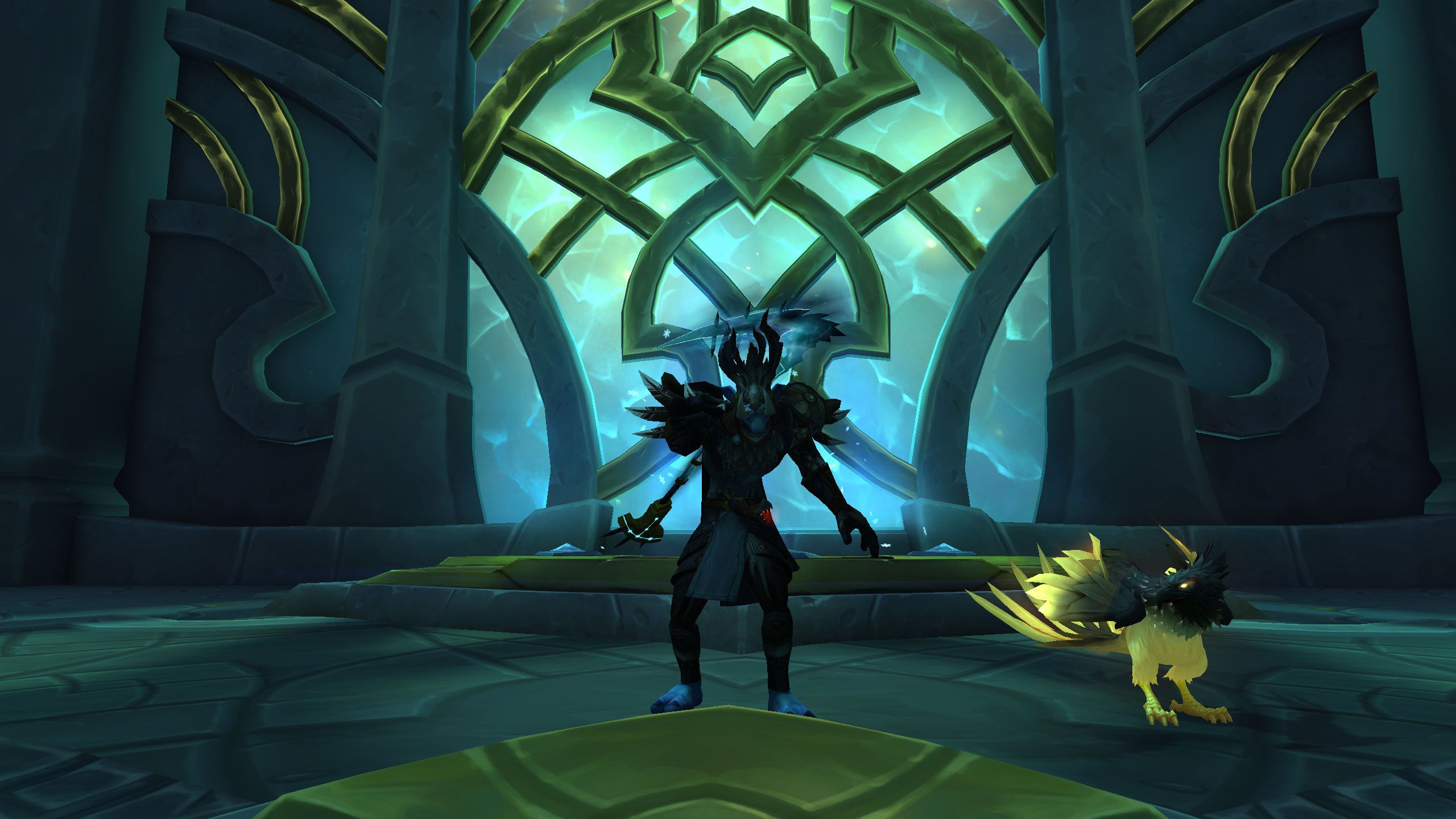 Here are three great reasons why you should consider choosing Survival:
Survival Hunter is relatively simple to play, but it still has a fair amount of reactivity, requiring you to think a little about what to press next. In addition to this reactivity, proper forethought is also required, but not an overwhelming amount by any means.
It has high single-target damage. With the right talent build, this specialization can pump out some extremely high numbers in the single-target arena.
It's a pretty mobile specialization, more so than Marksmanship and Beast Mastery. Like them, Survival can Disengage from combat, but seeing that it's a melee specialization, it also has the tools to gap close, allowing for extra mobility.
Best Races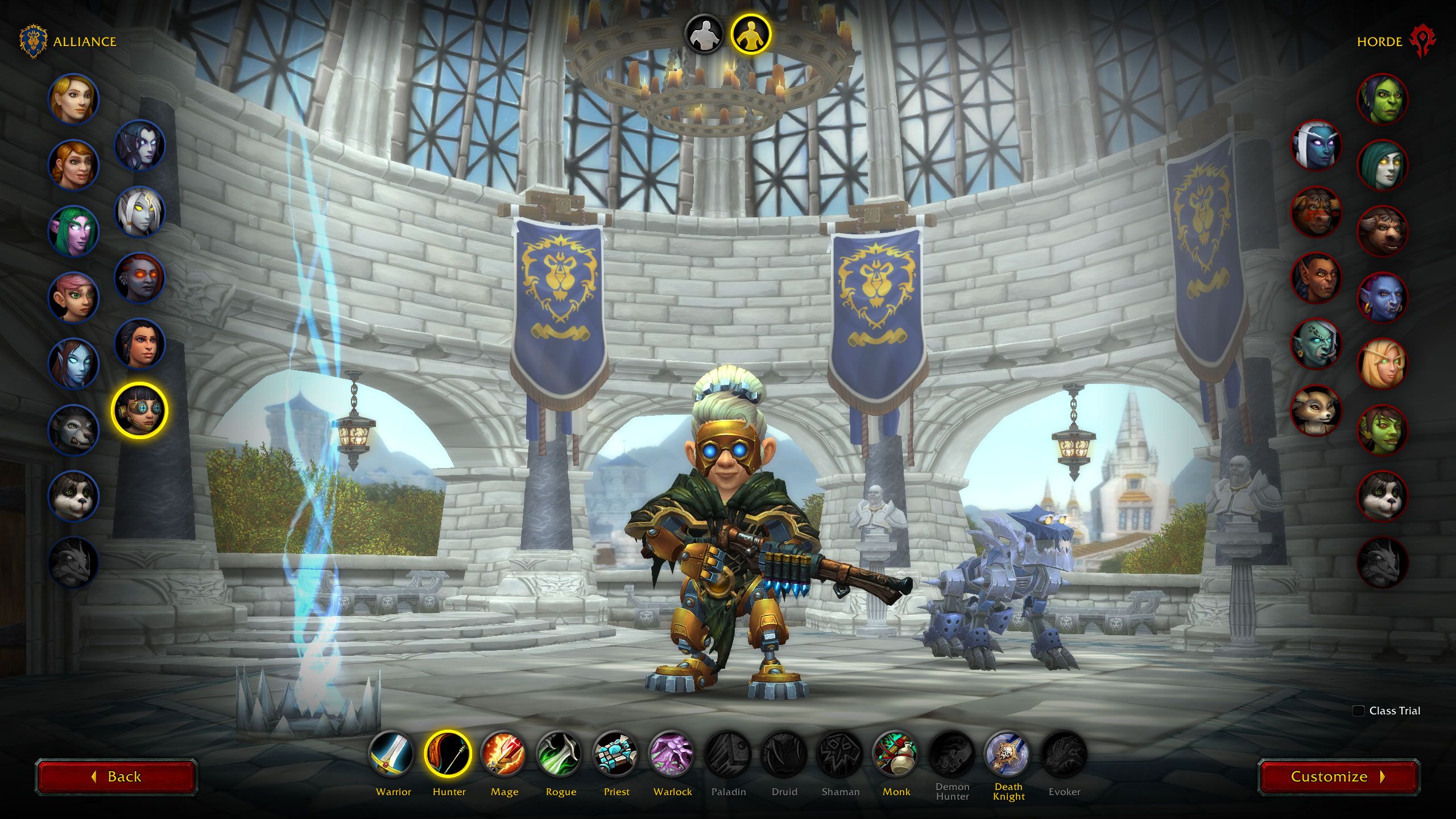 While you should pick any race you want as your Survival Hunter, if you're looking for some extra benefits, here are some races that can provide them:
| Race | Racial Ability Name | Racial Ability Effect |
| --- | --- | --- |
| Mechagnome | Combat Analysis | You gather and analyze combat data every five seconds, increasing your primary stat by one, stacking up to ten times. The data decays while out of combat. |
| Troll | Berserking (active) | Increases your haste by ten percent for twelve seconds. |
| Night Elf | Touch of Elune | Increases your haste by one percent during the night. Increases your critical strike by one percent during the day. |
| Orc | Command (active) | Damage dealt by pets increased by one percent. |
Pets
When it comes to taming the right beast, there are three types of pet families: Ferocity, Tenacity, and Cunning. Each provides you with a different active ability and passive effect. Generally speaking, your best bet is Tenacity for dungeon and raid content.
These pets passively give you and your pet more health, plus Fortitude of the Bear (the active), which gives even more health to you and your pet (albeit temporarily).
If your group requires a Lust, you should have a Ferocity pet to fulfill that need.
Main Hunter Tree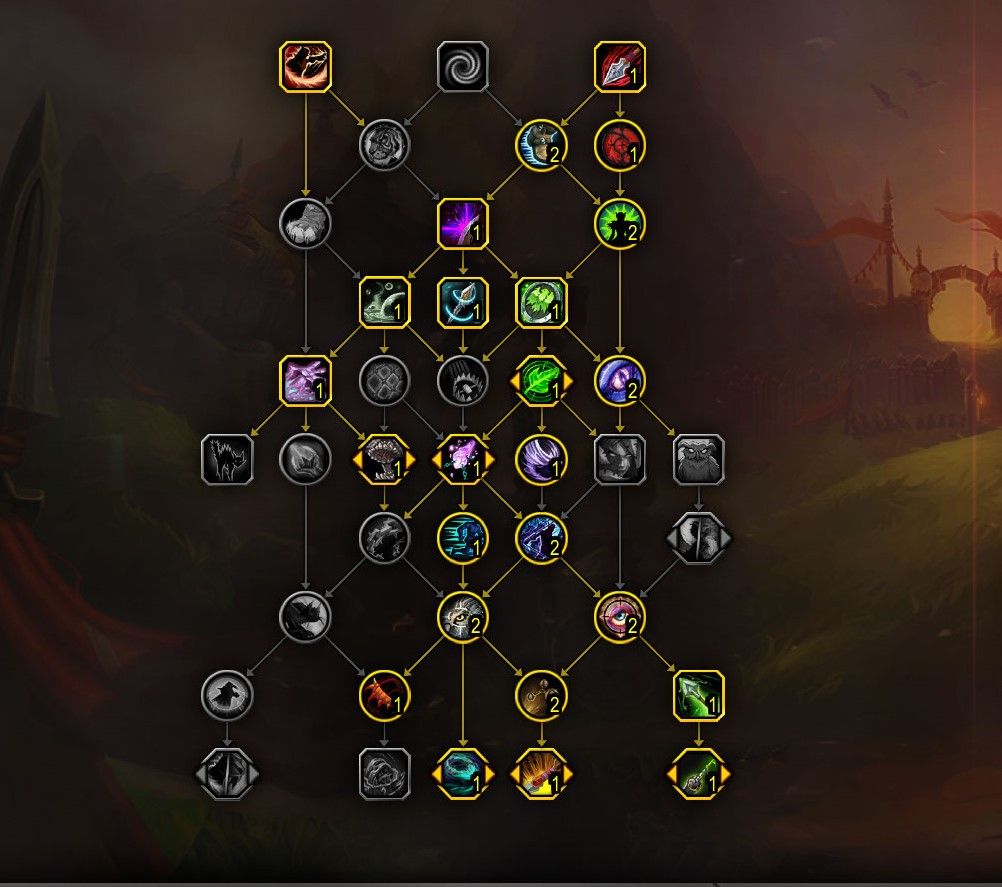 Main Hunter Tree
Row One
Kill Command
You get this talent no matter what and can't unlearn it. It's your main form of damage.
Kill Shot
Your key finisher move for the execute phase of boss fights.
Row Two
Posthaste (2/2)
This is your chief mobility spell and is generally a must-have.
Improved Kill Shot
Just a better talent than Trailblazer in this row.
Row Three
Muzzle
You always want your silence.
Natural Mending (2/2)
Increases your self-survivability.
Row Four
Tar Trap
Not the best choice, but you need it to access certain later talents.
Misdirection
A great tool to keep threat on your tank (or pet).
Survival of the Fittest
A great defensive spell to have.
Row Five
Tranquilizing Shot
This is a great choice in situations that demand them, like dungeons or raids with many enemies with enrage effects.
Nature's Endurance
As is the case with Natural Mending, this increases your survivability.
Born to be Wild (2/2)
Greatly increases your survivability and mobility in longer fights (raids in particular).
Row Six
Intimidation
An amazing single-target stun that is very useful in dungeons and world content.
Binding Shot
An amazing area-of-effect root effect that is very useful in dungeons and world content.
Rejuvenating Winds (1/2)
Another enhancement to your self-survivability.
Row Seven
Hunter's Avoidance
If you take reduced damage from area-of-effect damage, you don't have to dodge them anymore, right?
Pathfinding (2/2)
The extra movement speed is great for helping you dodge all the bad stuff without needing to rely too much on your Disengage.
Row Eight
Keen Eyesight (2/2)
Higher critical strike chance? Again, yes, please. This secondary stat is very important for this specialization (as you'll see in the stat priority section later).
Master Marksman (2/2)
This adds bleed effects to your special ability critical strikes, and since you already should have a lot of crit chance, this is a very strong talent to have.
Row Nine
Serrated Shots (1/2)
This synergizes very well with your Serpent Sting and the bleed effects added from Master Marksman and adds to the potency of your execute phase damage.
Arctic Bola
A chance to deal more damage with your most used ability — Mongoose Bite — is a great reason for this talent.
Serpent Sting
This adds to your single-target damage capabilities, but the real reason to take Serpent Sting is for the keystone talent that follows it.
Row Ten (Keystone Talents)
Death Chakram
A great choice for both dungeon and raid content, as it increases the damage you deal to the targets you hit and generates some Focus back for you. A very solid keystone talent, to be sure.
Explosive Shot
A great tool to add some extra area-of-effect damage to your kit.
Poison Injection
This offers more synergy with your Mongoose Bite, as you can let the Latent Poison stack up while you prepare for your next Mongoose Fury window (more on that in the rotation section).
The above tree is a decent guideline to follow when it comes to the main tree for Hunters. Survival Hunters don't have too much to offer when it comes to utility, and while their main class tree isn't too flexible, it does have some wiggle room. There are a few talents taken in the tree above that you don't necessarily need to always take, like Tranquilizing Shot, Intimidation, and Hunter's Avoidance.
In lieu of these, Entrapment and Binding Shackles are nice tools to have, and it's perfectly reasonable to stick two points into Rejuvenating Wind instead of just one. That said, Muzzle, Posthaste, and Pathfinding are all extremely important and should typically always be taken no matter what type of content you're doing.
In area-of-effect situations, switching out Death Chakram for Stampede is viable as your central keystone talent. Just know you'll be sacrificing Focus-generation for more critical strike chance.
While leveling and while doing your world content, don't worry too much about optimization. Instead, pick the talents you want to pick and try them out. You can change them anywhere, so be sure to play around with your options. This goes for the Survival talent tree as well.
Survival Tree For Dungeons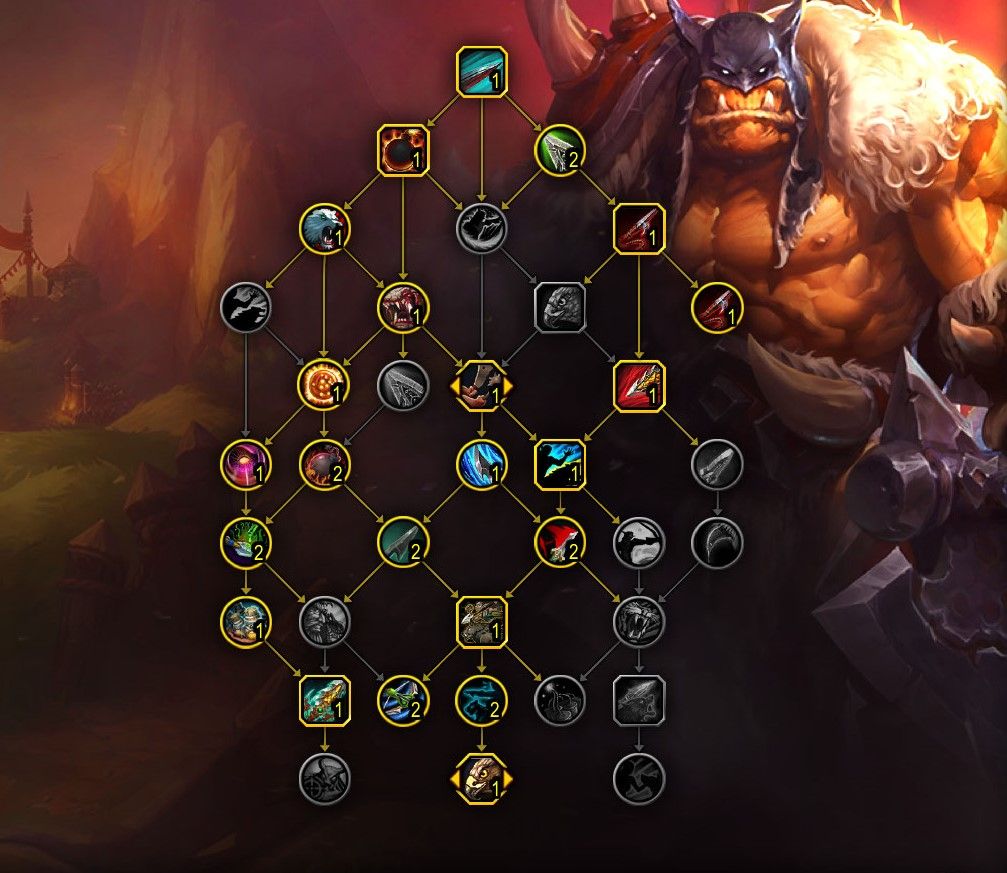 Survival Tree For Dungeons (AoE)
Row One
Row Two

Wildfire Bomb
Tip of the Spear (2/2)

Row Three
Row Four

Bloodseeker
Terms of Engagement

Row Five

Guerilla Tactics
Butchery
Mongoose Bite

Row Six

Intense Focus
Improved Wildfire Bomb (2/2)
Frenzy Strikes
Flanking Strike

Row Seven

Viper's Venom (2/2)
Sharp Edges (2/2)
Sweeping Spear (2/2)

Row Eight

Wildfire Infusion
Coordinated Assault

Row Nine

Fury of the Eagle
Ranger (2/2)
Coordinated Kill (2/2)

Row Ten (Keystone Talents)
Import String: B8PAIlFMjeNhnEouGfV8Ij2uS5ABahkEIBBJJRaJCCRSKRIAAAAAQEHoUkimQiESIoBAAAAA
Even though Survival Hunters have weak area-of-effect capabilities compared to other classes, they can still pull off some decent damage if they talent well, an example of which is shown above. As such, the main talents you want to have are Butchery, Frenzy, Fury of the Eagle, and Birds of Prey (keystone).
If you have the talent points to spare, you can also put some points into Ruthless Marauder keystone talent to buff up your Fury of the Eagle. If not, you can swap your points in Sweeping Spear for two in Ruthless Marauder.
Survival Tree For Raids
Survival Tree for Raids (single-target)
Row One
Row Two

Wildfire Bomb
Tip of the Spear (2/2)

Row Three

Ferocity
Flanker's Advantage
Harpoon

Row Four

Bloodseeker
Terms of Engagement

Row Five

Guerilla Tactics
Mongoose Bite

Row Six

Intense Focus
Improved Wildfire Bomb (2/2)
Flanking Strike
Spear Focus (2/2)

Row Seven

Viper's Venom (2/2)
Sweeping Spear (2/2)

Row Eight

Wildfire Infusion
Quick Shot
Killer Companion (2/2)

Row Nine
Row Ten (Keystone Talents)
Import String: B8PAAAAAAAAAAAAAAAAAAAAAA4ABaBJBSQQCRkQiQSSIJJAAAAAQEHoUkimQiESIoBAAAAA
In the raid tree above, you'll notice that all the prominent area-of-effect talents are not taken, and this is where Survival Hunter truly shines. In replacing these area-of-effect talents, an emphasis is placed on the right side of the tree where Spearhead is. This big cooldown replaces Coordinated Assault since its effects are much more geared toward single-target damage, significantly buffing your Raptor Strike and Kill Command.
Survival Tree Must-Haves
Across all types of PvE content (dungeons, raids, and general world content), there are a few talents in the Survival tree that you'll want no matter what.
Mongoose Bite: this is simply a better version of Raptor Strike and is an integral talent to pick up.
Flanking Strike: the 30 Focus generated by this ability is invaluable and can really help you get an extremely powerful Mongoose Fury off.
Wildfire Infusion: this is one of the more complicated talents that adds some reactive gameplay to your rotation, but is nonetheless a very strong choice that undoubtedly adds tons of damage to your abilities.
Rotation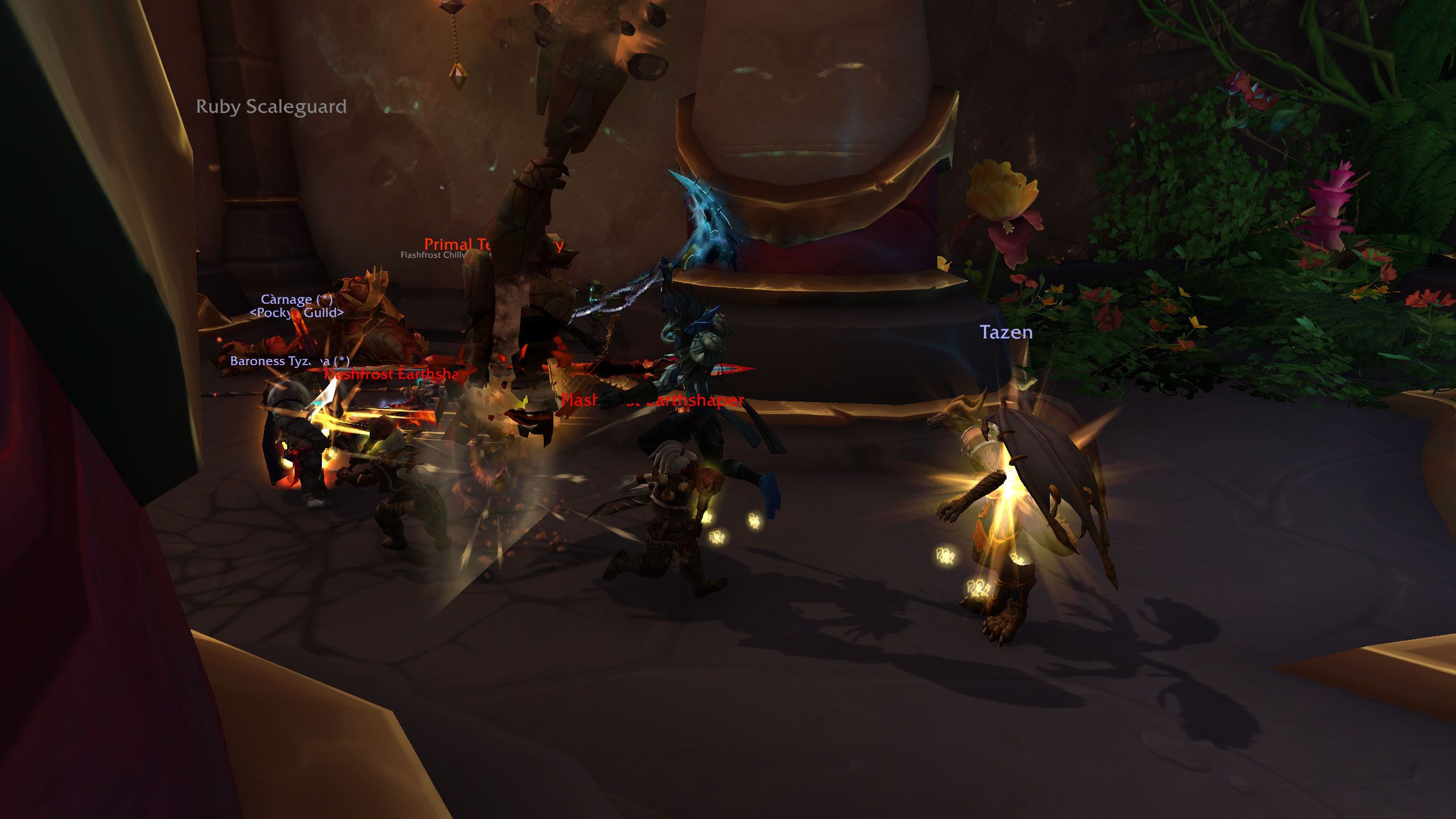 A Survival Hunter's rotation comes down to properly getting good Mongoose Fury windows. Mongoose Bite's damage increases with each use of the ability up to five stacks, but each use of the ability doesn't increase the timer on this damage increase.
So, once you use your first Mongoose Bite, you've got fourteen seconds to get in as many more as you can before the window closes and the damage buff resets. This requires good Focus management with your Focus-generating abilities (Kill Command, Death Chakram, Flanking Strike) and good planning.
At the same time, you'll want to make sure of two things:
Keep your Serpent Sting applied (to as many enemies as possible without wasting too much Focus). Any downtime of this ability and you're losing good damage.
Keep your Wildfire Bomb on cooldown and ensure you're reacting to the proper Wildfire Infusion accordingly.
Some Tips
Memorize the color of each Wildfire Infusion on your action bar so that your reaction to it becomes second nature. If you're wasting time checking what type of Wildfire Bomb you threw at your enemy, you're missing out on damage.
Try not to start a Mongoose Fury window unless you're starting with a minimum of around 80 Fury. That way, you can generally guarantee you're getting at least a couple of swings at five stacks.
In super big area-of-effect fights, tossing out more Wildfire Bombs is more important than Mongoose Fury windows. As such, focus more on keeping Butchery on cooldown without over-capping the cooldown reduction on Wildfire Bomb.
A good time for a Mongoose Fury window is when you have a Pheromone Bomb (type of Wildfire Infusion) active on your target. The instant resets to Kill Command can help you generate enough Focus to pump out even more five-stack Mongoose Bites.
If you screw up a Mongoose Fury window, don't worry about it and instead focus on how to properly execute your next one. If you try to salvage a failed Mongoose Fury window, you run the (high) risk of poorly using your Focus.
If you're running a talent build that takes both Coordinated Assault and Spearhead, do not use these cooldowns at the same time.
Macros
One of the best macros you can have as a Hunter lets you send an ability to your cursor's location (like quick cast). Normally, abilities like your traps or Flare or Binding Shot need to first be selected, and then you must click where you want to deploy it. This macro combines that into one step, sending your ability to your cursor's location:
/cast [@cursor] *insert ability name here*
Some examples:
/cast [@cursor] Freezing Trap
/cast [@cursor] Binding Shot
Another great addon is one for Muzzle:
/cast [@focus,exists,harm,nodead][] Muzzle
This allows you to silence your Focus Target (if you have one). This is extremely useful for fights where you need to interrupt a target that isn't your primary target, as it removes the need to manually switch targets by either clicking or Tab-targeting.
Just remember that, unlike Counter Shot, which is the ranged silence spell of Beast Mastery and Marksmanship Hunters, Muzzle is a melee range silence, so make sure you're close enough to your Focus Target when using this macro.
Survival Stat Priority And Gear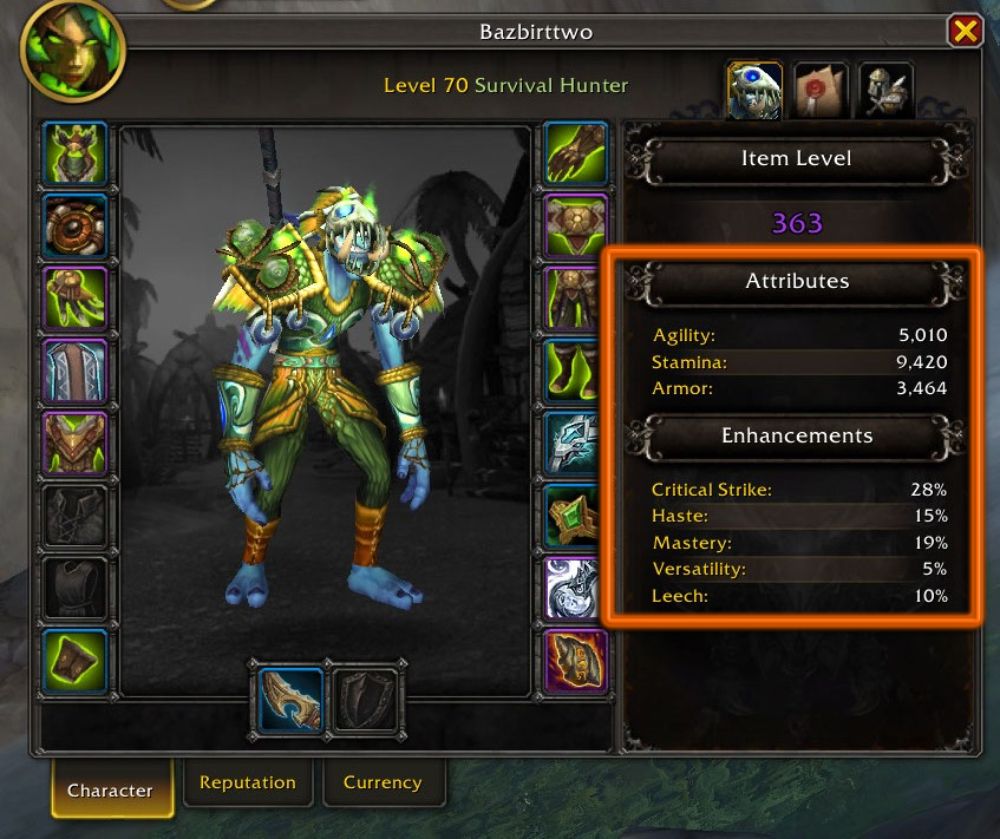 A Survival Hunter's stat priority has a very slight variance with regard to area-of-effect versus single-target talent builds. Still, it's inconsequential in the grand scheme of things, especially on a more casual level.
Area-of-effect focus:
Haste
Critical Strike
Versatility
Mastery
Single-target focus:
Haste
Critical Strike
Mastery
Versatility
Mastery increases the damage of your Focus-spending abilities. It's less effective in area-of-effect encounters because most of your big area-of-effect abilities (Fury of the Eagle, Wildfire Bomb, Death Chakram) do not require you to spend Focus to use. Contrarily, your main single-target spell, Mongoose Bite (Serpent Sting is important too), is a Focus spender, putting much more of an emphasis on Mastery.
Gems
While your stat priorities differ slightly depending on whether your talent build is area-of-effect or single-target focused, haste and critical strike are still the two most important secondary stats.
As such, any gem that has both of these stats will suffice, namely Crafty Ysemerald (more Haste) or Crafty Alexstraszites (more Critical Strike) being stellar options. But in reality, you should pick up the gem with the more pressing stat you require, which will typically be haste.
Depending on what crafting tier level the gem is, it will offer different numbers of stats.
Enchants
There are many enchants to choose from, but below are the most important ones that you should strive for no matter what. And again, remember that the value of the enchant depends on its crafting tier.
| Gear Slot | Enchant Name |
| --- | --- |
| Weapon | Enchant Weapon – Sophic Devotion (Enchant Weapon – Sophic Writ is more affordable) |
| Chest | Enchant Chest – Waking Stats |
| Neck | Tiered Medallion Setting |
| Legs | Reinforced Armor Kit |
| Ring | Enchant Ring – Devotion of Haste |
When it comes to the Reinforced Armor Kit, if you're a Leatherworker, you can craft these up yourself, so that's yet another reason to run that profession.
Gearing While Leveling
While you're leveling, the best thing you can do is to utilize the quest rewards (or dungeon rewards if you're dungeon grinding) as they improve, and don't worry too much about your stats or item level.
Your professions can provide you with some good gear too. Ideally, as a Hunter, Skinning and Leatherworking should be your two primary professions, and as you quest, you'll be doing plenty of Skinning. Thus, you can easily craft up some Mail gear as you level, but don't worry too much about Item Level, at least not until you're level 70.
Gearing At Level 70
Before the release of Mythic Plus and Raiding content, there are several key ways to gear up: Dungeons, World Quests, and crafting. Crafting gear goes up to 382 Item Level, and if you're a crafter, it'll be cheaper to hit that gear. Otherwise, regular Mythic dungeons will get you 372 gear, which is a close second. Here are some good pieces of gear to aim for in the new dungeons before the release of Mythic Plus and Raids:
| Gear Name | Gear Slot | Dungeon | Boss |
| --- | --- | --- | --- |
| Poached Kalu'ak Spear | Weapon | Brackenhide Hollow | Hackclaw's War-Band |
| Backdraft Cleaver | Weapon | Ruby Life Pools | Kyrakka |
| Erupting Spear Fragment | Trinket | Neltharus | Chargath, Bane of Scales |
| Homeland Raid Horn | Trinket | Uldaman: Legacy of Tyr | The Lost Dwarves |
| Bottle of Spiraling Winds | Trinket | The Nokhud Offensive | The Raging Tempest |
| Unstable Arcane Loop | Ring | The Azure Vault | Leymor |
| Eternal Sentry's Ring | Ring | Uldaman: Legacy of Tyr | Sentinel Talondras |
| Bromach's Disentombed Locket | Neck | Uldaman: Legacy of Tyr | Bromach |
| Helm of Hardened Gold | Head | Neltharus | Warlord Sargha |
| Rooted Shoulders of Putrefaction | Shoulders | Brackenhide Hollow | Treemouth |
| Cloak of Lost Devotion | Back | The Azure Vault | Azureblade |
| Emberguard Harness | Chest | Neltharus | Forgemaster Gorek |
| Fierce Boreal Armguards | Wrist | Uldaman: Legacy of Tyr | The Lost Dwarves |
| Torrential Downpour Gauntlets | Hands | Halls of Infusion | Primal Tsunami |
| Swollen Bark Clasp | Waist | Brackenhide Hollow | Treemouth |
| Stasis-Freed Leggings | Legs | The Azure Vault | Umbrelskul |
| Boots of Explosive Growth | Feet | Algeth'ar Academy | Overgrown Ancient |
Source: Read Full Article