Video games and food actually have an extensive relationship that isn't often explored enough. One that goes beyond the stereotypical image of Mountain Dew and Doritos-fueled gaming marathons. There are entire games based on food like Cooking Mama, cookbooks spun from recipes you might find on virtual adventures such as The Witcher, and Pokemon even slapped some of its monsters on Oreos to celebrate turning 25. In fairness, you could find Pokemon on almost anything during its anniversary year, including Krispy Kreme doughnuts.
But Pokemon wasn't the first company to team up with the doughnut establishment. Last summer, Xbox teamed up with Krispy Kreme to give away Game Pass subscriptions, Series S consoles, and most importantly of all, to create a delicious doughnut filled with brownie batter emblazoned with the Xbox logo. I ate one of those doughnuts. Actually, after discovering they were pretty great, I ate a lot of those doughnuts. Hence my excitement when I discovered the team-up had been so successful, Xbox wanted to do it again, and this time it would be launching two new doughnuts. Another Xbox-inspired dessert, and also one inspired by Forza.
The bad news is last year's delicious Nexus Doughnut has not returned. The good news is the Game Changer doughnut, which is available in Krispy Kreme UK stores right now, is remarkably similar. At least it seemed to be on the surface. While the green icing and powdered sugar topping has been dropped, presumably to make them easier to produce, the brownie batter filling remains. That was the best part about last year's Xbox doughnut anyway. The lack of powdered sugar and a far thinner layer of icing also made it a little less sickly, which was really the Nexus treat's only pitfall.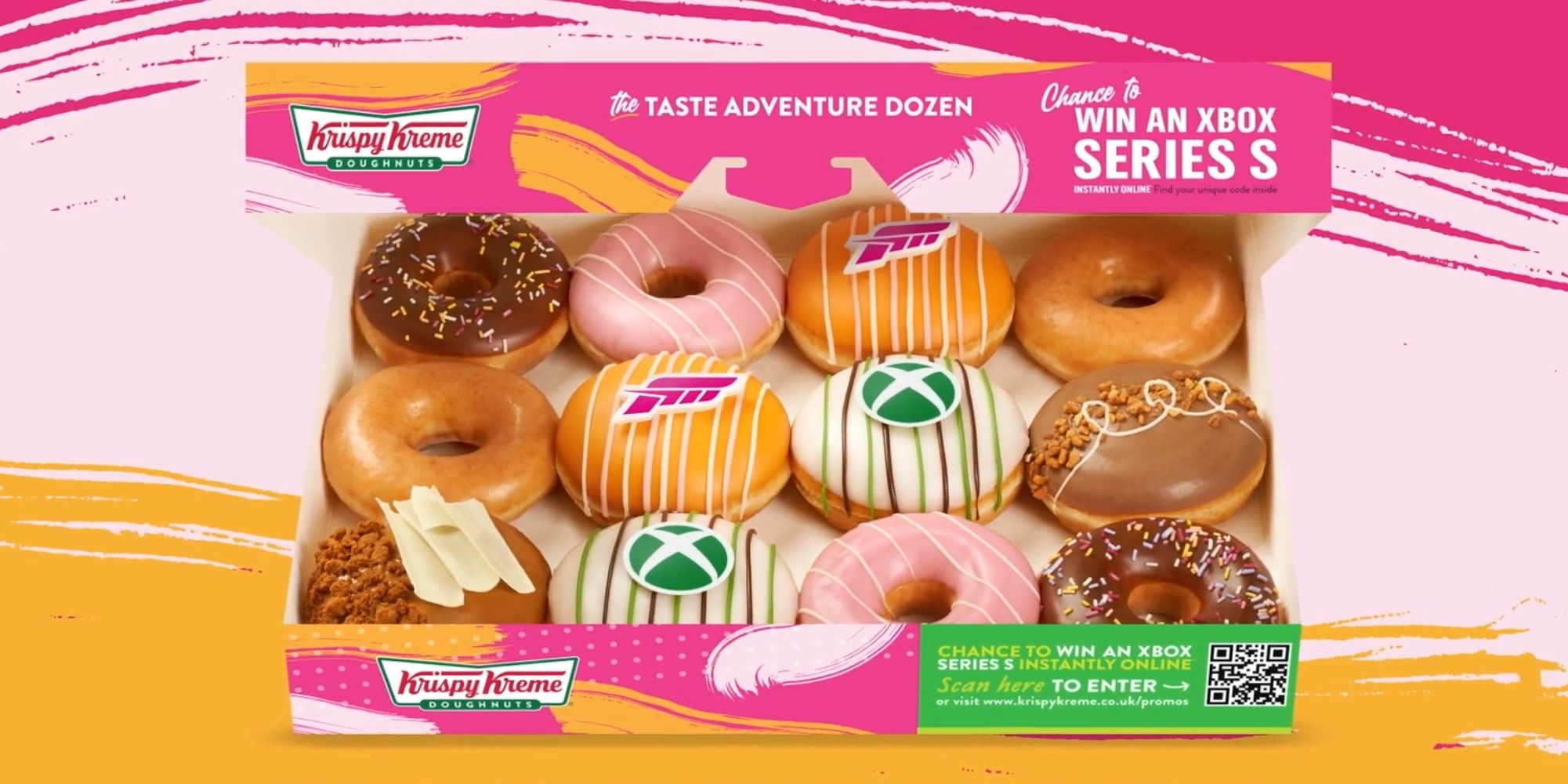 There was something lacking about this new Xbox doughnut, though. Something I can't quite put my finger on. When directly comparing it to the last one, I questioned whether Krispy Kreme had skimped on the filling, or if the less sickly topping just made the whole thing feel a little less special. As I weighed up whether I'd be buying more of them during their limited run, the reason why I'm not sold on Xbox's new doughnut hit me. It's because I ate the Forza one first, and not only was it far better than the Game Changer, but it also leaves last year's Nexus doughnut eating its dust.
Other than the edible plaque with the Forza logo sitting on top of it, I'm unsure what exactly the doughnut's connection to the racing series is supposed to be. However, after eating the sweet treat, I don't really care, and neither should you. The Forza Festival doughnut is your standard Krispy Kreme fair topped with orange and white icing. I'm still unsure whether the icing is actually orange flavor, or if my brain tricked me into thinking that due to its color and fruity filling waiting within. Whether it's orange flavored or not, it's that filling which makes this, and it's what has filled me wth despair that this isn't a permanent addition to the Krispy Kreme menu.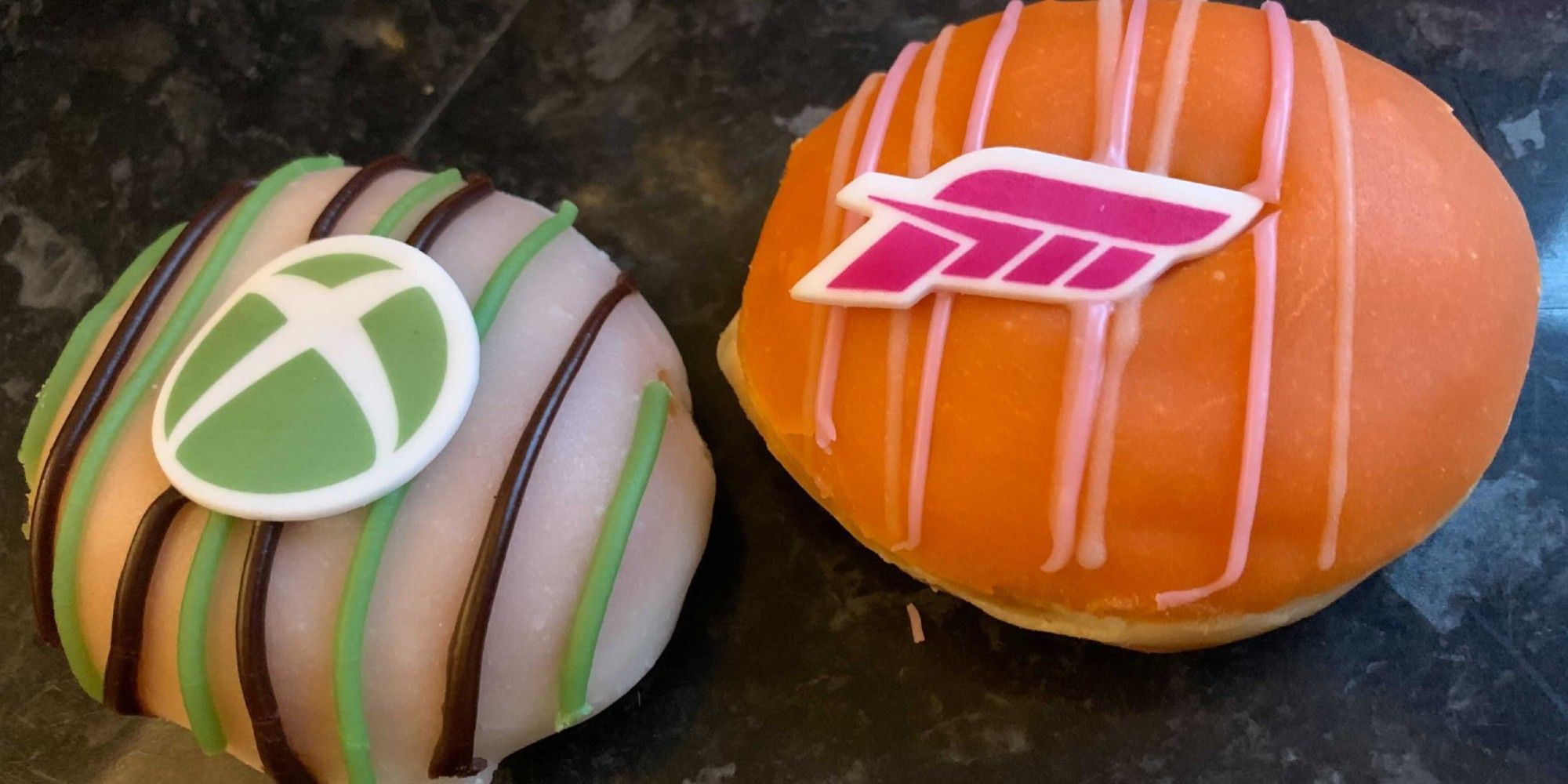 The Forza Festival doughnut is filled with raspberry jam and cream. A far more traditional filling for a doughnut than brownie batter in my opinion, making this dough-based tribute to the racing game a worthy taker of pole position. Not just over the Game Changer, but also when compared to 2021's Nexus. On the bright side for the runners up, since there are only three Xbox-themed doughnuts (for now) all three get a place on the podium. It also fuels the belief that this weekend's Xbox and Bethesda showcase will include news regarding some Forza Horizon 5 DLC. Since seven months have passed since its launch, randomly paying homage to it via a dessert seems a little out of place otherwise. A Starfield doughnut would have been far more fitting. Maybe that's being saved for the holidays.
If you want to try the Game Changer and Forza Festival doughnuts, there's good news and bad news. The good news is they're available now, although you may need to shop around a little. I needed to visit three different Krispy Kreme outlets before I could find both of them. Yes, me, definitely not my partner who now regrets offering to go and find them because I was busy. The bad news is they are exclusive to the UK, and since that was the case for the Nexus doughnut too, it seems likely these new offerings will also never find their way off this island either.
Xbox hasn't paired up with Krispy Kreme to make doughnut fans aware of its console and games, of course. There's another added incentive to buying them throughout the duration of their stay. As was the case with the last team-up, anyone who buys a Taste Adventure Dozen, which includes both of the new doughnuts and some Krispy Kreme staples, gets a free month of Game Pass Ultimate. One per customer again, unfortunately, so no buying dozens of doughnuts in exchange for months of free Game Pass. You'll also be entered into a draw to win one of 140 Series S consoles, up from the 110 during the last promotion. The doughnuts are available now and will remain in Krispy Kreme stores and cabinets through July 3, 2022.

Doughnuts were purchased from Krispy Kreme for this review by TheGamer.
Source: Read Full Article