Teabagging. If you don't think too hard about it, the word sounds almost classy. One might envision a wealthy British person seeping a fancy blend of Earl Grey in a pot of hot water.
But that image would be very, very wrong.
Teabagging 101: A Hairy History
In video games, "teabagging" describes the act of a player (usually an enemy competitor) repeatedly crouching up and down over another player. It's a universal taunt that people use in fighting games, FPS games and sports games.
An example:
Though it may not be inherently obvious in the video, that's an evolution of the teabag. The term derives from a very specific sexual act.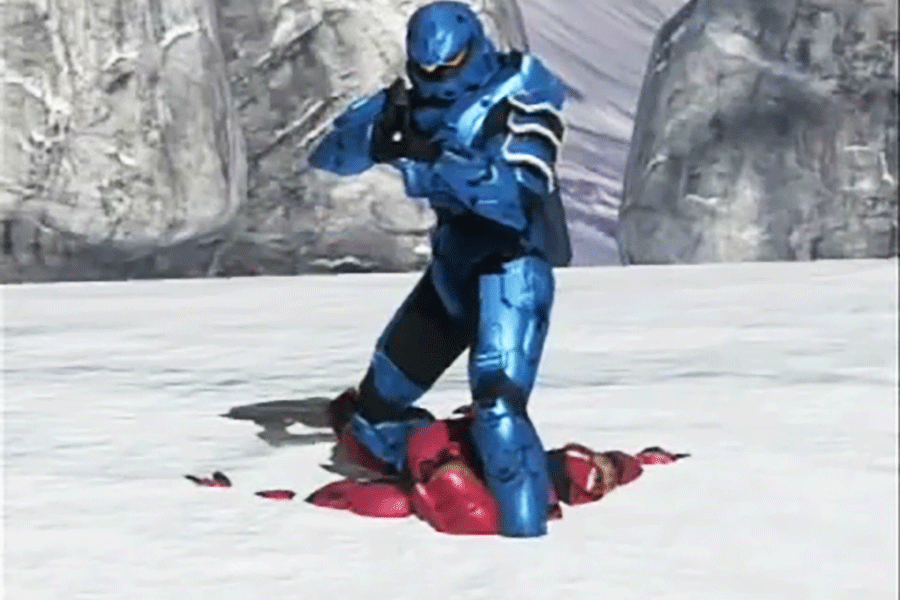 While Halo would become known as the real genesis of in-game teabagging, the act extended to other games that had crouch mechanics. In everything from World of Warcraft to Street Fighter II, quick and repeated couching came to signify the ultimate taunt.
As a fun aside, the female character equivalent of this is known as "clam clamming," Giant Bomb reports .
It would be remiss not to touch on the act's homoerotic undertones. The act became popular in the early 2000s, a dark period in history where anti-gay politics flooded the mainstream.
Still, though that may have been a saggy wrinkle in teabagging's genesis, that meaning seems to be lost on some. Others fully reject it. If there are many popular gamers who continue to embrace that meaning, they are a limited and egregiously toxic few. Moreso, these players do it because they find it funny, or else they use it as a strategic play to mess with an opponent's psyche.
In 2017, SonicFox, the nonbinary fighting game champion who came out as gay in 2018 but has more recently described his sexual orientation as "probably pansexual," admitted to using teabagging to antagonize his opponents.
A Legacy That Withstands The Test(es) Of Time
Though it's been two decades since gamers first taunted other players with teabagging, the legacy lives on. In the modern era of gaming, there are few nonverbal taunts that can elicit a reaction like a well-timed teabag.
At this point, most such instances of so-called teabagging look nothing like an actual teabagging might look like in real life. In fact, a person from outside the gaming community would lack a clear understanding of why this is such a toxic behavior among gamers. It's become a symbol. One might liken it to a digital middle finger among gamers.
It's not the sexual act itself that causes ire. Rather, it's this implied meaning behind it. After a particularly challenging fight, a miraculous victory by an underdog or even just a video game troll using toxicity as a means of humor, the teabag is a sign of dominance. It's not unlike a dog humping another dog.
In a 2015 article, a Polygon writer boiled down teabaggers to two types of players:
"The first is you're a kid who doesn't know any better; if that's the case, then chances are you'll stop being a dick once you grow up and realize there is more to life than being an asshole on the internet," Dan Le Sac wrote. "Sadly, the second motivation is somewhat bleaker. For some reason you feel it's right to tell your opponent that they are less that you, and you are happy to say that you don't feel that basic social politeness applies to you."
Some people can brush it off, seeing the humor in such an act. Others, however, take teabagging very personally. Some of it depends on the players' headspace — did the teabagging seem good-natured after a challenging? Or was it intended as an act of superiority and humiliation? Even prominent gaming personalities are split on the issue.
Context also matters. When a player does a sneaky play, only to find themselves outplayed by an opponent, perhaps the opponent deserves a moment of teabagging. But, when four players see a popular esports pro's name in the kill feed, track that player down, gang up on the pro and then still teabag that player, that's toxic. It doesn't honor the team's skill; rather, it's a display of hostility.
Though Steeped In Controversy, Teabagging Is Here To Stay
So, is it time to put the teabag out to dry? Many gamers would say no. Sure, it's fairly toxic. And yes, it can be a source of true gamer rage. But it's also a part of gamer culture.
In fact, in the game Destiny 2, players were adamant that the game should have a teabag emote. The emote wouldn't be of someone actually teabagging another player — players can already do that using the game's crouch mechanic — it would show the player dunking a tea packet into a cup of hot water. While the devs never did give players such a spot-on emote with so much room to promote toxicity, it did offer the Cup of Tea emote, which shows a player preparing a cup of tea and drinking it. It was a lighthearted, funny way to convey the meaning of the teabag without being so on-the-nose about it.
Not everyone will choose to teabag — after all, in an era where streaming is a viable career, few players want to be known for their toxicity — but it's also a throwback to the hours and hours of gameplay players put into the games of the past. Those who can shrug off its toxicity see it instead as a lighthearted troll.
Without teabagging, options to tease and disparage competitors would be far more limited. Perhaps some people prefer the subtlety of an out-of-context tactical crouch mechanic to the prospect of hateful trash talk, threats and worse.
Because, much like a pair of testicles, those other options would be very hard to swallow.
Source: Read Full Article