Cyberpunk 2077's launch turned out to be a massive headache for CD Projekt Red. Over the past few months, fans have reported countless bugs and complained about false marketing, prompting lengthy apologies from studio leads. Since then, CD Projekt became the victim of a group of hackers, who stole and sold the source code for several of its projects. Today, however, I want to tell you about an issue that hasn't hit the mainstream news: Cyberpunk 2077's Russian cast.
Just a couple of months prior to launch, when the marketing campaign for Cyberpunk 2077 was at its peak, CD Projekt revealed a special treat for Russian audiences. On December 9, the developer of The Witcher 3: Wild Hunt – probably one of the most beloved games in Eastern Europe – unveiled a video showcasing the Russian localization of Cyberpunk 2077. Packed to the brim with local influencers and stars, the video was not received as well as the developer probably expected. As of now, it's the most disliked video on Cyberpunk 2077's YouTube channel with more than 81,000 dislikes from viewers.
So what was the cause of such a negative response? Well, the studio decided to include popular local bloggers and influencers instead of professional actors, and emphasized their involvement in the creative process. Voice actors undoubtedly played a major part in the game's localization, but CD Projekt Red`s marketing clearly focused on invited hosts who had little to no experience with voiceover, but whose voices were recognizable for audiences. The list of Night City Russian stars includes presenter Nastya Ivleeva, rapper Allj, comedian Danila Poperechny, showman Aleksandr Gudkov, bloggers Stas Davidov, Valentin Petuhov (Wylsacom) and Anton Logvinov, as well as the comedian blogger Evgeniy Bazhenov (Badcomedian), and streamer Alina Rin.
CD Projekt Red pointed out that Vsevolod Kuznetsov, who played Geralt of Rivia in the Russian version of The Witcher, would play radio host Stanley in Cyberpunk 2077, which was a delight for fans to hear. But it wasn't enough. The influencers just couldn't do the job of professional actors, sticking out like sore thumbs against the gritty backdrop of Night City with their recognisable voices and mannerisms. Many were considered miscast, others overplayed. Combined with Cyberpunk 2077`s occasionally bizarre facial animations, that's a huge negative impact on the overall experience.
Many point out that the major problem is not even the quality of influencers' performances, but their actual presence in the project. Of course, guest-star cameos are a widely used solution for voiceover in movies and the gaming industry. Think about Hideo Kojima's Death Stranding, which boasted a star-studded cast filled to the brim with Hollywood talent. Russian players, however, didn't appreciate such a move from CD Projekt, considering all the hype surrounding this game – Cyberpunk 2077 was destined to be played by millions, even without multiple celebrities in its ranks. Obviously, engagement driven by big stars can be greatly beneficial for unknown projects and their promotion. But for Cyberpunk 2077, such tactics are excessive.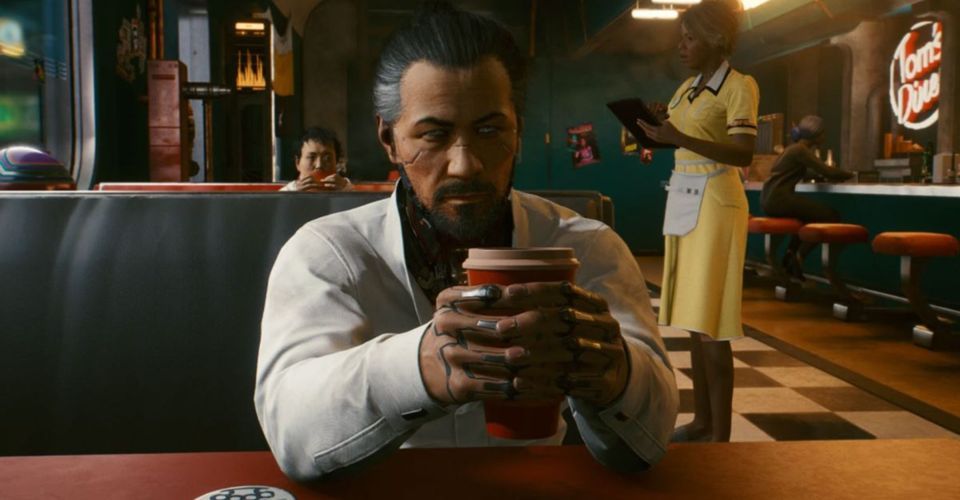 The stars clearly wanted to do their best to ensure that the Russian version of Cyberpunk 2077 was of decent quality and none of them wanted to jeopardize the project, yet their lack of experience affected the final product. And here's the real kicker: some of the influencers involved have already looked back on the experience with regret. Evgeniy Bazhenov (Badcomedian) confirmed afterward that he feels "sadly" about his experience with working for CD Projekt. The blogger admits that some of the characters he played didn't fit his personality, and therefore sounded unconvincing. Another complaint refers to the low quality of overall Russian sound in the final game. According to Bazhenov, the Russian voiceover is poorly implemented and sounds too flat and unnatural.
Once the game was out, players quickly noted how many unquotable phrases are in the local version of Cyberpunk 2077. It is worth mentioning that Russian swearing is colorful like a rainbow and is a special, virtuosic thing. Such language in The Witcher 3: Wild Hunt was quite popular among fans and many pertinent expressions even became memes. But Cyberpunk 2077 went too far, adding in profanity where none was needed. Such an approach changes the mood of key scenes of the game, and even the characters' temperaments and motivations. Many Night City inhabitants become much more plain and rough than they should be — it all felt a bit try-hard.
Let's go back to The Witcher 3 again for a minute. Was the Russian voice-over for the studio's previous project executed perfectly? Of course not. It has lots of swearing, and an annoying issue with pacing, which leads to occasional acceleration of Russian voices to keep up with animation timings and dialogue intervals. But there was one major advantage — the setting, which ensured its acceptance among the Russian community. Slavic old-fashioned fantasy is much better suited for the Russian language with all of its creative, dirty phrases uttered across every square meter of the open world. Apparently, this is simply not the case with Cyberpunk 2077`s future America.
In addition, very few people are willing to try playing Cyberpunk 2077 with Polish localization — something that was pretty popular for The Witcher series and its Polish roots. Authentic immersion is hugely important for players, myself included. I can confidently state that completing Ghost of Tsushima with Japanese voice-over quickly became one of the most atmospheric and pleasant gaming experiences I've had in years.
The majority of Russian players have confessed to preferring the original English version of Cyberpunk 2077 with Russian subtitles. To illustrate this, I made a quick quiz on popular Russian gaming site DTF, where almost 1,300 people shared their preferences about game localization. As you can see, the English version of Cyberpunk 2077 turns out to be just a little more popular than the Russian one.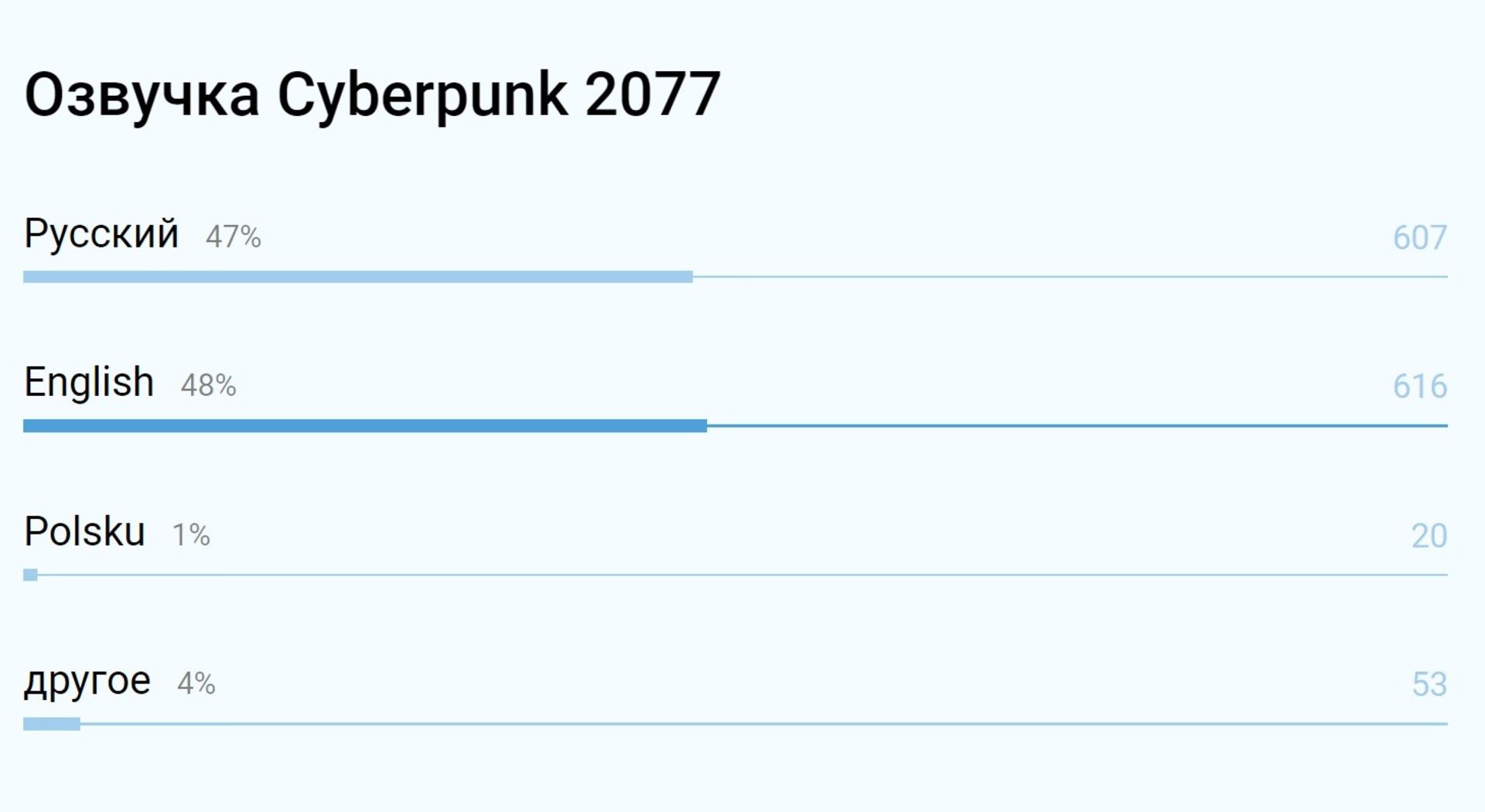 It's important to note that some players agreed that the Russian localization was very poorly implemented, but felt forced to use it during their first playthrough because they were unwilling to miss something important. Some of these players have admitted that they plan to complete Cyberpunk 2077 again with the original voiceover as soon as they finish it in Russian. Plus, don't forget Keanu Reeves. Players don't want to miss the game's biggest star performance and see him replaced by actor Ilya Bledny, who has never dubbed Keanu Reeves in movies before.
Obviously, things are much more complex than messed-up Russian localization for Cyberpunk 2077. If the majority of local players stuck to original versions, there would be fewer and fewer localized games in general, narrowing down the core gaming audience for numerous potential projects. For instance, IO Interactive recently refused to include a Russian voiceover or even subtitles for Hitman 3.
So what about players who do not speak English — should they just skip such games or wait for unofficial translations with debatable quality? On the contrary, poorly executed localizations for games will only push their audiences further away, irritating players like Cyberpunk 2077 did. All I can suggest for studios is to hire professionals in every possible department and aim for user experience above anything else. It doesn't matter whether you attract globally renowned actors or expensive celebrities — the gaming industry has plenty of talents of its own.
Next: Why Cyberpunk 2077 Would Make A Great Movie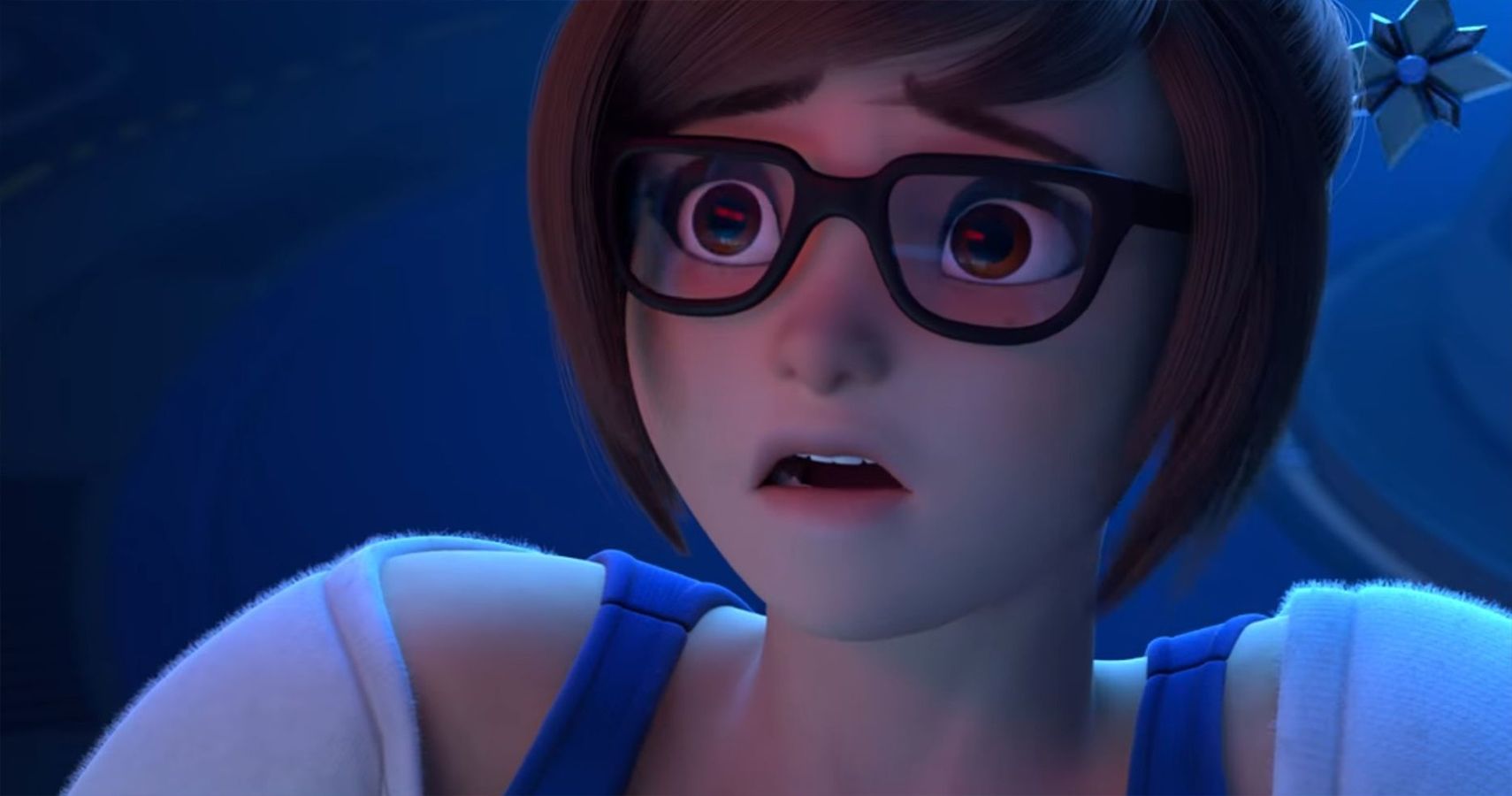 TheGamer Originals
PC
Cyberpunk 2077
Xbox One
Ps5
ps4
Xbox Series X
Source: Read Full Article